André told Rolling Stone in an interview published Tuesday that Hanks was a reckless presence on the set of "The Eric André Show" and nearly injured multiple crew members during production of the sixth season, which is set to premiere in June.
"He is … emotionally disturbed," André told the outlet. "He stole a motorcycle and rode it around. He almost knocked a bunch of grips and gaffers off their ladders. It was very dangerous. He tried to prank us back, but we edited out all his bullshit."
"He's not well," André continued. "How did Colin Hanks come out so good and Chet Hanks come out so bad?"
Both Hankses are the sons of Tom Hanks and were recently defended from "nepo baby" accusations by none other than their dad. HuffPost has reached out to representatives for Chet Hanks for comment.
In an Instagram story published Tuesday, the "Your Honor" star admitted he "popped a little wheelie" while riding a motorcycle around set, but claimed he was merely attempting to "match" the "energy" of André's "weird, outlandish show."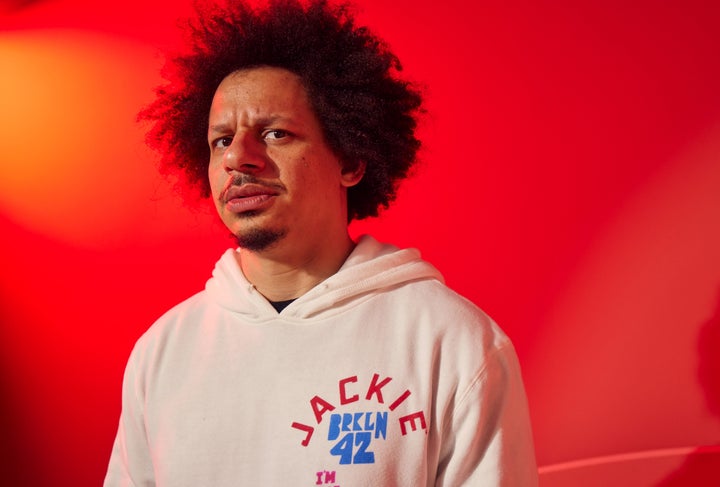 "I was just playing along with your schtick, dude," Hanks said in the since-expired footage, per a Rolling Stone follow-up piece on Wednesday. "But it is what it is. Some people are just straight bitches. Apparently Eric André is one."
André most recently made headlines for dating model Emily Ratajkowski. He's also known for his outlandish humor — which leaves open the possibility that his Hanks feud is part of a marketing campaign for the sixth season.
"There's a lot of fucking weirdos in Hollywood, but I didn't think you were one of them" Hanks said in another expired Instagram story, according to Page Six. "I thought you were funny and cool, but turns out you're just a pussy."
André told Rolling Stone that filming with Hanks made him think of "Rust," the production where cinematographer Halyna Hutchins was fatally shot in 2022. On Wednesday, he went online to address the claims Hanks made in response.
"Everything Chet Hanks just said about me is a fucking, bold-faced lie," André said in an Instagram story, per Rolling Stone. "He's a fucking liar. And I dare him to take a fucking DNA test and prove that Tom Hanks is his fucking father."
Whether the beef is genuine remains to be seen. "The Eric André Show" returns this summer — and could well include a sketch where Chet Hanks takes an actual DNA test.
CORRECTION: Due to an editing error, a previous version of this story inaccurately said Colin Hanks was the son of Rita Wilson.
Popular in the Community