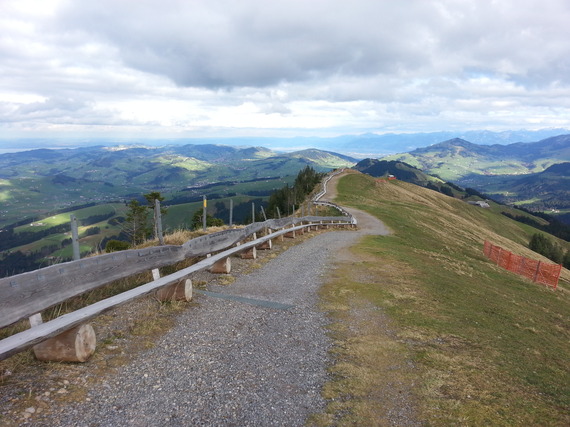 A week after I graduated from college, I took Amtrak's California Zephyr to San Francisco. Over the course of our 51-hour trip, we accumulated so many delays that by the time we reached Provo, it was clear we would arrive in Emeryville -- the across-the-bay terminus for S.F.-bound trains -- 12 hours behind schedule. This was, at worst, an inconvenience. At the time--on my first big trip alone, never having stepped foot in California or seen the Pacific Ocean -- it was cataclysmic, since it meant I'd arrive too late to meet a friend who'd offered up his couch. The appropriate response would have been to ask him to leave his keys under a mat. Instead, I wept. Now, over a decade later, I'd want to strangle my young self for not adjusting to changed circumstances with a bit more moxie. Back then, I was lucky to be surrounded by more kind-hearted people: Within minutes, the young mother who'd sat behind me since Chicago -- with a wailing baby I'd been side-eyeing for hundreds of miles -- offered me a room in her home in Bolinas. Three women disembarking at Truckee handed me $150 -- which I at least the sense to try, unsuccessfully, to return. Marge and Edward, two retirees I'd shared apple pie with in the viewing car all through Colorado, come by to chat. The turbaned woman across from me clapped and offered variations of "Praise Jesus," "Praise the Lord," and "Hallelujah" as she witnessed this seemingly unending river of compassion. She was only saying what I was thinking: that I'd acted like a fool, but my unlikely reward had been to experience the kindness of traveling strangers in undiluted form.
I already had an affinity for trains: It seemed, and remains, magical to me, that someone can take one step on solid ground in Manhattan and the next in California. That's why, as I settled into a few months of exploring Europe, I decided to do so by train -- despite the call of myriad low-cost airlines. (My last Ryanair flight ended with a domain-availability search for any variation of "ryanairsucks.com," only to find that, of course, they were all taken.) The train, I knew, would be different: The train is "Before Sunrise" and "The Darjeeling Limited" and "Murder on the Orient Express," which, if not an obvious endorsement for rail journey, at least makes a group-orchestrated revenge killing look somehow cozy. My rail travel budget even became part of my apartment-finding calculus: I found a budget-friendly room on a gorgeous if terminally over-crowded island in Paris that's sometimes so jam-packed with tourists that cars driving down its main artery crawl along silently, resigned, as if following a parade of people eating ice cream. My rail pass was my guarantee that escape was as close as the Gare de Lyon.
The one problem with using Paris as a base for exploring Europe by train is that you're separated from many of the places you'd want to go by high-speed trains, like the TGV (Train à Grande Vitesse, for points all around France, Italy, Switzerland, and beyond) and Thalys (Belgium, Germany, and the Netherlands). Unlike, say domestic trains in Switzerland -- where with very few exceptions, you can hop on without thinking twice -- TGV and Thalys trains require a reservation even with a pass. For the procrastinators, there's a lower-level ticket desk at the Gare de Lyon that's almost always faster than the take-a-number holding pen on the main floor; occasionally there's a separate window just for pass-holders -- and that's where, with minutes to spare, I paid for a reservation on the 2:23 p.m. TGV Lyria to Basel, where I'd switch to a Swiss train for one of the prettiest and least touristed parts of the country: St. Gallen and Appenzell.
DAY ONE
5:26 p.m.: Arrive Basel. I had adjusted my transfer time to allow for the purchase of a dozen Sprungli salted caramel macarons -- this shop is literally between two tracks -- and I eat all of them before changing trains in Zurich.
8:15 p.m.: Arrive St. Gallen. After spending a couple weeks in other parts of Switzerland last year, I was super curious about St. Gallen and Appenzell. For example, the former canton's name salutes the efforts of Saint Gall, whose BFF was reportedly a bear. Appenzell Innerrhoden, meanwhile, was the last Swiss canton to provide women with the vote on local issues--only in 1990, and only at the demand of a federal court. After hopping a PostBus for a 30-minute ride up into the surrounding hills, I arrived at my wonderfully Swiss-smelling (I can only describe it as the combination of "the forest" and "chocolate") guest house in nearby Robach.
DAY TWO
9:00 a.m.: There's a "Wanderweg" -- walking path -- immediately outside my door, so I take it up the mountain, at one point, StairMastering my way up a steep, wet hill and backsliding a step for every four I took. After 40 minutes, I arrived in the village of Rehetobel and boarded a bus to St. Gallen.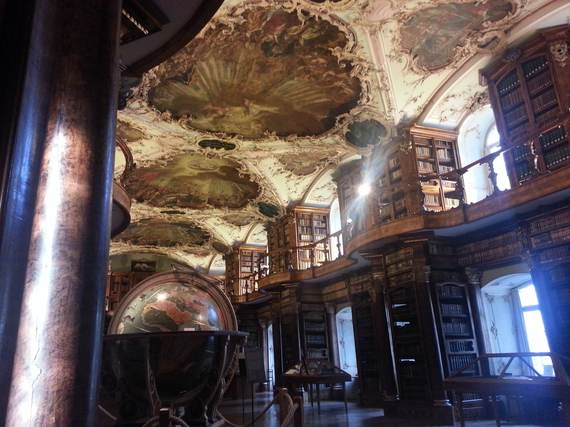 12:30 p.m.: After lunch at Fondue Beizli, I headed to the town's abbey library, a UNESCO World Heritage Site with wooden bannisters buffeted to a shine, a massive reproduction of a 16th-century globe depicting both the known world and the heavens, and, tucked into a back corner, the mummified corpse of a 7th-century Egyptian, the daughter of a priestess. It is very easy to imagine the space being occupied by both 17th-century monks or the entire cast of "Harry Potter," on broomsticks.
8:05 p.m. I picked up a salad at Coop -- perhaps the only dinner in town under $10, and that includes McDonald's.
DAY TWO
8:00 a.m.: From St. Gallen, I boarded a narrow-gauge train, run by Appenzeller Bahnen, to Jakobsbad, where I took a 10-minute cable car ride up to the 5450-foot Kronberg. If I'd continued south and I might have climbed Mount Santis, the highest peak in northeastern Switzerland at over 8200 feet; as it was, I continued about 10 steps beyond the cable-car exit to a bistro offering wurst-centric lunches (un-extraordinary) and nearly 360-degree views of the surrounding mountains (super-extraordinary.)
1:45 p.m.: Full of Appenzeller sausage and some scandalously expensive French fries, I headed along the ridge line, which slopes gently downward until depositing hikers in Appenzell. It's clear this is a trail better hiked the hard way: The bemused expressions of those headed up offered a tacit Swiss approximation of "You're doing it wrong."
4:45 p.m.: A quick tour through the Museum Appenzell: six floors of extremely varied displays, including local embroidery, 15th-century banners bearing the coat of arms (a marauding bear, very "Game of Thrones"), and myriad depictions of parading cows.
5:33 p.m.: Back to St. Gallen, for an evening walk through the old town and dinner at the buzzing Focacceria--incredibly, for the environs, under $15, and literally half as much as an uninspiring pad Thai next door.
7:20 p.m.: Snack run: I stopped by Brezelkonig (a Swiss version of Auntie Anne's, with slightly less-damp pretzels) for the two-franc salt pretzel (about $2.20), run by the station bakery for a vanillebrezel (utterly delicious frosted cookies, baked, unsurprisingly, in the shape of a pretzel), and then pop into Coop for some bargain Swiss treats: Toberlone, muesli, and some Emmental cheese.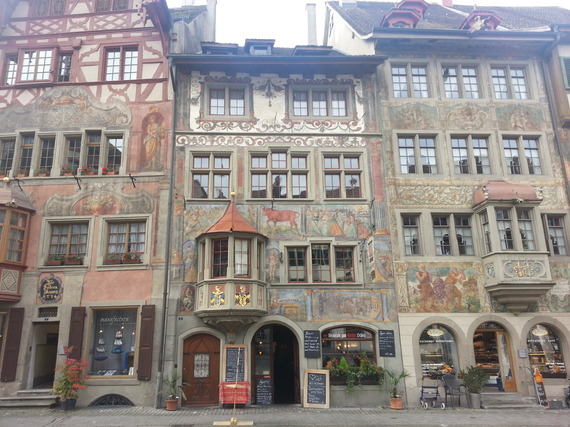 DAY 4
8:00 a.m.: Knowing that I had a reservation for the 4:34 p.m. TGV from Basel back to Paris, I checked out of my apartment early so that I'd be able to visit, if briefly, Stein am Rhein, with its gorgeous, medieval old town and frescoed buildings. It was a 10-minute walk from the train station across the Rhine. Stein am Rhein is worth more than the two hours I had, most of which was spent taking photos and at the By Noa design shop, haggling over ceramics.
12:06 p.m.: On to Zurich and the Haus Appenzell, a 10-minute walk from the station--and then off to Basel for my final connection on a non-stop Intercity train.
For European rail tickets and passes, see RailEurope. See here for more information on Appenzellerland, and here for details on visiting St. Gallen.