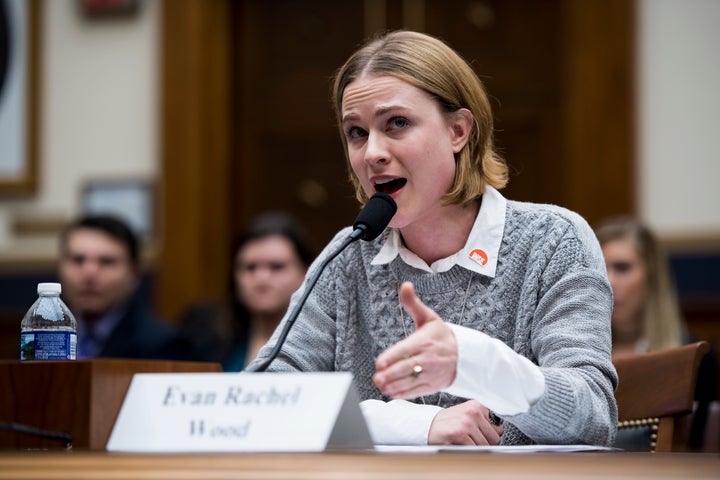 Actress Evan Rachel Wood detailed her own story of sexual assault, rape and domestic violence to a congressional committee on Tuesday to help other abuse survivors.
Wood appeared before the House Judiciary Committee as part of an effort to encourage states to implement the federal Sexual Assault Survivors' Bill of Rights Act in all 50 states. Currently, the bill provides survivors with basic rights in federal cases, but has only been adopted by nine of the 50 states.
"I'm here today to use my position as an artist, survivor, mother and advocate to bring a human voice to the population of 25 million survivors in the U.S. who are currently experiencing inequality under the law and who desperately need basic civil rights," Wood said.
The actress testified along with the CEO and founder of anti-sexual violence organization RISE, Amanda Nguyen, RISE chief of staff Lauren Libby and the vice president of the Rape Abuse Incest National Network (RAINN), Rebecca O'Connor.
"I struggle to speak to you today because I'm not sure what words are appropriate when discussing this issue," Wood told the committee. "However, if you can't hear the whole truth you will never know true empathy, and I believe in the saying 'If we have to live through it then you should have to hear it.'"
Wood described how she was in a violently abusive relationship with a former partner who physically, verbally and sexually abused her repeatedly. She discussed how her former partner raped her while he believed she was unconscious. Sometime after, Wood said, she was raped by a different man in a storage closet at a bar.
Wood termed the federal law a "recognition of basic civil rights for sexual-assault survivors and serves as a first step."
"It's a safety net that may help save someone's life one day," she said.
During the hearing, committee Chairman Bob Goodlatte (R-Va.) explained how the Sexual Assault Survivors' Bill of Rights Act works on a federal level:
This legislation assured that in federal cases, a victim would have the right to have their rape kit preserved for the duration of the statute of limitations or up to 20 years; a victim would not have to pay for their own forensic examination; a victim would be informed of any results of their forensic examination; would be provided with written policies on forensic testing kits; and finally, would be informed before their sexual assault examination kit was destroyed and be permitted to request further preservation.
While these rights are afforded to survivors of federal crimes, Goodlatte noted that said they are "not consistently recognized" by all of the states. "And of course, it is in the states where most sexual assault cases are prosecuted," he said.
While Wood said that while the Me Too movement spotlighting the problem of sexual abuse has been "empowering and validating for survivors," it also has triggered disturbing memories for her. Many survivors have echoed her feelings over the past months.
"While no one had to tell me that rape was such a worldwide epidemic, to see the flood of stories so similar to my own was both freeing and soul-crushing," Wood said. "Waves of memories and details came flooding into my brain every time I read the words. I froze. I thought I was the only human who'd experienced this and I carried so much guilt and confusion about my response to the abuse."
She discussed the aftermath of rape, reminding the panel that it's a "huge part of the conversation that needs much more attention." She listed some of the lasting effects of the abuse she's endured: feelings of shame and despair, depression, addiction, agoraphobia, two suicide attempts and post-traumatic stress disorder.
"So often we speak of these assaults as no more than a few minutes of awfulness, but the scars last a lifetime," she said. "Even though these experiences happened a decade ago, I still struggle with the aftermath. My relationships suffer, my partner suffers, my mental and physical health suffers. ... Rape is often more than a few minutes of trauma, but a slow death."
"So often we speak of these assaults as no more than a few minutes of awfulness but the scars last a lifetime."
Wood concluded her statement on a powerful note, discussing her role in combating sexual violence as the mother of a young son.
"This makes me think of my son and the world that he will be raised in and the day I will have to explain to him what rape means and why it happened to his mother," she said. "When I knew I was to become a mother I prayed for a boy for this reason. However, I realized it could be just as easy for my son to fall prey to the lies society tells us about men. ... So I'm also here to advocate for men and for my son, who I hope grows up knowing he's much more valuable than that and who I can only hope I will set an example for by continuing to fight for him and myself and for all the people affected by abuse, because that is our job as parents and as leaders."
Watch the full hearing below or fast forward to minute 18:30 to hear Wood's statement.
Support HuffPost
The Stakes Have Never Been Higher
Popular in the Community