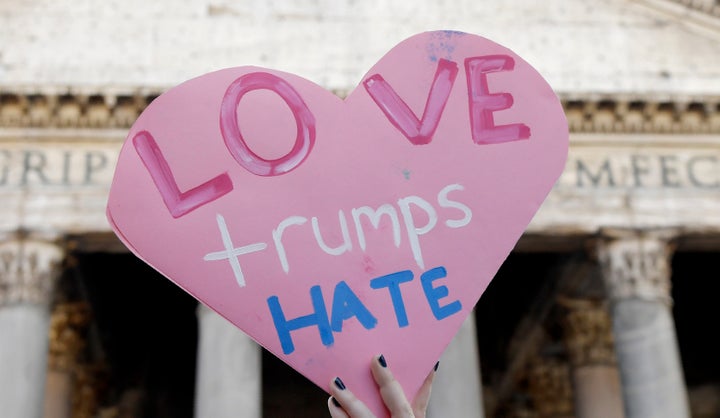 Sick and tired of roses and chocolates this Valentine's Day? Eve Ensler and the One Billion Rising campaign have an alternative V-Day event that might strike your fancy.
Come Feb. 14, One Billion Rising will opt less for cards and candy and more for awareness of the violence endured by women and girls. As it has done every year since 2012, the organization ― which takes its name from a stark statistic claiming one in three women around the world will be beaten or raped during their lifetime* ― will host a series of "risings" in over 200 countries that advocate for the victims of such violence and rail against the impunity that persists in its wake.
In New York City, however, the V-Day rising will be unique. Dubbed "Artistic Uprising ― A Call For Revolutionary Love," the event is not only aimed at shining a light on the women and girls at risk of violence, but also on "refugees, immigrants, Muslims, LGBTQI people, black people, the indigenous, the poor" ― individuals who find themselves under threat in America's present political climate.
"Activists will RISE against the neo-fascist, racist patriarchy taking hold in governments throughout the world, against bigotry, Islamophobia, homophobia, transphobia, anti-immigration, nativism, white nationalism, climate change denial, imperialist and capitalist aggressions, misogyny and hate," One Billion Rising wrote in a press release for the NY-specific rally. "From Standing Rock to financial deregulation to the 'Muslim Ban,' activists will demand the new regime's agenda be dismantled."
In a conversation with The Huffington Post, Ensler, the writer and activist behind "The Vagina Monologues," explained that "Artistic Uprising" will honor various marginalized communities while maintaining a particular focus on women's rights in the United States.
"We're seeing an assault on women [here]," Ensler told HuffPost. "This administration has not only escalated [rape culture] but has really normalized it," she added. "So we are rising for immigrants. We are rising for African-Americans. We are rising for LGBTQIA. We are rising for women. We are rising for everyone in this country who is under siege, which is just about everyone except for white men for as far as I can tell."
The rally will feature performances and speeches by over 25 artists and activists ― singers, dancers, hip-hop artists, spoken word poets, drummers, gospel choirs, Ensler ― as well as a participatory project from the Where We Meet artist collective, called the "Ranting Box."
Inspired by the silencing women like Sen. Elizabeth Warren (D-Mass.) have experienced under the leadership of President Donald Trump, Ensler and the Artistic Rising organizers are encouraging rally participants to combat hate with love.
"Everything that's done is backed up with state violence on one level or another, right?" Ensler said. "Everything that's done is done with an aggression and a force and lack of consent, right? A disregard for laws, a disregard for rights, a disregard for what people want, a disregard for people's feelings, a disregard for people's safety. And I think we have to model the opposite of that."
For Ensler, the opposite of that is "revolutionary love."
"We have to model listening," she added. "We have to model empathy. We have to model being unified and understanding that anyone they're coming for ― they're coming for all of us. We have to be willing to stand up each time one of us is come for. And I think the only way we really do that is [...] with fierce, unabiding love. Just really give ourselves, for the most marginalized, who are under the greatest threat and to do that with love. To do that with generosity. To come out of our silos and our own communities and reach further than we've ever reached before."
"Artistic Rising" will take place in New York's Washington Square Park. It is the latest in a series of protests, rallies and strikes that have erupted in the city following Trump's inauguration in January.
If you're not based in NYC, Ensler has some advice for those interested in taking part in One Billion Rising's events:
What we're seeing right now across the planet is this determination from women and men to say, "We will not accept fascism. We will not accept hatred. We will not accept misogyny. We will not accept racism." So I urge everyone to find a rising near you and to rise and dance for what it is that you want ― for the communities that are under siege that you want to protect.
*The global population is north of 7 billion, which would mean that a total of over one billion girls and women encounter this level of violence. As the group notes online, women and girls is an inclusive term reflecting all those who were assigned and/or identify as female.
Additional reporting from Alanna Vagianos.
Popular in the Community