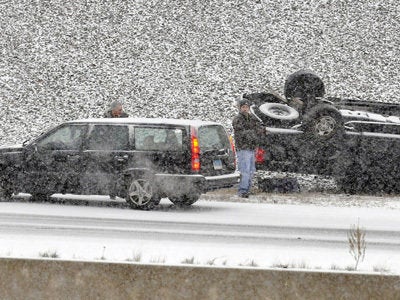 During the second-round three-ring congressional circus "starring" the CEOs of the Detroit Three and the head of the UAW, there was a lot of talk about General Motors not being able to make it until the end of 2008 without immediate support (read: money) from Washington.
Well, somehow, they made it.
And they managed to make it without receiving one cent in government money until after the new year had begun, when they were lent $4 billion, as was Chrysler (Ford remains officially on the bailout sidelines, but is still pushing for a TARP "line of credit" if they need it, which they probably will).
Industry journal Automotive News reported on its website Tuesday this week that, "GM is slated to get another $5.4 billion on Jan. 16. GM would get another $4 billion on Feb. 17 if Congress authorizes additional federal loans."
(GM CEO Rick Wagoner demonstrates what he'd like to do to male members of Congress, as his VP, Bob Lutz, looks on approvingly; these two have become the Bush and Cheney of the car world, with Wagoner the young, calm, sober CEO from the company's finance side, not given to memorable sound bites, and Lutz the product expert, the hot rod king and Wagoner's wiser, scheming, arrogant elder, but saddled with a troublesome mouth).
So how has GM already received $10 billion?
The $4 billion loan-out (sub for "bail-out") is not the only TARP money benefiting GM.
The Treasury Department also just injected $5 billion directly into GMAC, GM's captive finance arm, in exchange for stock. And TARP gave GM another $1 billion to invest in GMAC, needed so GMAC could receive a bank charter necessary for them to tap TARP funds.
GMAC not only markets financial products for consumers (they were heavy into home mortgages, too), they also help GM franchise dealers finance their wholesale purchases of GM cars and trucks (aka "floorplanning") for their showrooms. So it's a good bet that most, if not all, of the $6 billion GMAC has received from Washington is going to end up, one way or another, in GM's coffers.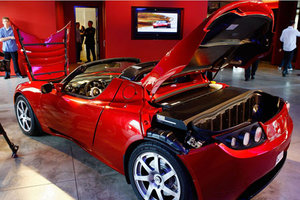 (A Tesla EV Roadster at their Los Angeles dealership; very small carmakers might own their dealerships, but for the majors, franchise laws make that almost impossible; GMAC is the major finance company between GM's factories and its dealers, and between the dealers and car-buyers; nice, cozy set-up, no?).
To spur new-car sales, after getting the billions, GMAC lowered the FICO score threshold for financing GM customers from 700 to 620. Still pretty high these days, when tens of millions of Americans -- and probably many more -- are behind on their bills.
The real "bottom line" is that GM/GMAC has received a total, so far, of $10 billion in TARP funds, with $5.4 billion more coming on January 16th and a good chance of another and hoped-for- final $4 billion February 17th. And there's no reason GMAC couldn't pony-up to the bar again to ask for a few billion more.
(After reading this post, Tom Wilkinson, GM's director of GM news relations, emailed me the following: "GM currently owns only a minority stake in GMAC, and the loan agreement requires that GM reduce its stake to just 10%. There is no question that a stronger GMAC is very important to GM, but to imply that providing $6 billion to GMAC is just like providing it directly to GM is not accurate." [end of GM statement] We welcome all opinions here ... Haven't had to remove any "comment" messages yet).
This week, the public's getting GM and Chrysler PR spin and car dealer-like optimism, a rare automotive double-whammy, both reporting that they might not need more TARP money, that the $4 billion they've each received might be enough to get them through these tough times (even though we now know GM has received $10 billion).
(A 2009 Dodge Ram pickup atop a 2009 Dodge Ram pickup with a flatbed and dualies in the rear, the Ram practically the only bright spot in Chrysler's catalog; now, why would a carmaker give the media a photo of one of their products on top of another -- might some people think that top one had broken down? Just asking ...).
Executives from Chrysler, GM and Ford, during Monday's press conference calls discussing December and full-year sales for 2008 and their '09 plans with reporters and analysts from around the world, said they don't expect any change in the US marketplace until at least the second half of 2009, and possibly not until 2010 has begun.
Total car and truck sales in the US for 2008 were just above 13 million; 2007 saw full-year sales of 16.2 million. The near-18% drop in 2008 sales translated into more than an $81 billion loss, split among all the carmakers selling in the US. It's not just Detroit that's in trouble, but their particular problems are without doubt the auto industry's worst.
Here's the problem: Many analysts, including this one, predict that if 2009's sales total falls to 11.5 million units or less, the ex-Big Three cannot remain in business. If sales tank that much, some of the import companies might even pull-out of the US market or drastically cut-back their operations there.
With economists predicting a rough 2009, 2010 and maybe even 2011, there's not much chance of '09 and '10 car sales reaching even 2008's miserable 13.1 million. In fact, the NY Times' Nobel-laureate and Professor of Economics at Princeton, Paul Krugman, wrote in this past Sunday's paper: "Let's not mince words: This looks an awful lot like the beginning of a second Great Depression."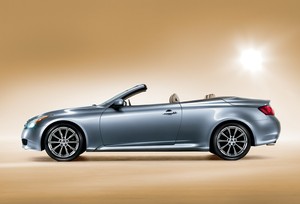 (Infiniti premiered their new G37 hardtop convertible at the summer, 2008 Paris Auto Show, when we were all still young and naive. By the time the LA Auto Show rolled around in November, '08, some show attendees seemed more interested in how fast the top goes up and down than in actually buying one).
And in what might portend some of the import companies leaving or drastically cutting-back in the US market, Nissan and their luxury brand, Infiniti, are not exhibiting at the coming Detroit auto show. The Detroit and Los Angeles shows are the nation's most important, and Nissan has told their Detroit area dealers to not attend the show in any official capacity (Nissan/Infiniti officials might have seen the rotten exhibit Chrysler dealers created for last November's Los Angeles Auto Show, made necessary when Chrysler canceled their corporate participation).
During a radio interview last night, the host asked me if Chrysler is already bankrupt, but just hasn't completed the paperwork. I answered that his question was a pretty good read on the company's situation.
The new Dodge Ram full-size truck and the Jeep Patriot are bringing some customers into showrooms, but Chrysler offers no real compelling, relevant or high-mileage products. In spite of their trotting-out an EV or two for the media and politicians recently, even those vehicles, if Chrysler were serious about them, would need another four to five years of development before their production and sale (hear the one-hour interview at www.TalkRadioOne.com; we covered a lot of ground).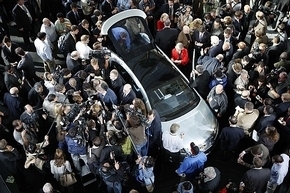 (In the center of the crowd of media falling over itself is the Chevrolet Volt, the "extended-range plug-in hybrid" promised for 2010. Now it's as big a question mark as GM itself).
A top Chrysler exec said during his Monday press conference that 20% to 25% of people wanting to buy a new car from a Chrysler/Dodge/Jeep showroom can not get financing; so what will happen with Chrysler Financial, their version of GMAC?
They'll want "support," too.
Calling all HuffPost superfans!
Sign up for membership to become a founding member and help shape HuffPost's next chapter