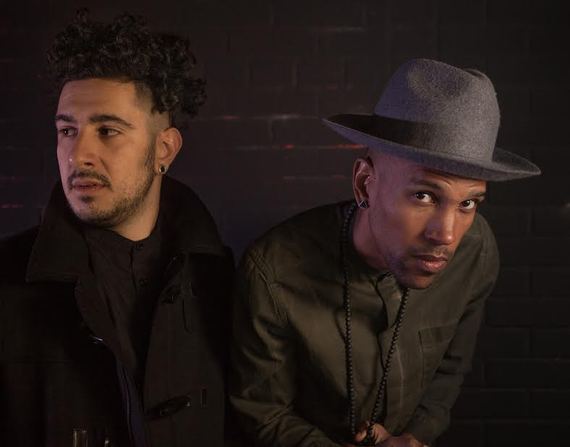 Known for his soulfully expressive, genre-bending hip hop, West Coast vocalist/producer Lafa Taylor's career has been on a steady roll performing in places from Japan to Wisconsin. Though his live act is usually solo, he recently collaborated on a forthcoming album with world music aficionado and breakout producer, Aabo, titled FEEL. In addition to premiering their debut single and video, "Turn My Music Up," we also discussed how the two met, their inspirations, favorite things, and much more.
Morena: Tell me about your newest collaboration with Aabo. How did that connection come about?
Lafa: Aabo and I met about 4 or 5 years ago and quickly clicked due to our shared love of many different genres of music. When I first met him he was the bandleader in an Afrobeat band but was super interested in electronic music. Over the years I helped him learn how to produce electronic music, which he picked up amazingly quick. We both have always really loved melodic vocal house, so naturally when we started to collaborate that was the direction we took it. Initially we were just going to make a few songs but overtime that evolved into what is now FEEL
Morena: Aside from being a collaboration, how is FEEL different from your other work?
Lafa: I would say the main thing that sets this apart from the other music I've released is that it is mostly house music.
Morena: What kind of sounds, textures, and vibes are you putting forth on FEEL?
Lafa: Lyrically the album has an overall theme of the many aspects of love and relationships but at times delves into other topics such as inter-connectivity, collective consciousness, and stepping out of your comfort zone. Musically we are pushing a strong house music vibe combined with hip-hop and R&B. Melody is also a huge element of this album, both Aaron [Aabo] and I like to keep things melodic and not too repetitive.
Aabo: When Lafa and I set out to collaborate on this project, we knew we wanted to create music that was going to be dancey, sexy and thought-provoking. We were bumping Disclosure and Kaytranada quite a bit and wanted to make some four-on-the-floor stuff. We both pull a lot from R&B, soul, jazz and hip-hop, and wanted to bring that to a foundation of house music. While mostly electronic, the album is laced with some amazing horn arrangements, plus I played guitar and bass here and there and we added some real percussion on a few tracks. We love to incorporate organic elements.
Morena: Tell me about the album's debut single, "Turn My Music Up." What kind of feelings did it evoke while you created it? How was it conceived?
Lafa: We chose to have "Turn My Music Up" be the first single because we feel it's pretty universal and lighthearted.
Aabo: "Turn My Music Up'' is about throwing inhibition to the wind and making the most of a situation that's outside of your comfort zone. We created it with a makeshift studio set up while traveling together in Japan.
Morena: Will you be attending Burning Man this year? If so, are you scheduled to or hope to perform at any camps? If not, what are you doing instead?
Lafa: No burn for me this year, I was lucky enough to do 11 in a row starting in 2002 so I feel like I've burned enough gas to take that time to do other artistic things that are important to me. This year I will be touring in Japan during that time.
Morena: Do you two have any upcoming shows? Also, do you plan on performing tracks from FEEL during your solo ventures?
Lafa: Interestingly enough, Aabo and I rarely perform together, we have our separate respective projects and we just stick to that. We are more studio collaborators than live collaborators. I do however plan on incorporating some of the music from FEEL on my fall tour with Zion I.
Morena: What is something you are into right now? Whether it be a hobby, person, food, color, artist, musician, song, album, designer, craft -- anything; what really excites and inspires you at this present time in your life?
Lafa: Why not answer those all? Hobby, skateboarding; person, Lorin Bassnectar; food, organic artisan ice cream; color, seafoam; artist, Sean Newport; musician, French Kiwi Juice; song, "Say Nada" by Shaka; album, Frank Oceans unreleased Boys Don't Cry; designer, Frisk Creative; craft, reclaimed furniture building. People successfully doing what they love in a unique way while simultaneously making people happy and bettering the planet really inspires me!
Aabo: Figs are in season right now so there's that and also feeling Chicago rapper, Noname's new album, Telephon.
Morena: Can you tell me about the creative process behind the music video for "Turn My Music Up?"
Lafa: I wrote, directed and edited the music video. I called in my homie and past music video co-conspirator, Martin Estevez, to help produce the video and call shots on set when I was in front of the camera. We shot the video in LA which was amazing because we had access to so many amazing actors, crew, and locations to choose from. At times it felt like we were shooting a movie as we had a cast and crew of over 40 people on set. Also, the DP Mike Epple (s)killed it with the look of the lighting and set up of the shots, he's very cinematic.
With this video I wanted to communicate the power of music and it's ability to bring people together, change people's mood, and transform mundane situations. This video was really fun to create. It was definitely challenging at times, trying to make sure my vision played out correctly while being in front of the camera rather than behind it, but we pulled it off. I'm super excited for the world to see this video, and hope people can relate to it.
Calling all HuffPost superfans!
Sign up for membership to become a founding member and help shape HuffPost's next chapter