In the Bronx, two teenage girls decide after gorging themselves on junk food that they'd rather take a nap than play basketball. Slipping into an Alice in Wonderland-like slumber, they dream about an angel in a doo-rag who raps about the importance of healthy eating and daily exercise.
"I'm a dream maker, a bad habit breaker, here to guide you to a healthier life," sings actor Tramaine Montell Ford, who appeared in the movie "Hairspray." "What you just ate was junk, put your bodies in a mean funk. It filled you up, but it brought you down -- cancelled basketball for Sleepy Town."
That's the opening scene of Helen Butleroff-Leahy's "My Plate! The New Food Musical Program," an educational production promoting healthy living that Leahy, a former Rockette, has put on 47 times in New York City schools since she first staged it in 2005. The most recent show, here, at P.S. 102, the Joseph O. Loretan School for Creative Arts, featured student performers alongside professional actors.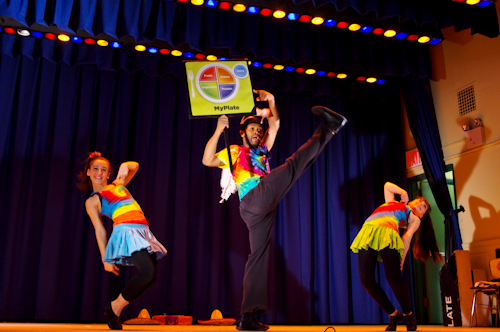 The fictional characters' eating habits aren't unusual for Bronx students, where the New York City Department of Health estimates 41 percent of public elementary school children are obese or overweight, the highest proportion in the city. The statistics get even worse for their parents: Adults in the Bronx are 12 percent more obese and overweight than the city's average of 58 percent.
It was in this bloated borough that Mayor Michael R. Bloomberg argued for his ban on supersized sodas and sugary drinks earlier this month. Speaking at Montefiore Medical Center, the Bronx's largest hospital, he spoke about rising city obesity rates, including in public schools.
Leahy, a registered dietician, wants to curb these trends. By reinforcing nutrition lessons with rehearsals for a musical, she has created an initiative to reduce childhood obesity in poor communities, like the South Bronx where the P.S. 102 students reside. Parents also hear the musical's nutritional messages by watching their children perform.
"By the time they're teenagers," Leahy says of city school children, "their obesity can cause diseases that people used get in their middle age, like type 2 diabetes, and develop other cardiovascular issues."
With Broadway dancers for parents, Leahy was born into a show business family. She spent seven years as a child actress on NBC's "The Children's Hour," but began her career in earnest as a professional dancer at 17, appearing three times as a Radio City Rockette. In her thirties, she transitioned out of the spotlight to direct and choreograph shows on and off Broadway, but throughout, she says she was interested in nutrition. "People would be backstage reading Glamour magazine at Radio City, and I would be reading medical journals."
In 2000, Leahy applied to graduate school at New York University's Steinhardt School of Culture, Education and Human Development with an essay about combining her passion for dance and nutrition. After graduating from that program, she became a registered dietician and started planning her "My Plate" production.
Now in her sixties, Leahy retains the same cheerleader-like ebullience and gamine figure she had as a 20-year-old dancer. She's tall, too, and with thin eyebrows and lips, everything about her seems slender.
During a rehearsal in the P.S. 102 auditorium, Leahy was dressed like a phys ed teacher in black athletic wear and white sneakers, with a whistle around her neck. Each time she blew it, a new group of children, predominantly African-American and Hispanic, ran onto the stage, signifying a change in scene.
From the auditorium floor, Leahy mouthed the words to the song "Veggie Rock" and, like an orchestra conductor, mimed the children's movements to ensure they remembered their routines. "That cartwheel looks like a pretzel!" she warned one girl. "Let's see if we can do it better."
Rehearsals include nutritional lessons as well. Holding a plate with color-coded sections denoting healthy portion sizes for each food group, she asked the kids, "Does anyone remember the vitamin that helps prevents us from getting sick?"
Before she could finish the question, most raised their hands, some even waved them excitedly to get her attention. "Vitamin C," erupted the boy she pointed to. "Correct!" she said as his classmates applauded.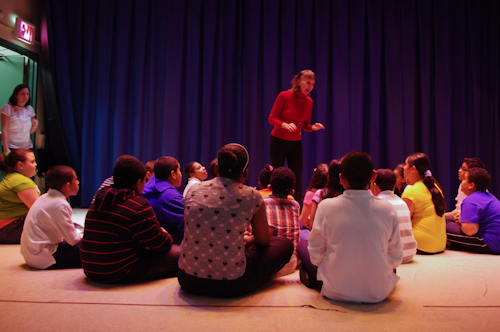 Leahy chose to work with nine to 11-year-olds, she said, because they're less self-conscious than puberty-addled teenagers, more willing to participate. Of the 4,700 students she estimates have participated in "My Plate," only a handful has refused to cooperate.
Leahy visits each school once a week, ten times in all. Each class is part cardio-intensive rehearsal and part lesson on food groups, portion sizes, and exercise.
She had already, a few weeks earlier, taught the P.S. 102 kids about the importance of eating fruit, for instance, and how Vitamin C helps prevent viruses by strengthening the immune system. She picked two students to portray Vitamin C and a cell and then, with a menacing smirk, charged at the boy playing the vitamin. But she stumbled backwards just before reaching him, causing paroxysms of laughter from the kids.
"A bad bacteria!" someone replied.
"The Vitamin C stopped you from hurting the cell!"
"Any time you deliver information to children in a fun way, the retention rate not only increases, but so does the likelihood that they'll share what they've learned," says Melissa Cebollero, health director for Bronx borough president Ruben Diaz Jr.
Back on the day of the musical, students, teachers and parents fill every seat in P.S. 102's auditorium. The two 15-year-old girls acting out the dream look like extras from a "Kidz Bop" commercial in matching tie-dye tank tops, bright skirts and ponytails. Ford, 28, wearing white wings and a halo, raps on about whole grains - "Whole grains are good raw or cooked: cereal, pasta, bread, I'm hooked" - and undulates to salsa music while shrieks and applause emanate from the audience.
Ford has starred in 15 productions of "My Plate. " He grew up in a poor neighborhood in Chicago and says he relates to the P.S. 102 kids.
"The biggest obstacle to growing up in a disadvantaged neighborhood is that there are less places where you can find something healthy," says Ford. "It's hard to stay on track when most of stores are full of junk food."
Echoing his point, studies show the Bronx has too few supermarkets, forcing residents to rely on local bodegas. Obesity is more common in poor neighborhoods because there is negligible access to fresh produce, says Dr. Jane Bedell, assistant commissioner at the Health Department's Bronx District Public Health Office.
"There is a scarcity of healthy food options and a preponderance of unhealthy food that's attractive because it's cheap," says Bedell. "But city policies can help create a more equitable distribution."
That's the impetus for city programs like Health Bucks, which provides $2 in coupons for every $5 spent on fruits and vegetables, and tax incentives for grocery stores that provide fresh produce, dairy and meat. But some Bronx residents, including Leahy's pupils, might still have trouble finding healthy items.
Nonetheless, Ford says he has learned to eat more healthily since he joined the musical. He checks ingredient lists when he goes grocery shopping and has taught his 10-year-old son about the different food groups.
At the end of Ford's hip hop routine, he says a few words about the importance of vegetables, while kids in green t-shirts burst onstage to do the "veggie rock" to a rockabilly tune. They swing dance, moonwalk, cartwheel, even backflip, as Leahy blows her whistle from behind the curtain to remind them of their cues.
Students say Leahy's dual-method, combining interactive lessons with rehearsal and performance, has altered their habits. Joshua Paz, an 11-year-old at P.S. 102, says now he eats less Chinese food and more vegetables. "I thought it was going to be only educational, but it turned out to be fun, too," Paz says.
Lourdes Colon says her daughter, Tayina, 11, has stopped eating potato chips and now prefers fruit. "I'd normally have a bag of junk food, but now she won't eat it," says Colon, removing from her backpack a banana that her daughter requested as a post-performance snack.
Parents also say that their children teach them what they've learned, leading them to reconsider their own eating habits. Ponnell Mulligan says after his 12-year-old son started prodding him to buy apples when they went grocery shopping together, he decided to eat fewer chips and more fruit.
"Now that he knows what he knows, I have to stay on top of the game," says Mulligan. "Because if I don't stay on top of it, he'll know more about something than I do, and that makes me look bad."
Based on a test Leahy distributed to three previous classes, students know more about nutrition after they completed the program. Their average score rose from 55 percent before the first class to 88 percent after the last one.
"No one solution is going cure obesity, so there needs to be an eco-system of intervention," says Andrew Rundle, an epidemiologist at the Mailman School of Public Health at Columbia University. "Educating the youth in imaginative ways is essential."
Onstage, fifth graders in red shirts bounce basketballs to the beat of a bass-heavy song, as Ford tells the two insouciant eaters about different ways to serve fruit. Leahy, dressed as cow, does her own number about low-fat dairy products. A puppet show depicts a boy too tired to get out of bed until he starts eating protein. And through it all, children dance with feverish excitement.
In the play's final scene, the two girls awaken and vow to stop eating junk food because of what the angel taught them.
"Want to go to the park and play basketball?" one girl says to other.
"Yeah, and let's stop for some fruit on the way back. No more potato chips for me."
Related
Popular in the Community