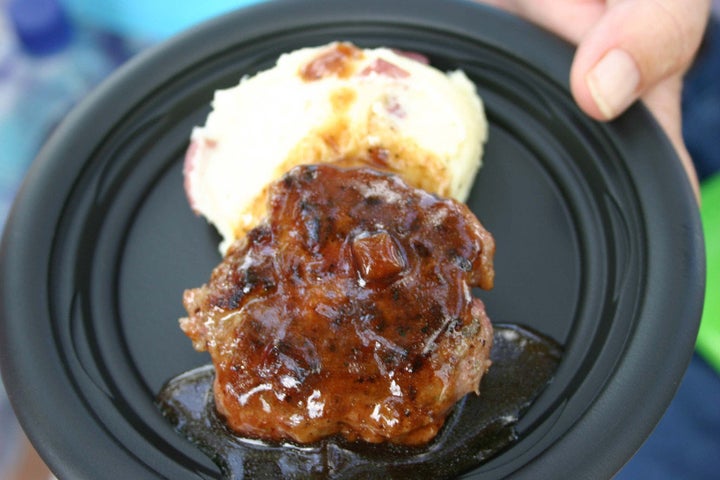 If you live in New York City, you may have heard of something called The Great GoogaMooga Festival in Brooklyn's Prospect Park. Although the organizers promised a merry weekend of food, drink and music (Hall and Oates played), many of the festival-goers were left dissatisfied.
But their frustration was at least temporarily quelled by some very funny fake menus that were handed out near the exits. Taking aim at some of the more, let's say, inaccessible and highbrow dining options that Brooklyn is known for, the menu for the made-up restaurant Fuds (pronounced "foods") is a truly hilarious take on the confusing jargon that trendy "fusion" restaurants often use.
The blog Fucked in Park Slope first brought the menus to the attention of the Internet, saying that they "can't read one thing on this menu without peeing a little."
The restaurant calls itself "A Journey in Food-Taste From Mouth to Toilet, Traveling the Ultimate Expanse of the Greeko-Japo Dining Experiences," and the menu's fare includes "bean pleasers," "Bill Clinton sandwich," "shirtless loin of hakt" and "crab dorks" (found under the Ocean Critters section).
If the seamless mix of non-sequtiurs and satire seems like it could be from the pages of The Onion, you're not crazy -- it was written by Dan Klein, Kelly Hudson and Arthur Meyer. After meeting through the expanded Onion universe, Klein is currently a writer for the site's videos, Hudson is an editor at CollegeHumor and Meyer is a writer for Jimmy Fallon's show. Klein and Hudson are also two of the minds behind the insane web series Teen Wheels and Rejected Pitches, and Klein and Meyer (and a handful of other Onion folks) are in the sketch troupe Pangea 3000.
So why'd they do it? No real reason. In an email to The Huffington Post, Klein said that the trio "liked joking about fake food names and eventually we thought the best way to show people them was through a fake menu."
He added, "We've gotten a lot of awesome voicemail responses. We even called a guy back as one of the [fictional restaurant owners] Mizretti brothers, and during the whole conversation, nobody broke character. It was weird and hilarious."
Well done, guys. And we can't help but think of how many hip Park Slopers took the restaurant as the real thing. Click below to take a look at the full menu.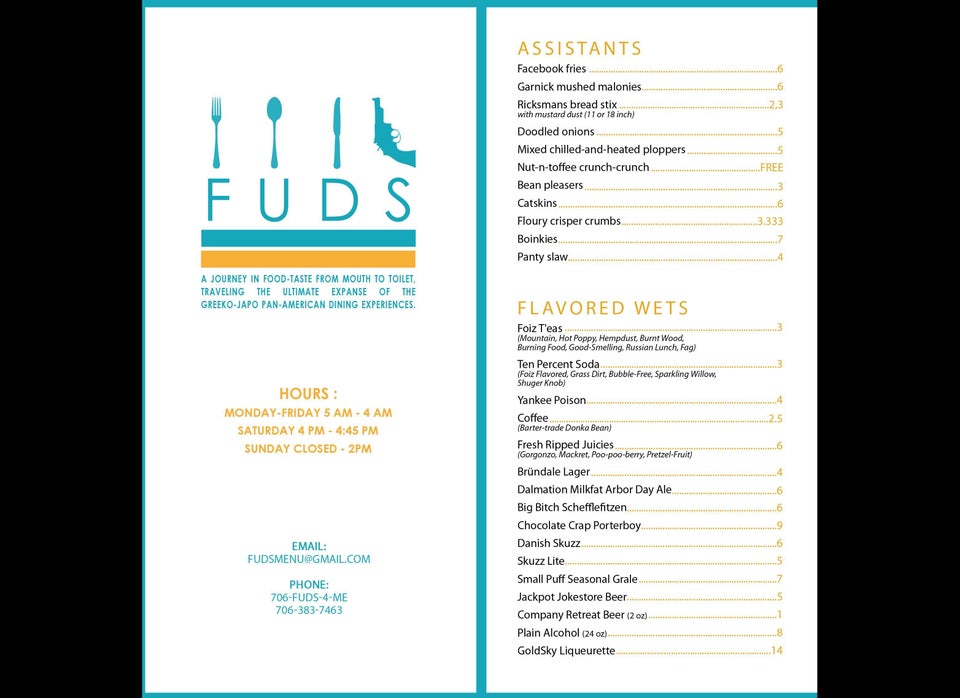 Fud Menu
Popular in the Community