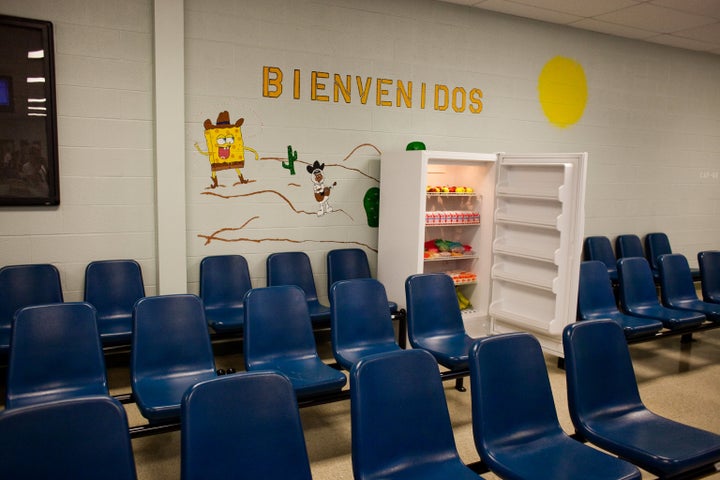 Immigration judges in Texas have begun ordering the release of women and children from detention without bond following a court ruling on Friday that advocates said they hope will end family immigrant detention.

All nine women and their children who appeared for bond hearings at the South Texas Family Residential Center in Dilley, Texas, on Monday were ordered released without bond or an ankle monitor, according to the immigrants' attorneys. The outcomes marked a sharp turnaround from the long waits and burdensome bonds that judges often issued prior to last week's ruling by a federal judge that families should be released.
"That's the first time this has happened," Andrew Free, an attorney who represents women and children locked up at the largest U.S. family detention center, told The Huffington Post. "This is groundbreaking."
Brian Hoffman, an attorney who coordinates pro bono lawyers representing women at Dilley, said Friday's ruling by U.S. District Judge Dolly Gee makes it difficult to justify continuing to detain women and their children. Instead, judges in Miami hearing arguments via webcam ordered women and children released on "conditional parole," which doesn't require a bond payment.
"In the past, we've been able to get conditional parole for extreme hardship ― medical cases, family unification," Hoffman said. "Today, we got it for everybody. No monetary bonds at all were set and we think that's all the judges can do in light of this federal court ruling that it's illegal for these people to even be detained here."
The orders followed Friday's ruling that locking immigrant mothers and their children in family detention violates the 1997 Flores Agreement. The agreement, which settled a class-action lawsuit first filed in 1985, sets guidelines for holding minors in immigrant detention. It mandates that authorities hold undocumented children in the "least restrictive setting" possible and adopt a "general policy favoring release."
The government has until Aug. 3 to argue why women and children in family detention shouldn't be released within 90 days. DHS spokeswoman Marsha Catron said in a statement that department officials "are disappointed with the court's decision and are reviewing it in consultation with the Department of Justice." She said they plan to respond to the court by the deadline.
The ruling was another setback for the Obama administration's attempts to use family immigrant detention as a deterrent to keep migrants from violence-plagued Central American countries of Honduras, Guatemala and El Salvador from crossing into the United States. The administration had largely done away with family immigrant detention back in 2009, but revived its use after some 68,000 family units were apprehended along the U.S.-Mexico border last year.
In response, the administration expanded the capacity to house families at a detention center in Karnes City, Texas, and constructed the new 2,400-bed South Texas Family Residential Center at Dilley. The Dilley family detention center is operated as a for-profit enterprise by the country's largest private prison contractor, the Corrections Corporation of America. The Karnes City facility is privately operated by the GEO Group, the second-largest private prison contractor.
Most of those who have wound up in family detention centers have applied for asylum, often saying they'd face gang threats or domestic violence if returned to their home countries. Despite the Obama administration's commitment to family detention, asylum officers routinely approve applicants "credible fear" interviews ― the first step toward establishing an asylum claim.
Despite that ruling, many women and children eligible for asylum or other relief remained stuck in detention for months, often because they can't afford bond. After an outcry from Democratic lawmakers, human rights groups and immigration attorneys, Homeland Security Secretary Jeh Johnson announced last month that families determined eligible for relief would be released in most instances.
Immigration and Customs Enforcement began to implement that policy earlier this month, and immigration attorneys said they have seen an uptick in families being freed over the past two weeks. During that time, though, Hoffman said ICE agents have given women conflicting information about when they will be released and have been unclear with attorneys about standards for who will be let out of detention.
Hoffman works with the CARA Pro Bono Project, which organizes volunteer attorneys for women and children in detention. The project laid out a slew of complaints about the state of affairs in the detention facilities in a letter Monday to ICE Director Sarah Saldaña, including ICE agents pressuring women to agree to ankle monitors and not allowing them to speak to attorneys.
ICE did not respond to a request for comment on the letter.
"It has been chaos," Hoffman said. "Ever since they started to implement their own release policy, it's sort of been one failure after another."
Popular in the Community