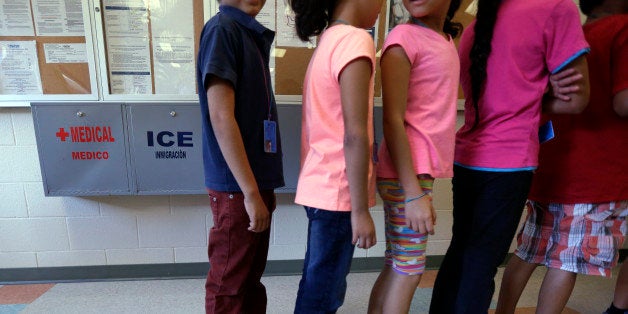 WASHINGTON -- The Obama administration is making good on its promise to limit the detention of immigrant families by beginning to release women and children seeking asylum or other relief in the U.S.
Immigration and Customs Enforcement has begun reviewing the cases of families being held at its detention centers and will release some women and children while they pursue approval to remain in the U.S., a spokesman said Monday.
"Going forward, ICE will generally not detain mothers with children, absent a threat to public safety or national security, if they have received a positive finding for credible or reasonable fear and the individual has provided a verifiable residential address," Richard Rocha, a spokesman for ICE, said in a statement.
The move comes after months of urging by immigration advocates, lawyers and Democratic lawmakers to stop the detention of mothers and children, which they say is highly damaging for families, especially children.
It doesn't mean that family detention is over. The three facilities -- two in Texas and one in Pennsylvania -- will remain in operation to hold women and children recently apprehended and those who are not approved for release.
Critics of family immigrant detention say the changes aren't nearly enough, but are a step in the right direction. Jonathan Ryan, executive director of the Refugee and Immigrant Center for Education and Legal Services, said in a statement that the move was "only seen as a victory because of how bad the Administration has made life for refugees."
"A year ago we would never have accepted this minor shift in policy towards asylum seekers, nor would we have celebrated this move by the administration," said Ryan, whose group coordinates legal services for families in detention. "After nearly a year of advocating for children and mothers, who have fled immense violence, we are thrilled that the administration is finally accepting that their treatment of this population of people was wrong."
Family immigrant detention was rarely used during most of Obama's time in office, after his administration shut down the controversial T. Don Hutto family detention facility in 2009 over reports of abuse and heavy criticism that it kept children in what was once a prison.
But things changed after nearly 70,000 family units, mostly Central American mothers with their children, were apprehended along the U.S.-Mexico border last fiscal year. The administration opened two new facilities in Texas, in Dilley and Karnes City, to supplement a smaller existing facility in Berks County, Pennsylvania.
The Dilley facility, the South Texas Family Residential Center, housed 1,979 women and children as of Monday, according to ICE. There were 122 people at the Karnes facility and another 71 people at the Berks center.
The total number of people in the facilities is expected to decline, but may increase in the future as more women and children are apprehended along the border.
Johnson said those allowed to stay in the U.S. while pursuing relief would be released, except in certain circumstances, rather than staying in detention as they await hearings. For those released on bond, amounts would be set at "reasonable and realistic" levels the women can afford, Johnson said.
"I have reached the conclusion that we must make substantial changes in our detention practices with respect to families with children," Johnson said in a statement at the time. "In short, once a family has established eligibility for asylum or other relief under our laws, long-term detention is an inefficient use of our resources and should be discontinued."
Before You Go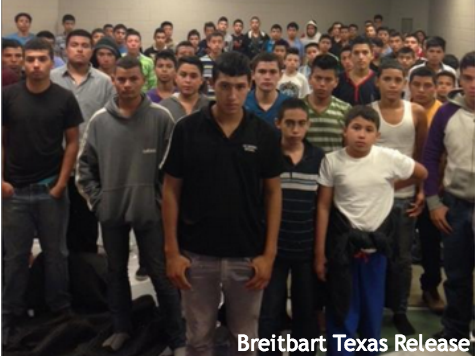 Overwhelmed Border Patrol
Popular in the Community