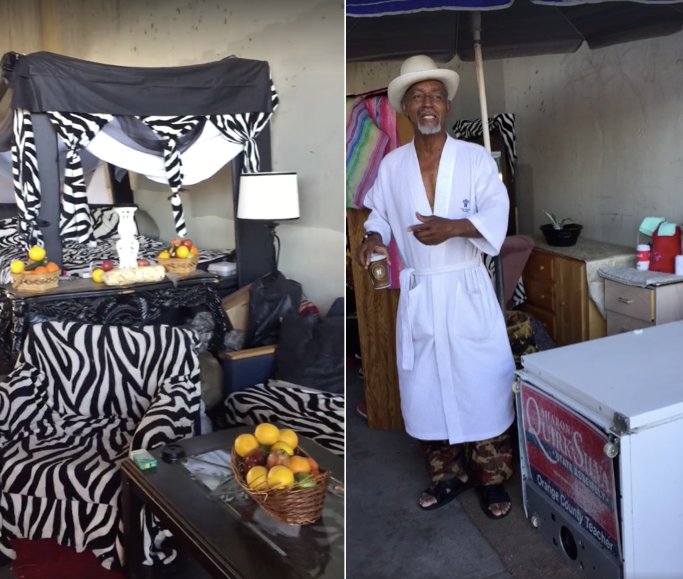 A resourceful homeless man has become a local celebrity after constructing an elaborate compound beneath a Los Angeles freeway that appears to have all the amenities of an ordinary home.
Ceola Waddell Jr. welcomes viewers to his roadside abode in a Facebook video that has been viewed more than 1.5 million times as of Sunday.
"You have now entered Paradise Lane," the 59-year-old man quips in the two-minute video.
The residence features two toilets, two refrigerators that serve as "jacuzzi" bathtubs when filled with water, a guest bed and a snack bar. (The toilets, he says, rely on plastic bags to collect the waste.)
There's also a canopy bed, living room set, zebra-print blankets and sheets and a tent lined with pillows and blankets that has a "FOR RENT" sign attached. Waddell said he rents out his spare beds for about $25 a week or $10 a night.
It's not clear who shot the video. The woman who shared it on Facebook on Nov. 3 could not immediately be reached.
"I refuse to let the city beat me down to what they think a homeless person's profile is, living on cardboard," he told the newspaper.
"I refuse to let the city beat me down to what they think a homeless person's profile is, living on cardboard.""
According to the Times, Waddell has lived beneath the freeway for the last six months. During that time, the city's sanitation crews have dismantled his compound several times, he said.
During one recent instance, after the video was posted on social media, crews removed a refrigerator they described as packed with an "abundance of rotting food." They also removed "explosive materials," a sanitation spokeswoman told the paper.
It's not clear how much of the camp remains beneath the freeway today. The city's homeless services authority could not immediately be reached for comment.
Bureau of Sanitation spokeswoman Elena Stern told The Times that the city has offered Waddell homeless services, including temporary housing, but he's refused.
Waddell, however, told the paper that he indeed wants housing. He further acknowledged the dangers of living beneath an overpass and shared that he was once robbed at gunpoint in his bed.
Los Angeles has the second-highest population of homeless individuals of U.S. cities, with about 43,800 people reported homeless, according to a report released by the U.S. Department of Housing and Urban Development this month.
The city's Homeless Services Authority offers a number of resources to homeless individuals and families, including emergency services and transportation, shelter referrals and outreach services, according to its website.
Support HuffPost
The Stakes Have Never Been Higher
Related
Popular in the Community