Shots fired during an early morning FBI raid of a family's suburban Maryland home left an unarmed 18-year-old wounded, the young woman's father said.
The family said it was stunned to see a SWAT team of a 15 agents burst into their Prince George's County home at 6 a.m., according to WJLA.
FBI officials later said they were there Thursday to perform a search warrant, but didn't divulge the reason for the visit.
Emory Hughley, the father, tried to assure the agents that no one in the home had a gun.
When officers saw his daughter Myasia standing outside her bedroom, an officer yelled, "She's got a gun," which started a volley of gunfire, Hughley said.
It's unclear what led them to believe she had a weapon.
The teen wasn't directly hit, but her father said that "shrap metal" scraped Myasia's neck. She was taken to a hospital for the flesh wound and released.
It's believed that one agent fired multiple times at the teen in the living room, MSNBC said. There are several bullet holes in the house, according to reports.
But there are differing accounts of what happened. A Baltimore field agent for the FBI told the Washington Post that the teen's injury was caused by a fall, not gunfire.
Neighbors reported hearing a bang at 6:30 a.m and several outlets reported that there weren't any known problems with the family.
Before You Go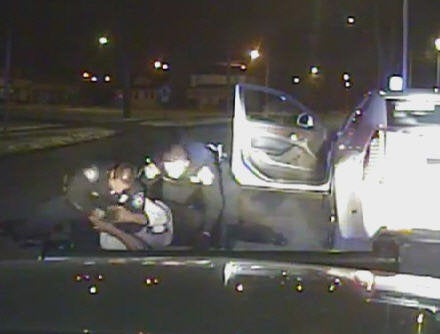 Police Brutality Incidents
Popular in the Community