WASHINGTON, June 18 (Reuters) - The FBI has used secret evidence obtained under the Foreign Intelligence Surveillance Act to prosecute at least 27 accused terrorists since 2007, according to a Reuters review of public records.
While the recent spotlight has been on the use of the FISA law by the U.S. National Security Agency for surveillance programs following disclosures by former NSA contractor Edward Snowden, the FBI also makes extensive use of the law for domestic counterterrorism.
The Reuters review highlights the extent to which the FBI has come to rely on FISA to investigate or thwart domestic attacks. It involved searching the national court docket using the database of Westlaw, which is owned by Thomson Reuters Corp, and includes only cases where prosecutors are required to file a notice under FISA. Other cases where FISA was used may be sealed.
The 27 cases in which the Federal Bureau of Investigation has used FISA evidence include both well-publicized and less-known investigations. They range from mass murder charges against Army psychiatrist Nidal Hasan for the shootings of 13 people at Fort Hood, Texas, in 2009, to the arrest in April of an 18-year-old in Chicago accused of planning to join an al Qaeda-linked group fighting in Syria. Both men await trial.
In an effort to shore up support for the NSA program, U.S. spy agencies may disclose publicly, as early as Tuesday, for the first time a list of at least 25 terrorist attacks they say were thwarted by the agency's once-secret surveillance operations. Many, if not all, of those NSA operations also used FISA for intelligence gathering.
When the FBI uses FISA, it seeks approval from judges at the secret U.S. Foreign Intelligence Surveillance Court (FISC) for phone, email and electronic surveillance and for searches of property, including "sneak-and-peak" search warrants in which agents covertly enter a business or home when the occupants are away, and try to leave no trail of their visit.
The public court records, often little more than a one-page notification by a Justice Department attorney, provide no specific details of these covert operations. Some case files include defense challenges to the FISA law; none have been successful.
The court files show that the FBI used FISA warrants in recent cases against an Oregon man charged with aiding a Pakistani suicide bomber; a Philadelphia man accused of joining an Uzbekistan terrorist organization; and two Somali-born Minnesota women convicted of raising funds for al Qaeda-affiliated al-Shabaab rebels.
They also include FBI investigations of the New York founder of a radical Islamic website and a Moroccan man convicted of plotting a suicide attack at the U.S. Capitol.
An FBI spokeswoman referred questions about the bureau's use of FISA to the Justice Department, and a spokesman there declined to comment.

FISA warrants are issued by the FISC in Washington. It was created in 1978 following congressional hearings that exposed illegal surveillance of U.S. citizens - without court-authorized warrants. The court includes 11 judges, all of whom are veteran federal judges at the trial court level. They are appointed by the chief justice of the U.S. Supreme Court to seven-year terms.
Applications to the judges for FISA warrants are presented by U.S. prosecutors. While FISA warrants are issued in secret, once an arrest is made by the FBI, U.S. law requires prosecutors to file a short notice to the court if they intend to use classified evidence at trial.
In addition to terrorism cases, the FBI has used FISA warrants in at least nine espionage and arms and military technology smuggling investigations since 2007.
The 27 alleged terrorism cases identified by Reuters in which the FBI used FISA evidence, and later disclosed that fact, represent only a small sampling of warrants issued by the secret court. Last year alone, the government applied for 1,856 FISA warrants and - except for one that was withdrawn - all were granted.
The public records only identify cases in which the FBI used FISA evidence to make terrorism arrests inside the United States.

In some cases where prosecutors filed a public court notice that the FBI used FISA, the NSA is also involved but the authorities are not required to disclose that in court.
For instance, U.S. officials have since the Snowden disclosures identified two such cases - a U.S. man implicated in the 2009 attack by armed Pakistani militants in Mumbai, India, that killed 166 people, and an attempted plot against the New York City subway the same year.
In the New York case, the alleged plot leader, Najibullah Zazi, pleaded guilty to terrorism charges and is awaiting sentencing. An alleged co-conspirator, Adis Medunjanin, was sentenced to life in prison.
In a paper circulated to Congress on Saturday, U.S. intelligence agencies said that broad NSA email monitoring under a program made public by Snowden, called Prism, played a critical role in leading U.S. investigators to Zazi, while sweeping NSA telephone data collection produced leads that led investigators to Medunjanin.
According to court records, the FBI also used FISA warrants to make cases against:
- Abdella Ahmad Tounisi, 18, of Aurora, Illinois, who was arrested in April for allegedly trying to join al Qaeda-linked fighters in Syria. He is awaiting trial. U.S. officials say he was a friend of Adel Daoud, an American accused of trying to set off a bomb outside a downtown Chicago bar last year.
- Jesse Curtis Morton, a Muslim convert from Brooklyn who founded the Revolution Muslim website, which is linked to a half dozen other terrorism cases inside the United States, according to court documents. Morton is serving a 12-year sentence for posting online threats against the founders of the South Park television program.
- Amine El Khalifi, a Moroccan sentenced last year to 30 years in prison for plotting a suicide attack on the U.S. Capitol.
- Reaz Qadir Khan, a Portland, Oregon, municipal worker charged in April with conspiring to provide material support to a fatal 2009 suicide bombing at a regional Pakistani intelligence headquarters in Lahore. He awaits trial.
- Betim Kaziu, a Brooklyn man convicted of conspiracy to kill U.S. soldiers overseas and sentenced to 27 years in prison.
- Bakhityor Jumaev, a Philadelphia man arrested last year in Denver and charged with being a member of an Islamic terrorist group allegedly seeking to overthrow the government of Uzbekistan. He awaits trial.
- Amina Farah Ali and Hawo Mohamed Hassan, Somali-born Minnesota women convicted of raising funds for al Qaeda-affiliated al-Shabaab rebels. Ali was sentenced to 20 years and Hassan was sentenced to 10 years. (Additional reporting by Matthew Haldane; Editing by Warren Strobel and Martin Howell)

Before You Go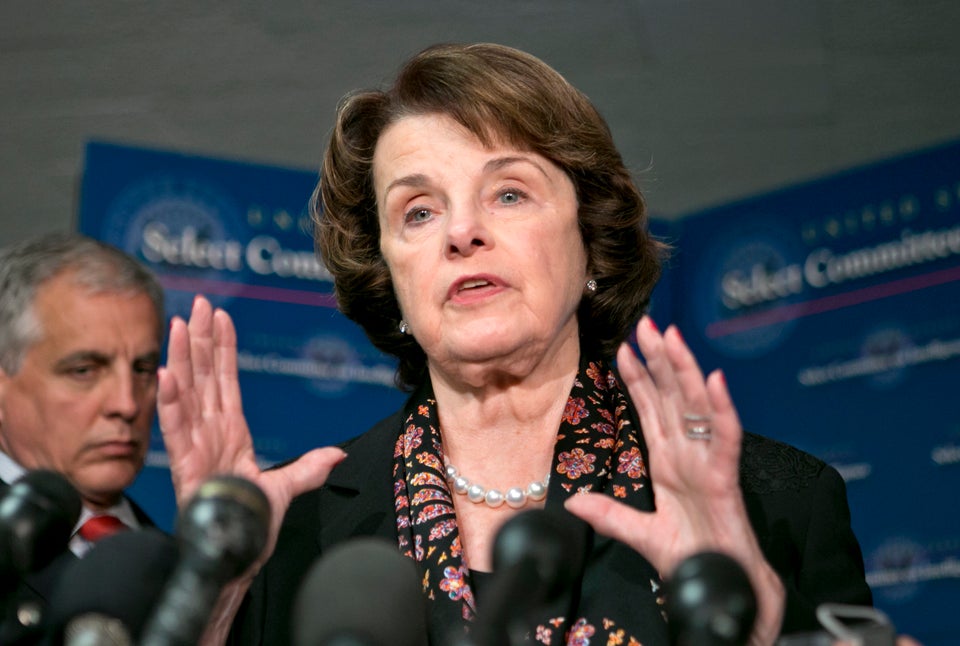 Politicians React To NSA Collecting Phone Records
Popular in the Community