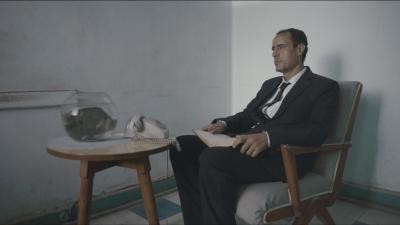 After the great momentum gained last year in the Festival de Cannes with Hany Abu-Assad's 'Un Certain Regard' Jury Prize winner Omar, I'll admit I was a bit disappointed at how light the program is this year with Arab cinema and MENA titles. Of course, there was a grand presentation of Selma Hayak's upcoming animated version of Khalil Gibran's masterpiece The Prophet (still a work in progress) and there were titles like Abderrahmane Sissako's Timbuktu, the Syrian documentary project Silvered Water, Winter Sleep by Turkish filmmaker Nuri Bilge Ceylan, and the Challat of Tunis in the ACID program, which all gained good reviews and excited audiences. But I still personally felt a bit let down, since none really represented what the nurturing arms of the Gulf region organizations can do, the way Omar did, because of its support from the Dubai International Film Festival fund Enjaaz in post-production, or My Sweet Pepper Land by Hiner Saleem, which had help from the Abu Dhabi Film Festival SANAD fund.
Then I watched The Aftermath of the Inauguration of the Public Toilet at Kilometer 375, a short from Egypt which screened in the Cinéfondation program. Omar el Zohairy's 18-minute student film is inspired by Anton Chekhov's short story The Death of a Government Clerk, a parable on what fear can do to a man. Beyond the actual reality of his act. A man sneezes in front of his boss, and then spends the remainder of his life trying to make up for the faux pas, which ends up annoying his superior more than the actual sneeze. I have to admit that whenever I have heard sneezing in Cannes, I've silently chuckled at the possible implications, after watching el Zohairy's beautifully scripted and shot black comedy.
Al Zohairy is no stranger to winning. His previous short Zafir (Breathe Out) won a Special Mention prize in the Muhr Arab Short category in 2011, at DIFF. His latest film will undoubtedly screen in the Gulf in one of the festivals. And while Abbas Kiarostami and his jury may not have awarded the film a jury prize, it's still an absolute champion of possibilities in my book!
Despite its short length, The Aftermath is a full and significant film, and although bare and minimalist in look, it's crowded with expectation. It is also groundbreaking, as I've endlessly mentioned before, the first film from Egypt to be included in the Cinéfondation. El Zohairy's graduation project from Egypt's High Cinema Institute, hard to believe but true, this is a student film.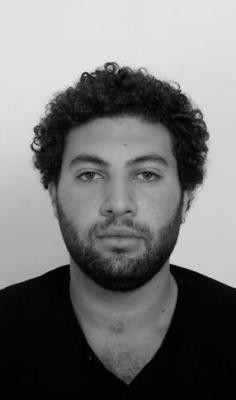 The filmmaker admits that fear rules his own life. We spoke on the rooftop of the Palais de Festival in Cannes, sitting on the Cinéfondation terrace. "Fear is always leading my goals and my decision. It's all I think about," el Zohairy admitted, then continued, "I'd like to be a director because he's the man behind the camera, no one sees him, and he can express everything without saying it." Finally summarizing, "that's cinema for me. Hiding from everything and trying to express your feelings."
El Zohairy mentioned as inspirations the black comedy styles of, in his own words, "Roy Andersson Jacques Tati, Elia Suleiman, and Buster Keaton." He also admitted his aspiration is to tell, though a modern film, the stories and themes explored by Kafka, because, he said, "I find Metamorphosis a pure black comedy, the best story ever. Kafka is doing a comedy but of a real miserable life."
Finally, I asked el Zohairy about the look of his film, which is haunting and perfectly highlights this simple, yet tragically funny tale. He admitted that he chose a factory built by Russians for the main setting, because this modern look, introduced to Egypt by Nasser in the Sixties, represents Egypt losing its identity. Hauntingly the filmmaker highlights a trend of modern life, this wanting to make everything look standard and alike. Our globalization, which instead of celebrating our differences and highlighting our equal humanity, tries to homogenize and sterilize culture. And accompany it all with a nice, fresh, crispy bucket of fast-food chicken.
But you'll have to watch the entire film to understand what I mean.
All images courtesy of the Festival de Cannes, used with permission
Calling all HuffPost superfans!
Sign up for membership to become a founding member and help shape HuffPost's next chapter