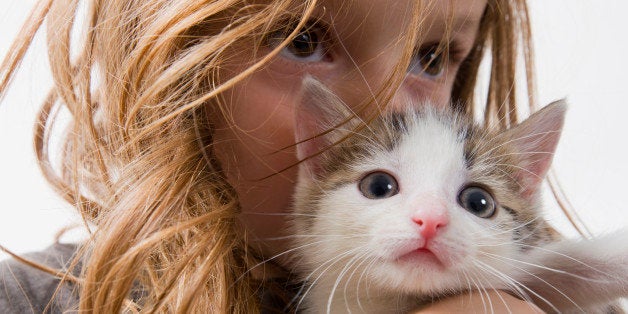 Cats had already taken over the internet -- so their next stop just had to be a trendy Brooklyn neighborhood. The Internet Cat Video Festival came to Williamsburg in New York City on Oct. 25 and drew thousands of people, including many wearing fuzzy ears and whiskers.
It's not surprising the event was such a success -- the U.S. has long been a nation of cat lovers. And it's not just socialized pet cats like the festival's special guest, Lil Bub, who are popular: Feral cats who call the outdoors their home have stolen the hearts of Americans too. Millions of Americans care for these beautiful and independent creatures who are not socialized to people and live in colonies with other cats.
Feral cats, also called community cats, are the focus of a humane approach to animal control that is steadily gaining momentum in communities nationwide: Trap-Neuter-Return, or TNR. The old approach for feral cats was catch and kill, where the healthy cats were rounded up and "euthanized" at shelters. But catch and kill has failed at stabilizing the feral cat population -- and as you might guess based on Americans' love for cats -- it doesn't go over well with the vast majority of community members who don't want their tax dollars spent on killing animals.
Fortunately, some animal control authorities are now replacing this outdated method with TNR, an approach that works and has the wholehearted support of cat lovers. This approach involves humanely trapping feral cats, spaying/neutering and vaccinating them, eartipping them for identification and then returning them to their homes outdoors.
Within just the past decade, the number of municipalities with ordinances supporting TNR has increased tenfold. In fact, 350 cities and counties now officially endorse TNR -- and that number increases monthly.
Cities and towns are adopting TNR because they've seen how effective it is at reducing community cat populations. In these communities, animal control officers' phones are ringing less often, fewer kittens are being brought to shelters and cat colony sizes are shrinking.
For example, since San Jose Animal Care & Services in California launched its innovative TNR program in 2010, its intake rates for cats and kittens have fallen by 25 percent. In addition to saving lives, this approach can save money. San Jose spends $50 to spay/neuter, vaccinate, eartip, and return a cat. That's about a quarter of what it costs the shelter to hold, care for and kill a cat.
As a result of the resounding success of TNR, many communities that still catch and kill feral cats want to learn how they can implement this humane program in their area. That's why Alley Cat Allies is hosting a national conference November 8 - 10 near Washington, D.C., to bring together the nation's top TNR experts who will discuss how to advance the momentum for TNR and other humane policies and programs for cats. Leading veterinarians, shelter directors, animal control officers and other visionaries who have transformed communities' approaches to cats will share their insight at our Architects of Change for Cats conference. The goal is to share success stories, provide proven "blueprints" for change and keep up the momentum to protect the lives of cats.
The animal control agencies and shelters that have already changed their approach to feral cats are seeing amazing results. But we need every agency and shelter to follow suit. Change isn't always easy -- but it is necessary. And with hundreds of municipalities to look to for inspiration, and community members who love cats and are willing to help shelters make the change, there's no reason to wait another day. Our conference speakers, who may not wear fuzzy cat ears but are just as passionate about cats as the Internet Cat Video festivalgoers, will show attendees the way.
Becky Robinson is the President and Co-Founder of Alley Cat Allies, the only national advocacy organization dedicated to the protection and humane treatment of cats.
Related
Popular in the Community