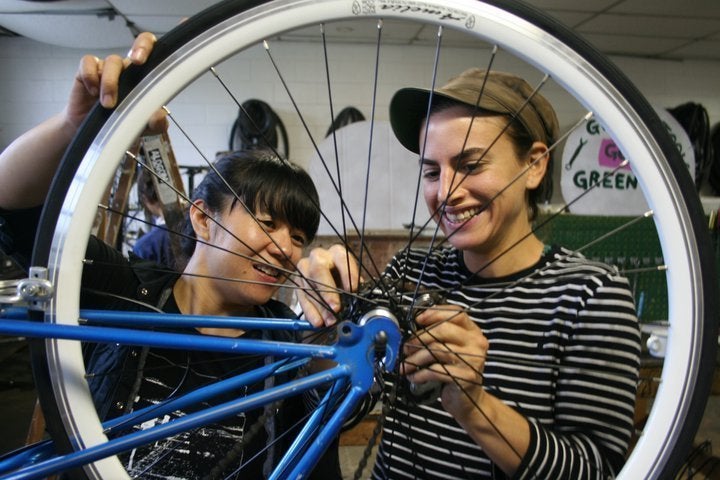 In a city where affordable, sustainable transportation is difficult to come by, one person is working to give community members wheels.
Sarah Sidelko founded the bicycle program Fender Bender with three others in 2010, and the project now has a home at the Cass Corridor Commons in Detroit. Less of a shop than a community and education center, Fender Bender is meant specifically for women, queer and transgendered people. For now, Sidelko runs the space part-time in addition to working two other jobs, but she squeezes in open shop nights, mechanic training classes and bike-related art workshops.
She also works on cyclist-targeted projects, like a map for city bikers. And after thinking about models of bike-sharing systems in other cities like Austin and Chicago, she believes it's something Detroit needs, too, though she has her own take.
"I started talking with friends about how we could also make bike shares more aligned with the principles of environmental friendliness," Sidelko explained.
She's now in the first stages of creating a bicycle lending library for Detroit, fixing up donated, used bikes one at a time. She has 14 finished, with a plan to have 10 to 15 more restored by June for a first, trial fleet.
In Sidelko's mind, the library eventually would be sustained by its community of users, who would learn about the bikes and keep them working well. By taking responsibility for their maintenance, people would feel accountable for the bikes and keep them in good shape.
Sidelko imagines contracting with a local coffee shop that could provide bikes for their workers and rent them out to others. Or she sees selling bikes to a community center and training members to be responsible for maintenance themselves, creating their own small lending library. A bike-share system could someday rely on many small community hubs.
Before working on a larger-scale project, Sidelko will run a trial of the lending library during the Allied Media Conference this summer. Conference attendees will be able to rent bikes for a fee. (Those who don't need a bike can get a smoothie from Sidelko's blender bike, run on pedal power.)
After the conference, the bikes will be used by kids in the Gardening Advocacy Media and Education Youth Summer Camp, also based in the Cass Corridor Commons. The students will have opportunities to learn bicycle maintenance skills.
The trial run will give Sidelko, who cites safety as a key concern, a chance to get feedback and see what works for riders as she continues to grow the project.
Sidelko said she is always looking for more donations of bikes in decent condition. She's also working to secure funding, made more difficult after she recently lost valuable documentation and grant applications in process when her laptop was stolen. But the setback hasn't fazed her too much.
"Money is great but this is something I'm going to do regardless," she said. "To do things right, it just takes time. I'm in it for the long haul."
Can't get enough of riding on two wheels in the city? Check out the other stories in HuffPost's Detroit Bikes series to find out where to get a tune up, how many miles of bike paths we actually have, and what's the deal with the East Side Riders.
Photos by Nora Mandray, courtesy of Fender Bender.
Related
Popular in the Community