Citizen journalism is the fifth estate and media censorship is an exercise in futility, experts said this week at Dubai's 9th Arab Media Forum despite objections from traditionalists resisting the inevitable.
"Citizen journalism is a popular coup d'etat against traditional journalism," said media professor Ali Al Karni of King Saud University in Saudi Arabia. "Citizen journalism and social media have become the fifth estate in the 21st Century."
Al Karni zapped co-panelist Egyptian editor Anwar Al Hawari who earlier claimed citizen journalism had died, triggering a slew of comments on how traditionalists like him were history and had a superficial understanding of "new media."
"What we want to instill in young Arabs is the idea that 'you can do' and want to provide an image that debunks stereotypes," said Ahmed Ashour, manager of Al Jazeera Talk , the Qatar-based channel's outlet for young journalists.
The enthusiastic Ashour said his platform, dubbed "Media Throbbing With Youth," is a network of young reporters filing stories "from their perspective" that have often wound up in the mainstream Al Jazeera channel and other media.
"It's important to promote spontaneity," he insisted, adding that his reporters were nonetheless armed with basic journalistic guidelines to ensure accuracy and balance.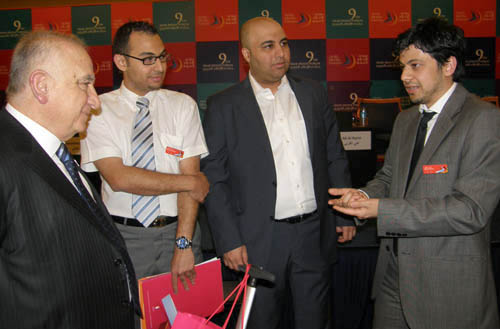 Ahmad Ashour (right) explains the merits of youth citizen journalism (Abu-Fadil)
The lively debate was one of several issues probed by 1,800 participants at the two-day forum organized by the Dubai Press Club.
For Santino Saguto of Value Partners and an expert on telecoms, monetizing new platforms is a major business challenge in the Arab world.
"Leaders need to adjust to new platforms," he said, adding that innovation was key.
In the United Arab Emirates -- of which Dubai is a member -- collaboration between telecoms and new media is flourishing, leading to a creative model emerging from the Middle East region, Saguto explained.
Things are happening rapidly and social media consumption is already high, he said, with mobile penetration at 100% in many Arab countries.
Asked how his paper coped with News Corp mogul Rupert Murdoch who is hot on his heels, New York Times vice chairman of the board Michael Golden said it needed to adjust to the competition.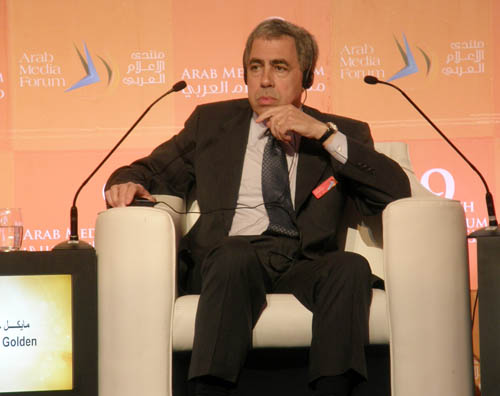 NY Times Vice Chairman Michael Golden (Abu-Fadil)
In a session dubbed "Opportunities in Journalism," Golden admitted opinion
had become prominent in the media, notably with the millions of existing blogs.
"What we try to do, is be accurate and fair," he said. "Understanding what it means takes much more time and much more depth."
More prickly at the Arab Media Forum was the matter of media censorship in the region and whether satellite channels would fall prey to more broadcast restrictions.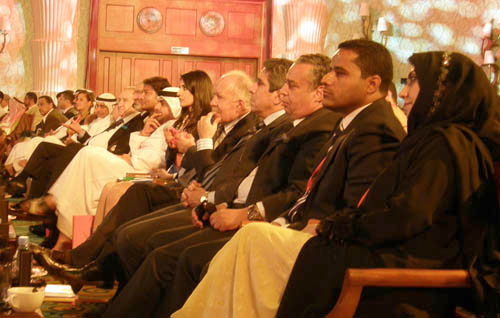 Arab Media Forum 2010 audience listens intently to prickly issues (Abu-Fadil)

Arab ministers of information and the Arab League have been toying with a charter to control what they feel are unruly channels promoting promiscuity and hate speech.
But critics view official measures to curb the 500-plus satellite broadcasters as attempts to silence political rivals and muffle free speech.
Underlying tensions caused a ruckus when Paula Yacoubian, a talk show host from Lebanon's Future TV, who chaired a panel on censorship, took a swipe at her panel member Abdallah Kassir, a Hezbollah stalwart and head of the Supreme Council of the Union of Islamic Radio Stations and Satellite Channels.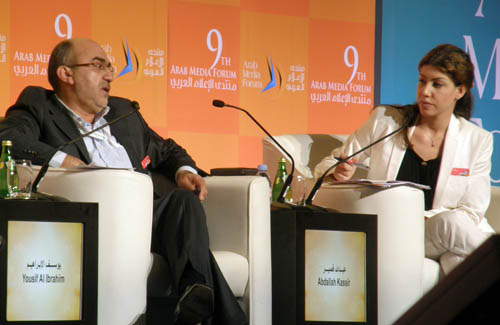 Paula Yacoubian hints Hezbollah backers unplugged Future TV (Abu-Fadil)
"We need real freedom to express ourselves, not more regulations from governments," suggested an audience participant.
Another participant said the Arab world didn't need information ministers and that government-run media should operate with international ethics standards in mind.
Perhaps the most electrifying session was the last, entitled "Don't Interrupt Me," that focused on Arab talk shows whose hosts rise to fame by cutting short their guests and provoking them.
The most controversial talk show star, Faisal Al Qassem of Al Jazeera's "The Opposite Direction," dropped out at the last minute and conferees were left guessing whether it was a snub or his fear of facing a probing audience.
But that didn't prevent Egyptian TV personality Amr Adib from stirring the pot when asked if he wasn't more of a performer than an interviewer because of his on-air antics.
"Arab guests are very difficult, they don't answer questions, they break into monologues and love to talk," he replied. "If you invite westerners, they get to the point and don't B.S. you, while an Arab guest will repeat the answer 40 times."
Adib noted in comical style that both western hosts and their guests come well prepared for their face-offs, while Arabs tend to play it by ear.
So he has to do his homework and plan on cornering his guests, particularly if they're surrounded by controversies, he admitted.
"Unfortunately we're in hot competition, locally, regionally and internationally, so we have to look for what attracts the audience," said the more sedate Marcel Ghanem whose "People Talk" is a big hit on LBC TV in Lebanon and beyond.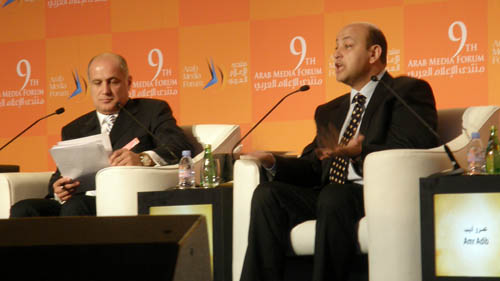 Amr Adib (right) defends his interview style as Marcel Ghanem ponders his (Abu-Fadil)
Panelist Mohammed Alnughaimish, author of "Listening, the Forgotten Virtue," asked if interruption was necessary for a show's success.
"No, but it's a way to break the conversation," he answered his own question, adding that hosts interrupt stumbling guests to shift gears or to redirect the conversation if a guest goes on a tangent.
He referred to a study that found hosts of all shows spend 25% of their time interrupting their guests. "It's quite disruptive and throws people off their thought tracks," he said.
Hosts sometimes have to play devil's advocate, panelists suggested, noting that noisy shows attract the most viewers.
Asked whether hosts should be held responsible for causing their guests legal headaches, if the latter divulge information that implicates them in crimes, or if they're dissidents who vent off on the air, Adib said they were old enough to realize the implications.
"I get key people and it's their responsibility to take charge of their words," he said. "Some have gone from my show to jail. It's not my job to protect them."
Ghanem, meanwhile, said talk shows and their hosts had contributed to raising the ceiling of press freedom in the Arab region.
The forum included the awarding of the annual Arab Journalism Awards, handed out to Arab reporters and editors in print and, more recently, online media.

Calling all HuffPost superfans!
Sign up for membership to become a founding member and help shape HuffPost's next chapter