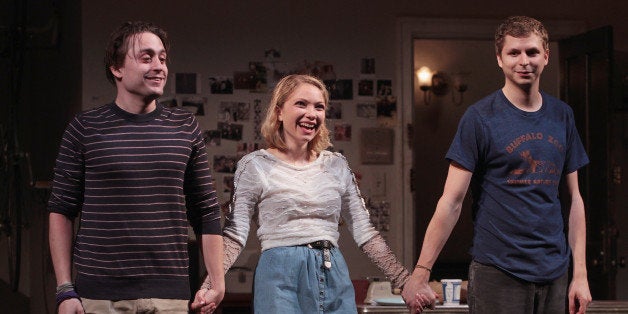 In Kenneth Lonergan's revived 1996 play, This is Our Youth, a Steppenwolf production transferred to the Cort, what specifically does the playwright mean by "this"? Well, he sees the three characters as intelligent twentysomethings, witty, well schooled, privileged (rich Jewish kids, at that) but at the same time drifting, drug and pot consuming, alienated from and by parents, casually destructive.
Even if cute and potentially winning, they're not a pretty sight. Warren Straub (Michael Cera) is a tall and gangly boy, who has sought revenge against his shady-business-dealings father by lifting $15,000 before leaving the house he's just been tossed out of. Dennis Ziegler (Kieran Culkin), whose father is a wealthy and famous artist, is a smooth-talking, abusive drug dealer masking his profound insecurities. Jessica Goldman (Tavi Gevinson) is a nervous young woman trying to please whomever she's with, especially a demanding mother.
The three encounter each other during a 48-hour or so period when Warren arrives at Dennis's spacious Upper West Side Manhattan apartment, angling for both illegal substances and a place to crash with his stolen cash. Jessica shows up as a blind date Dennis arranged through his on-again-off-again sculptor girlfriend Valerie, who remains unseen, though frequently mentioned as well as spoken to on the phone.
Since Dennis and Jessica meet only briefly -- on the morning of the second act following their eventful previous-night first-act tete-a-tete -- it's Warren who interacts with them both and is therefore the focal figure. A fellow who constantly manages to cause dire developments to his surroundings within minutes of his arrival and then keeps it up, he's a lost lamb whose every action registers as some type of pathetic bleat.
In the sequences with Dennis, he longs to be accepted by the changeable friend and is confounded when the labile pal repeatedly attacks him as ineffective, (Far harsher words are employed.) In the sequences with Jessica, Dennis and she find a way to a kind of sophisticated puppy love (during the between-acts night he takes her to a Plaza Hotel suite on $1000 of Pop's money) that in the light of morning look as if it has foundered.
In other words, though with his title Lonergan implies these youths represent their generation (the play is set in late March, 1982), they more pointedly represent kids from well-to-do backgrounds who nonetheless haven't had accurate moral compasses handed to them along with their other assumed entitlements.
Take Dennis's digs, for instance. When first spotted (the curtain is up as the audience enters), it appears too big for a youth to shoulder the monthly costs. (It's loomed over by designer Todd Rosenthal's brick wall punctuated with shaded windows that would better serve Arthur Miller's Death of a Salesman.) Before act one ends, though, manipulative Dennis explains to importuning Warren that he, Dennis, regards himself as "independent" because his father pays the rent.
This is Our Youth is written in a tone of impeccable reality. Lonergan observes Warren, Dennis and Jessica with compassion. He wishes them the best, but at the same time -- at especially an ending that doesn't seem completely thought out -- he worries that the best will elude them. No, he's not at all sanguine about the futures of these unstable young adults.
It's possible that Lonergan maintains that discouraged view of 2014 youths, too, but because of script requirements, the 1980s specification stays in place. There's a record player on stage that gets used -- 33s, almost a thing of the past nowadays, although vinyl is making a comeback with some music lovers. A landline featuring a long cord also comes into play often, something at which today's texting, sexting youths might scratch their heads.
Cera and Culkin, both committed and eagerly expressive actors, make good use of that phone and cord. Speaking to his angry father, Cera's Warren can barely hold the phone bottom aloft. Culkin uses the cord like a whip. He turns one phone call with Valerie -- who's furious over a sculpture of hers having been destroyed (by Warren) -- into an act-two tour de force.
Cera establishes Warren's awkwardness through his tentative speaking voice and through a repeated gesture where his arms hang just inches from his sides with his palms turned outward, as if in perpetual surrender. Culkin is a bundle of energy, now collapsing on his bed, now racing across the room, doing almost everything at a wired addict's staccato pace or else in a drugged torpor.
Special mention goes to Gevinson, whose bio suggests she's had little experience on any stage, let alone on Broadway boards. Small and curvy in the lacy red dress costumer Ann Roth has given her for Jessica's first act encounter with Warren and a more demure outfit for the second act, she supplies all the attempting-to-please uncertainty Lonergan requires. Her compulsive chattering is absolutely right, and her abandoned dancing when Warren puts on a record is irresistible.
Anna D. Shapiro is the director. She's the one who's shaped these performances so that they're precisely what Lonergan calls for. She knows that the dramedy has its strengths and may be aware as well that it might have been revved up even more. She certainly knows it's a showcase for three young actors equipped with the wherewithal. In that respect, she couldn't have done anything better than she has.
Incidentally, as you watch This is Our Youth -- and you should -- you may find yourself wondering how a playwright with the surname Lonergan comes to write a play about three at-sea Jewish youths. Is he making a further point? Who can say? The incontrovertible fact is, he has written the play, and it's a worthy one.