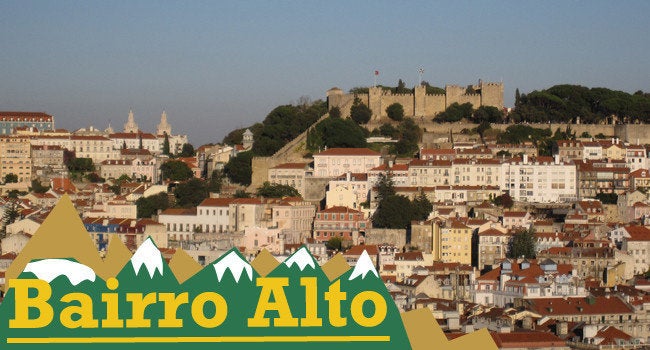 Covered in steep hills and rickety descents, Lisbon takes some climbing to explore. While most of Europe gives up the goods pretty easily, Lisbon makes you work for its main attractions. Hidden in the far vertical reaches of the city, you'll want to make damn sure the hours of huff and puff you invest are worth the sights you see.
OTP's top five picks take some flexing to reach, but unlike your prom date, they won't disappoint upon climax.
Your first trek is the most important. Suck it up and break a sweat up to Equity Point Hostel to unload everything that's dragging you down. Part of a worldwide chain of quality hostels, this is the perfect place to get away from the busy core of Lisbon while staying up high enough to easily venture to Bairro Alto's funky restaurants, anything-goes scene and drink-in-the-streets festivities.
Like a hawk, at Equity Point, you can perch above the city in its garden or scope out the scene from open terraces and be ready to prey on Bairro Alto when the mood strikes. The place itself is like a little palace and putting in the leg work early kills two birds with one stone: you get a cool place to relax for your trip (with its own bar, should you need some leg-numbing) and relieve yourself of the drunken hill-climb to (or face-plant on the descent from) Bairro Alto every night. Equity Point is friends with some of the local bars so they can also hook it up with real two-for-ones (as in drinks).
Considered one of Europe's most legendary party scenes, Lisbon often kicks off its crazy nights at Bairro Alto around midnight. Then it's balls to the Portuguese wall, as committed nocturnals navigate a mess of steep hills, jam-packed bars and all-night discotecas. It's fair to say people here have developed a strong party ethic (and equally massive quads). Out-bar-hop them by hitting up Bairro Alto's hideaway, Incognito. Locals have been ringing the doorbell at this sign-less staple since the era of walkie-talkie cell phones. These days, the discoteca is still famous for spinning classic tracks but also mixes it up with techno and indie beats depending on the DJ. Make sure you breath's fresh because you're bound to get real close and sweaty with the Portuguese -- and anyone else that falls in your path.
After an up and down, residential hike through the Alfama neighborhood, the concrete drops out into the Feira da Ladra, or Thieves' Market, which is good for two things: scoring budget finds, or looking for the stuff someone jacked from you last night. Bring some cash and a passion for sifting through antiques, clothes, souvenirs and other people's stolen items. Portuguese junk might just be your treasure (or actually your own junk).
OTP Tip: The market takes place 8 a.m.-2 p.m. every Tuesday through Saturday. Come before noon if you want a decent shot at finding top-of-the-line crap.
Fado
Old-school Lisbon doesn't get more legit than this Moorish hood posting on the hillside below the Castle of São Jorge. The working-class quarter's got your token Euro charm but keeps it real with classic Portuguese-tiled buildings and the sounds of women singing Fado songs. To listen to their traditionally sad tunes -- or to shamelessly stare at hot local chicks -- stop by the neighborhood's many Fado bars and restaurants. The food at these joints sucks; listen here, eat elsewhere.
OTP Tip: When hitching a tram instead of struggling up the hills on foot, watch out for pickpockets. If you get robbed, head straight to the nearby Sé Cathedral (free-to-enter) to pray your stuff turns up at tomorrow's Thieves' Market.
Miradouros
The Castle of São Jorge looks nice and all, but with its pricey ticket and "Why did I pay for this?" interior, you're better off just scoping it from afar. Since it's only good for its views anyway, get the same thing for the price of exactly nothing at one of the many miradouros -- or terraces -- covering the city's seven hills. Put in the muscle to climb up high then soak up vistas that range from the 25 de Abril Bridge to the castle you didn't waste money on.
Fill your beer helmet with liquor and hop on the stair climber -- tackling these steep obstacles is going to require some serious training but in the end, you'll have that J-Lo butt of your dreams and beautiful distorted memories for a lifetime.
-- Erin Ridley and Anna Starostinetskaya