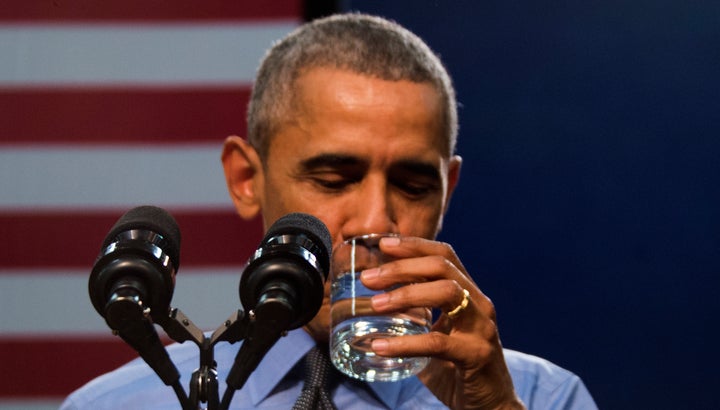 WASHINGTON -- Federal drinking water rules are so relaxed that not even the city of Flint, Michigan, has been cited for a violation, even though many Flint residents have been relying on bottled water for drinking and cooking since last year.
The Natural Resources Defense Council said Tuesday that 18 million Americans got water from systems that violated federal standards last year, according to federal data.
And the environmental advocacy group said an untold number of water systems break the rules without landing in the Environmental Protection Agency's database of water regulation goofs -- including Flint.
"Flint's absence in the federal data system raises the question: If Flint's extraordinary lead contamination problems are not included in the EPA's official compliance data," the NRDC's report says, "how many other municipalities' serious lead problems are being swept under the rug by officials responsible for protecting public health?"
An EPA spokeswoman noted it's up to states to notify the agency of drinking water violations by municipal water systems.
"EPA recognizes there are ongoing challenges in compliance with the Lead and Copper Rule and is working closely with states, who under the Safe Drinking Water Act are the first line of oversight of drinking water systems and take the majority of enforcement actions," the spokeswoman said in an email. The Lead and Copper Rule is the main federal regulation for limiting lead levels in public drinking water.
Lead contaminated Flint's water starting in 2014. State and local officials failed to follow federal Safe Drinking Water Act regulations requiring water systems to add anti-corrosion chemicals that can prevent lead from leaching out of pipes that connect water mains to people's homes.
Lead is an excellent pipe-making material that also happens to be a potent neurotoxin that can cause miscarriages and brain damage. As many as 10 million American homes get water from service lines at least partially made from lead, which was only banned from plumbing materials in the 1980s.
As The Huffington Post has previously reported, the EPA didn't slap Flint with a Safe Drinking Water Act violation even after its failure to do corrosion control became clear last year. Federal law requires water systems to test for lead in samples from people's homes, and at least half the samples are supposed to come from homes with lead service lines -- but Flint didn't do it that way, essentially diluting the potential amount of lead in their sampling pool, contrary to the requirement.
In January, three months after high levels of lead in Flint kids' blood had been exposed by a local pediatrician, the EPA issued an emergency order giving the agency more control of the situation. The city's water is still not safe to drink without a filter.
The Natural Resources Defense Council's report said federal data show that in 2015, more than 5,000 community water systems across the U.S. violated federal regulations aimed at treating, monitoring and maintaining low lead levels in the water coming out of consumers' taps. Only 5.7 percent of the violations had been corrected by the end of the year, and just about 10 percent of violations were subject to any kind of state or federal enforcement action.
"While Flint's case appears extreme, make no mistake about it: Lead-contaminated tap water is a national problem," the report says.
The EPA is currently in the process of revising the Lead and Copper Rule, with plans to release a draft revision next year.
This article has been updated with comment from the EPA.
Popular in the Community