WILMINGTON, N.C. (AP) — Emergency workers delivered truckloads of food and water to Wilmington, a city of 120,000 people mostly cut off from the rest of North Carolina by Florence's still-rising floodwaters, as helicopters and boat pulled people from homes swamped by swollen rivers.
The deadly storm still had abundant rain and top winds around 30 mph (50 kph) early Monday, and forecasters said it was expected to gradually pick up forward speed and complete a big turn toward the Northeast, which is in for as much as 6 inches (15 centimeters) of rain.
Flooding worries increased in West Virginia and Virginia, where roads were closed and power outages were on the rise. About 500,000 homes and businesses were in the dark.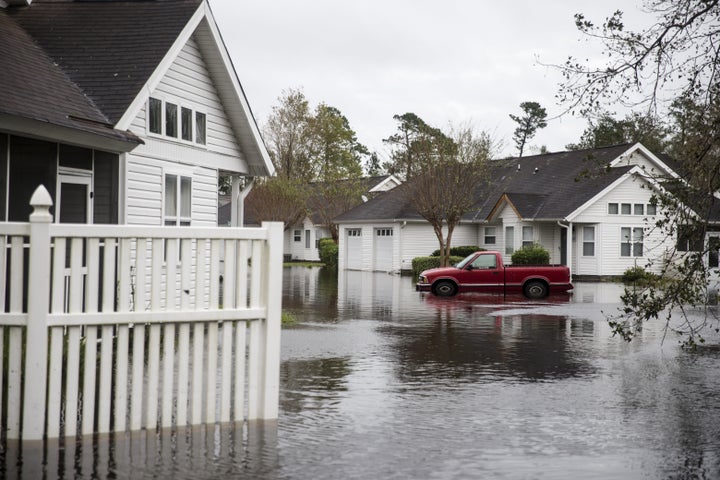 In some places, the rain stopped after Florence moved on, and the sun peeked through, but North Carolina Gov. Roy Cooper urged residents who were evacuated from the hardest-hit areas to stay away because of closed roads and flooding.
"There's too much going on," he told a news conference.
The death toll climbed to 18 as authorities found the body of a 1-year-old boy who was swept away after his mother drove into floodwaters and lost her grip on him while trying to get back to dry land.
Florence was still massive, despite being downgraded to a tropical depression from a once-fearsome Category 4 hurricane. Radar showed parts of the sprawling storm over six states, with North and South Carolina in the bull's-eye.
North Carolina emergency response officials tweeted that 23 truckloads of military meals and bottled water were delivered overnight to Wilmington , the state's eighth-largest city.
One route into the city was reopened by midday Monday, officials said, but it wasn't clear which road was open and whether it available to the general public.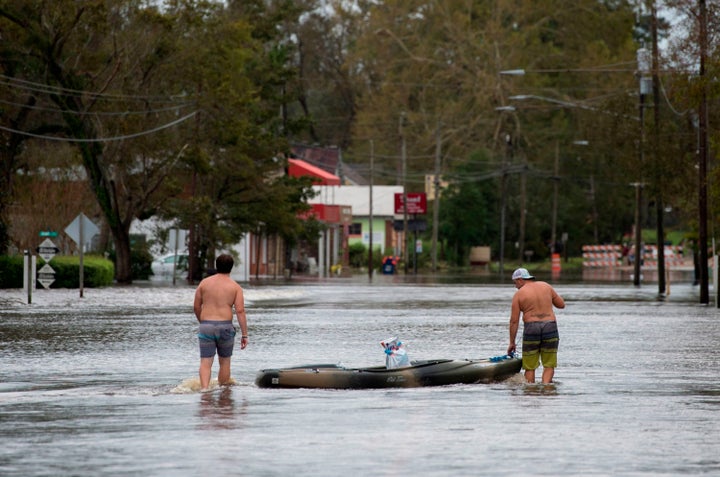 Signs on a flooded highway leading out of town said "ROAD CLOSED," and many streets that weren't flooded were blocked by fallen timber. The smell of cracked pine trees wafted through hard-hit neighborhoods.
Residents waited for hours outside stores and restaurants for water and other basic necessities. Police guarded the door of one store, and only 10 people were allowed inside at a time.
Desperate for gas to run a generator at home, Nick Monroe waited in a half-mile-long (.8 kilometer-long) line at a Speedway station even though the pumps were wrapped in plastic. His power went off Thursday before Florence hit the coast, but he couldn't recall exactly when.
"It's all kind of a blur," Monroe said.
County commission Chairman Woody White said officials were planning for food and water to be flown into the coastal city, located on a peninsula with the rising Cape Fear River to the west and more water to the east.
To the north in Pollocksville, Coast Guard members used a basket suspended from a helicopter to rescue a man from the roof of a flooded home.
About 70 miles (115 kilometers) away from the coast, residents near the Lumber River stepped from their homes directly into boats floating in their front yards. River forecasts showed that the scene could be repeated in towns as far as 250 miles inland as waters rise for days.
Fears of what could be the worst flooding in the state's history led officials to order tens of thousands to evacuate, though it wasn't clear how many had fled or even could.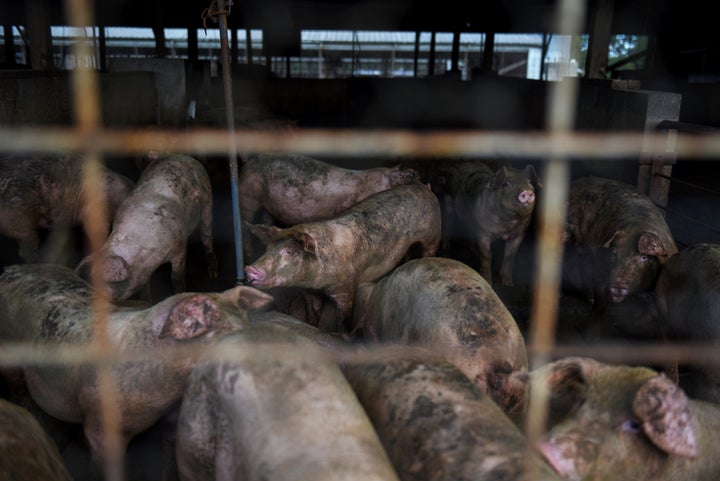 Victor Merlos was overjoyed to find a store open for business in Wilmington since he had about 20 relatives staying at his apartment, which still had power. He spent more than $500 on cereal, eggs, soft drinks and other necessities, plus beer.
"I have everything I need for my whole family," Merlos said. Nearby, a Waffle House restaurant limited breakfast customers to one biscuit and one drink, all takeout, with the price of $2 per item.
Julie Lamb, with her 15-month-old twins, stepped off a Coast Guard boat after being rescued from her parents' house, where the yard was submerged and water was still rising at Lumberton. Another boat was going back to get her husband, 4-year-old daughter and their pug dog.
"We decided to stay with mom and dad here. During (Hurricane) Matthew the water never reached their house," she said. "But the water keeps coming up in their yard."
As rivers swelled, state regulators and environmental groups monitored the threat from gigantic hog and poultry farms in low-lying, flood-prone areas.
The industrial-scale farms contain vast pits of animal feces and urine that can pose a significant pollution threat if they are breached or inundated by floodwaters. In past hurricanes, flooding at dozens of farms also left hundreds of thousands of dead hogs, chickens and other decomposing livestock bobbing in floodwaters.
Some stream gauges used to monitor river levels failed when they became submerged, but others showed water levels rising steadily, with forecasts calling for rivers to crest at or near record levels. The Defense Department said about 13,500 military personnel were assigned to help relief efforts.
Thousands of people were ordered to evacuate homes along rivers. The evacuation zone included part of the city of Fayetteville, population 200,000.
Near the flooded-out town of New Bern , where about 455 people had to be rescued from the swirling flood waters, water completely surrounded churches, businesses and homes. In the neighboring town of Trenton, downtown streets were turned to creeks full of brown water.
The rain was unrelenting in Cheraw, a town of about 6,000 people in northeastern South Carolina. Streets were flooded, and Police Chief Keith Thomas warned people not to drive, but the local food and gas store had customers.
"As you can tell, they're not listening to me," he said.
Associated Press writers Alex Derosier in Fayetteville, North Carolina; Jonathan Drew in Lumberton, North Carolina; Allen G. Breed and Emery P. Dalesio in New Bern, North Carolina; Denise Lavoie and Sarah Rankin in Richmond, Virginia; Gary Robertson and Martha Waggoner in Raleigh, North Carolina; Meg Kinnard and Jeffrey Collins in Columbia, South Carolina; Russ Bynum in Cheraw, South Carolina; Seth Borenstein and Michael Biesecker in Washington; Lolita C. Baldor at the Pentagon; Jennifer Kay in Miami; and Jay Reeves in Atlanta contributed to this report.
Support HuffPost
The Stakes Have Never Been Higher
Popular in the Community