You have to love it when you can learn a life lesson from fly-fishing. When I was looking for a fun place to feature on Travel Now, the ABC News travel show I host, I decided to go back to nature and more specifically back to where I grew up, Washington State, and try my hand at a little fly-fishing.
When it comes to fly-fishing Washington State delivers with dozens of lakes and rivers filled with feisty fish like rainbow trout and cut-throat. Growing up north of Seattle, my mom, Lao Schaler, and I would go fishing a lot when I was a kid. We'd usually hike up to some stream in the nearby Cascade Mountains and fish for tasty Rainbow or Brown Trout. My mom still teases me about the fact, that while I was great at catching the fish, I would always call her over to take the fish off the hook for me.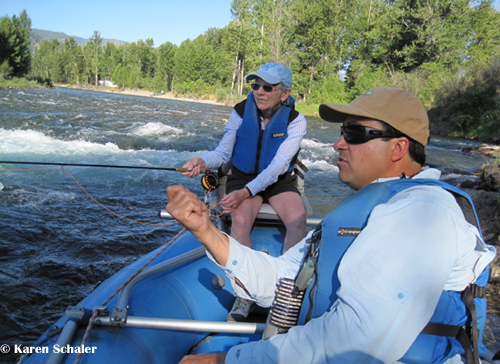 After I moved away to California for college my fishing pole got dusty fast and my mom and I never really did one of our fishing trips again, until recently when I came back to shoot a special piece for ABC. I wanted to reconnect with Washington State's beautiful scenery and my mom, because even at almost 70 years old, fishing is still what she loves doing the most.
This time I decided to try something I have never done before, fly-fishing. We found out some of the best fly-fishing in the entire Northwest is on the Methow River in Eastern Washington about three and a half hours east of Seattle, so that's where we headed.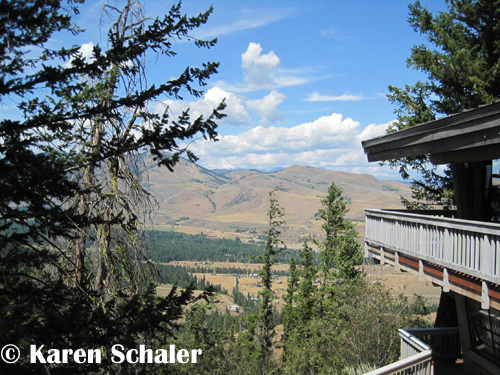 We decided to stay at Sun Mountain Lodge, just a mile from the Methow River, because it is the only resort in all of Washington State that has been awarded the prestigious AAA Four Diamond Award for both the resort and the restaurant. We'd also heard this is where we could find one of the top fly-fishing guides in the region, Kevin van Bueren, owner of North Cacades Fly Fishing outfitters.
We fell in the love with the lodge instantly because it's perched high on a hillside, in the treetops, all by itself, surrounded by 3,000 beautiful acres. Besides the jaw dropping scenery, right out of a postcard.
One of the highlights here is the restaurant dishing up delicious cuisine with most of the menu items, like the beef, fish and produce, coming fresh from area ranches, streams and farms.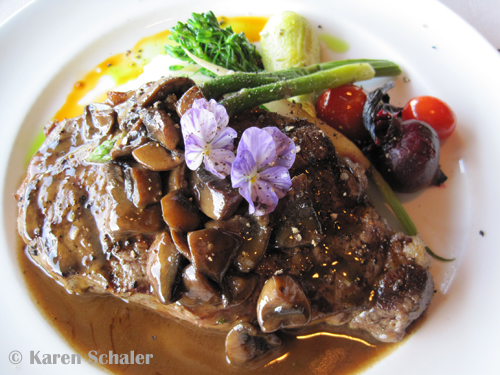 Even though the lodge has 96 beautiful rooms with two swimming pools, hot tubs and even a small spa, we decided to stay a bit down the hill in one of Sun Mountain Lodge's 16 luxury cabins called Patterson Lake Cabins that are right on Patterson Lake. We figured this way when we were done fishing the Methow River we could also try our luck on the lake.
For our fly-fishing adventure we got up bright and early and met Kevin on the river . My mom was as excited as a kid at Christmas. Although she'd been fly fishing before on a lake, she'd never fished from a boat on the river and she couldn't wait to learn some tricks from Kevin. Being the newbie, I had a lot to learn and even though I quickly found out fly-fishing is a whole lot harder than you might think, there's nothing like the adrenalin rush when you hook your first trout.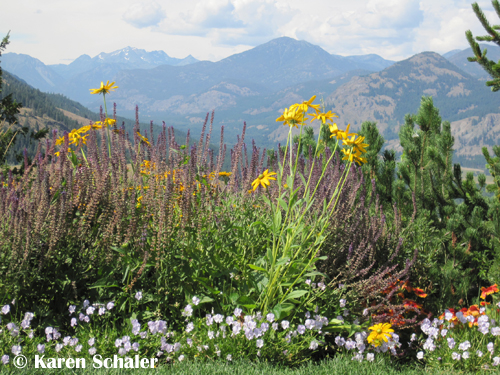 Don't worry, on the Methow River it's catch and release only, so as soon as you catch your fish you get to bring it in just long enough to get a good look at it, snap a photo and then immediately release it back into the river.
Of course the big trick is bringing the fish in after it has taken your fly, harder than it sounds, because you use barbless hooks, so not to hurt the fish. Kevin taught us fly-fishing tip number one, you have to let the fish win some and you win some, when you're reeling it in. So after you get that first tug on your rod and you know the fish took your fly, you reel in some, let let up and let it swim away, then when it rests, reel it again a little more and so on, until you finally have it in. What you don't want to do is rush it and force things or else you'll lose your catch. I feel like this was a pretty good life lesson all the way around!
So how did we do? Watch the clip below and you'll see what happened, plus get a look around at the Sun Mountain Lodge and the surrounding area. My mom and I are already planning our next fishing trip!