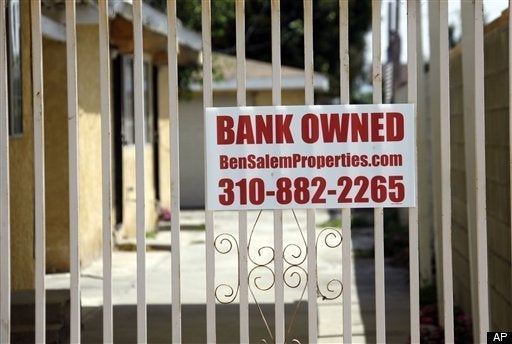 In their effort to sniff out foreclosure fraud, Florida regulators followed the trails of mortgage and foreclosure paperwork into a world of alleged forgeries and false identities.
The Florida Attorneys General (FLAG) office recently released a PowerPoint presentation highlighting findings from their investigation into potentially fraudulent foreclosure practices that may have illegally evicted families from their homes.
In late 2009, two years after the foreclosure crisis began, all 50 states attorneys general announced a joint investigation into the legality of foreclosure practices around the country.
FLAG's presentation presents even more evidence that some banks and mortgage firms may have used fake witnesses, fake notaries, fake documents and false affidavits during the foreclosure process.
One section of the presentation shows documents issuing mortgage-backed security assignments authorized with a signature by Linda Green, a supposed mortgage firm Vice President. The problem FLAG found is that the name Linda Green is on hundreds of thousands of mortgage assignments as the 'Vice President' of multiple mortgage firms, indicating that someone who was not authorized to assign the mortgages was doing the job.
As the documents below show, signatures for Linda Green come in numerous styles - some clearly written while others are loopy and illegible. Check out this slide from the FLAG's presentation: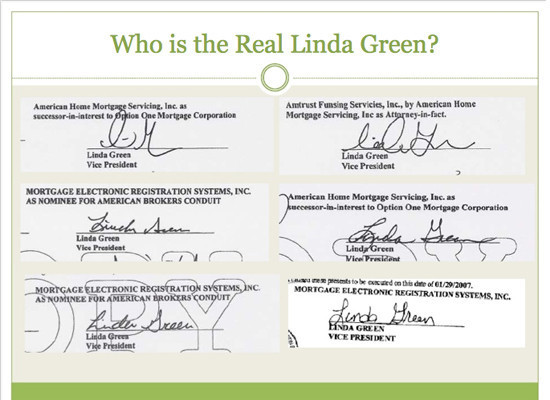 Another part of the presentation features a selection from court testimony by Tammie Lou Kapusta, an employee at a law firm hired to help banks process foreclosure paperwork. According to Kapusta, employees who were not authorized to sign foreclosure paperwork used notary stamps they were not authorized to use to push the paperwork through the law firm and into Florida courts.
Banks who committed this kind of foreclosure fraud may not face criminal consequences, according to Bloomberg News. Iowa Attorney General Tom Miller, who headed up the states attorneys' general investigation, reportedly isn't pursuing a criminal investigation. "Our focus is to reform the servicing process and that's inherently civil, not criminal," Miller told Bloomberg news.
Check out FLAG's presentation below: