France's far-right National Front leader Marine Le Pen is feverishly wrapping up her campaign ahead of the country's first round of presidential elections on Sunday. There's widespread uncertainty over how the vote will pan out, as polls have tightened to put four candidates within contention.
Le Pen is currently in a tight race with independent Emmanuel Macron to win the initial round of voting, which would bring her party into a second-round run-off for the first time since 2002. Projections get grim for Le Pen in the final vote, however, as polls show any other major candidate would beat her in a head-to-head contest.
Le Pen has been vowing to defy the polls, promising the same kind of upset that resulted in Britain voting to leave the European Union and the United States electing Donald Trump president. But while both those events were largely driven by older generations, much of Le Pen's support is coming from France's youngest voters.
Polls throughout the campaign have shown that more young voters back the National Front than any other party. An Ifop survey last month indicated that 39 percent of voters between the ages of 18 and 24 back Le Pen.
Le Pen's level of youth support is unique among populist movements across Europe. For example, only about 3 percent of Dutch voters aged 18 to 24 cast their ballots for anti-Islam politician Geert Wilders in the Netherlands' elections last month, while he gained 13 percent of the vote overall. Results from the Brexit referendum showed around 75 percent of young voters wanted to stay in the EU. German Chancellor Angela Merkel, running for her fourth term as a staunch defender of the EU, is also significantly more popular among youth voters than any other candidate.
Young French voters appear an easy target for parties that argue the country's current system isn't working. The youth unemployment rate in France in recent years has hovered around 25 percent ― more than double the national rate and far higher than the average for the EU. Many young French citizens are now willing to vote for a party that is running on a platform that claims immigration and the EU have stolen French jobs.
French youth voters' turn away from traditionally powerful parties also reflects the wider fragmentation of the country's politics, something prevalent among all age groups in the country. The current likeliest scenario for the second round of voting is a face-off between Le Pen and Macron ― either of whom would become the first president from a non-establishment party. Meanwhile, the ruling Socialists are in shambles and the once-strong Republicans are hobbled by corruption allegations.
Amid this splintering of traditional voting blocs, the National Front is attempting to frame itself as the only legitimate alternative to politics as usual. This is resonating especially well with younger voters, who are struggling with high levels of unemployment and may not have a strong memory of the decades of openly prejudiced, anti-Semitic National Front leadership of Jean-Marie Le Pen, Marine's father.
Marine Le Pen has long pursued a strategy to make the National Front a more sanitized and less overtly discriminatory party than the one her father founded. In recent years, she clashed with Jean-Marie over his anti-Semitic statements and in 2015 finally expelled him from the party entirely.
Despite the fact that Marine Le Pen still courts controversy by downplaying France's role in the Holocaust or vilifying Muslim immigrants, she has succeeded in bringing the party into the mainstream and making it palatable to young voters. A 2015 study revealed that French youth had a better opinion of the National Front than the general population did on a wide range of issues, with one of the largest disparities being how the party would fare on jobs.
The party has put many young politicians front and center as its standard-bearers. Marion Maréchal Le Pen, Marine's niece, is the country's youngest member of parliament at 27 years old and a frequent feature at rallies.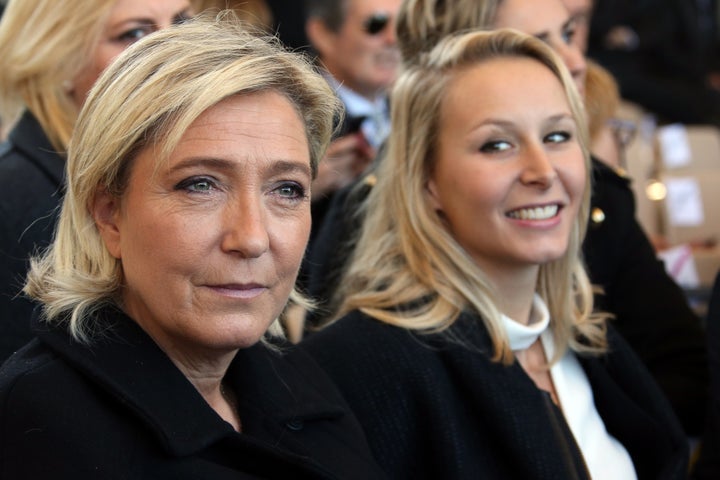 Although support for the National Front is prevalent among France's youth, the party's effort to appeal to the demographic isn't new. The National Front has had a youth wing since the 1970s and its message does not shy away from the anti-immigration, anti-Islam rhetoric of its main party. National Front Youth director Gaëtan Dussausaye has written numerous posts on the youth wing's website complaining of the government giving handouts to migrants while ignoring native-born French.
It's still uncertain how big an effect the National Front's popularity with young voters will have. The desire for radical change among youth may make some National Front support more fickle. An Ipsos-Sopra Steria poll published last week in Le Monde showed that Communist party leader Jean-Luc Melenchon surged in support among voters aged 18 to 24, going from 12 to 44 percent in less than a month. It's not clear based on the data Le Monde released whose supporters switched over to Melenchon, and whether Le Pen's support suffered any decline.
Youth support also doesn't always translate into votes. Weeks before France's 2012 election, a Le Monde poll put Le Pen's support among 18- to 24-year-old voters at 26 percent, but in the first round of voting the National Front gained only 18 percent of the youth vote.