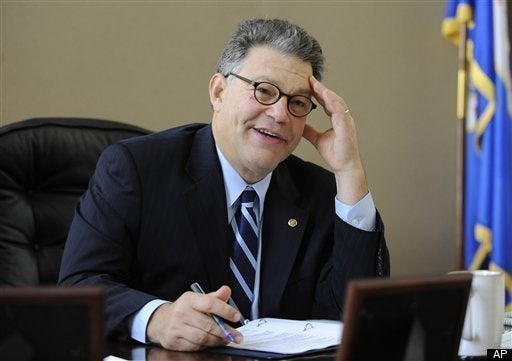 The Senate Democratic caucus is unified following a Saturday meeting and poised to pass a much-weakened health care reform proposal before Christmas day.
"The mood was great," said Sen. Al Franken (D-Minn.) of the party gathering earlier Saturday. "It was a very, very good mood, even [among] those of us who have disappointments about what is and isn't in."
Though it's far from what progressives and, according to surveys, most voters wanted in a final bill, Franken, in an interview with the Huffington Post, said that it's "an enormous step forward."
"I'm convinced this will pass. I believe we have the 60 votes," he said. Franken was encouraged that he and Sen. Jay Rockefeller (D-W.Va.) were able to insert into the final bill a provision that would require insurers, for individual and small group plans, to spend 80 percent of the money they take in on health care. Large plans would be required to spend 85 percent.
"This is something that a lot of states have tried unsuccessfully to put on medical loss rations and insurance companies fight them and they fight this for a reason. So I'm very, very happy with this. I think it's a big, big way to keep them in check," said Franken. "I think it's one of the biggest tools."
Insurers refer to spending on health care as a "medical loss." The medical loss ratio currently averages 70 percent across the nation. Minnesota law sets it at 91 percent.
The Congressional Budget Office, however, determined that the 90 percent requirement that Franken and Rockefeller had pushed for amounted to nationalization of the industry. The CBO didn't explain how it came to the seemingly arbitrary figure of 90 percent. Franken said he and Rockefeller met with the CBO chief Doug Elmendorf about his determination and came away uncertain of the reasoning. Elmendorf, who is not an elected official, deemed that 80 percent for small groups and 85 for large didn't amount to nationalization. In the American system of government, what Elmendorf says, goes, so regardless of the rationale, the bill includes the figures he dictated.
Beyond Elmendorf's weakening of the provision, it also includes a potentially gaping loophole.
The Health and Human Services Secretary, according to the bill's language, "may adjust the rates...if the Secretary determines appropriate on account of the volatility of the individual market due to the establishment of State Exchanges."
Franken said that the language was intended to created stability in the market so that if there are major fluctuations, insurers would have flexibility. An HHS secretary sympathetic to the industry, however, would have unilateral authority to effectively repeal the provision.
Overall, Franken said, his colleagues are happy with the bill. "All of us believe that we need to make basic reforms and that this does that," he said of the product. "It's an enormous step forward. It's something we can build on. Social Security passage was just widows and orphans." Social Security gradually expanded over time.
"I think it's a really important, really historic bill, but I'm just worried that we don't over-promise but at the same time we do tell them all the great things the bill has," said Franken.
The bill, as expected, does not include a public health insurance option or allow people aged 55-64 to buy into Medicare.
In order to win the vote of Nebraska Democrat Ben Nelson, the bill includes extreme restrictions on which private health insurance plans can cover abortion. It also picks up Nebraska's tab for expanded Medicaid coverage forever.
After moving in a more conservative direction for several days, the bill reverses course, ever so slightly, in some areas.
Reid's original bill had allowed for a cap, in some cases, in annual coverage by insurers. The new bill removes that allowance, meaning that insurers can not place limits on the amount of coverage they provide, either over the course of one year or over a person's lifetime.
The bill raises revenue by taxing indoor tanning salons, which are associated with health risks. It also increases the Medicare payroll tax by 0.9 points for individuals making more than $200,000 per year and married couples earning above $250,000.
A mandate that all Americans without coverage purchase health insurance remained in the bill and the fine for those who don't do so was increased. There is an exemption for folks who can prove they can't afford to buy insurance. As a candidate, Obama attacked his rival Hillary Clinton for proposing such a mandate.
Obama also attacked his general election opponent, Sen. John McCain (R-Ariz.), for proposing a tax on high-cost insurance plans. The Senate bill includes just such a tax, with Obama's endorsement.
According to the CBO, the new version will provide coverage to 94 percent of Americans - though many of them will have it "provided" to them by force of a mandate. It'll also reduce the deficit by $132 billion over 10 years and 1.3 trillion over 20 years.
In place of a public option, people will have access to two national private plans, one of them nonprofit, overseen by the Office of Personnel Management, which is in charge of federal employee plans.
The bill includes strong insurance reforms that prevent companies from denying coverage due to pre-existing conditions or from dropping people simply because they get sick - a practice known as rescission. But serious questions remain as to how enforceable those provisions will be.
California recently dropped an attempt to enforce its anti-rescission law against a major insurer, saying that it was financially outgunned by the insurer's legal team.
The rescission law, according to the legislation, "shall not apply to a covered individual who has performed an act or practice that constitutes fraud or makes an intentional misrepresentation of material fact as prohibited by the terms of the plan or coverage."
Insurers today routinely claim that patients engaged in "fraud" or "intentional misrepresentation" when dropping them from coverage. Much depends on who defines the terms in the bill.
It won't be the federal government. There will be no federal agency tasked with overseeing the enforcement of the bill's rules. Rather, a Senate leadership aide told reporters in a briefing Saturday, individual states will police the new system.
That's a task the California Department of Managed Health Care was unable to perform when battling Anthem Blue Cross, which has rescinded 1,770 policies since 2004.
"In each and every one of those rescissions, [Blue Cross has] the right to contest each, and that could tie us up in court forever," the department's director, Cindy Ehnes, told The Associated Press. A million-dollar fine was announced in March 2007, but has not been enforced.
Calling all HuffPost superfans!
Sign up for membership to become a founding member and help shape HuffPost's next chapter