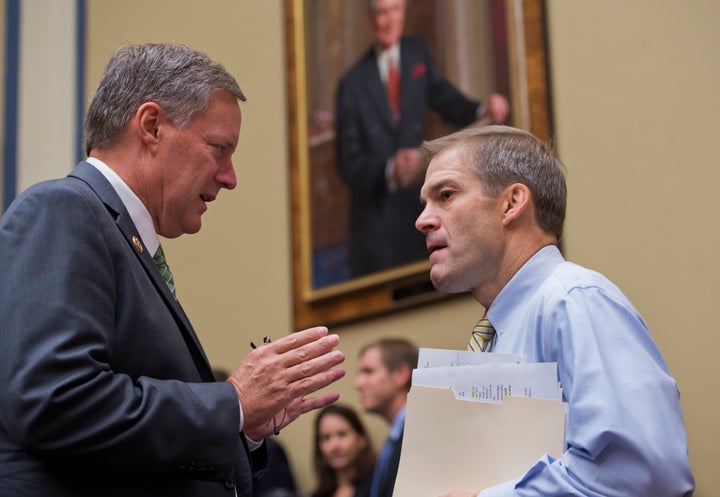 WASHINGTON ― Conservatives in the House Freedom Caucus voted among themselves Monday night to band together and support only an Obamacare repeal that is at least as aggressive as a bill the House and Senate passed in 2015, putting GOP leaders in a bind with their conference and perhaps even threatening the possibility of passing a repeal.
The group of roughly 35 to 40 House conservatives voted to take this official position ― meaning it received the support of at least 80 percent of the members and is therefore supposed to be the position of all lawmakers in the group ― amid some GOP consternation that Republicans ought to focus more on repairing the law rather than repealing it, as well as amid heavy voter pressure in many districts to leave the law intact.
"If it's less than the 2015 [bill], we will oppose it," Freedom Caucus Chairman Mark Meadows (R-N.C.) told a small group of reporters Monday night.
Meadows added that the Freedom Caucus would encourage replacing Obamacare at the same time Congress repeals it but that if GOP leaders put the same 2015 reconciliation bill gutting major parts of Obamacare on the floor, conservatives in the group would support it.
The 2015 repeal bill removed the Medicaid expansion that is popular in many red states ― including among many Republican governors ― and repealed the individual and employer mandates. The bill also removed the law's subsidies and the taxes that helped to pay for them. In short, it would disassemble Obamacare.
By insisting that the repeal bill be as forceful as that 2015 measure ― which technically got to President Barack Obama's desk at the beginning of 2016 ― conservatives have staked out a hard line that some GOP moderates may now have a problem following.
Many Republicans had seemed ready to support parts of the law. If conservatives really can stick to this position, they could be endangering the ability to get 218 Republicans in the House and 50 in the Senate ― to say nothing of the ongoing disagreements among Republicans about what a replacement should look like.
The current Republican gambit seems to rely on repealing the 2010 health care law as quickly as possible and then trying to pressure some Democrats in the Senate to support a replacement, potentially by offering a health care alternative in pieces, such as one bill to establish health savings accounts and another bill to allow people to buy insurance plans across state lines.
A plan like that would have the benefit of not allowing lawmakers or the public to truly evaluate the GOP alternative. But some Republicans are concerned a piecemeal approach would bring demands from voters and health insurance providers for clarity.
Which is to say a repeal was already in some degree of trouble, as Republicans struggle to come up with a replacement. Now that conservatives are demanding the repeal meet that 2015 standard, it could be even more difficult for GOP leaders to find coalitions in the House and Senate.
But conservatives don't see it that way.
They noted Monday night that Republicans had already voted on the 2015 repeal ― at least the ones who were here last Congress ― and they believe it would be hypocritical for Republicans to balk at the plan they supported a year ago.
"They voted for it already, so, be consistent," Freedom Caucus member Raul Labrador (R-Idaho) said.
Popular in the Community