In a move that exemplified Rahm Emanuel's approach to Chicago's most intractable problems, the city's new mayor sat down on Wednesday with the leaders of six major grocery-store chains to address the crisis of the city's so-called "food deserts."
For hundreds of thousands of Chicagoans, the nearest fresh fruits and vegetables are a mile or more away. This leaves residents stuck either taking long rides on public transportation and bringing back only what they can carry, or eating the processed and packaged foods available at the corner store.
Food deserts, areas that are distant from the nearest fresh foods, are a serious public health crisis, causing a marked uptick in diet-related illness like diabetes, obesity and cancer. Minorities and lower-income Chicagoans are far more likely to live in food deserts, which are almost entirely on the city's South Side.
Emanuel's "Food Desert Summit" sought to entice major grocery chains to invest in new stores in food deserts. But a small group of devoted activists have been working on the problem from the opposite direction.
A few years ago, Steven Casey, Jeff Pinzino and Sheelah Muhammad hatched the idea for the Fresh Moves bus, a mobile grocery store that would bring fresh groceries directly to the communities that needed them most.
(Scroll down to look inside the bus.)
"We talked to a couple of grocers, and realized that bricks and mortar wasn't the quickest solution, that the barriers to entry were too great," said Muhammad, now the board secretary at Fresh Moves, in a phone interview with Huffington Post Chicago. "We wanted a solution that was more flexible, that met the needs of more residents in more communities."
The group was helped by a few key partners. The Chicago Transit Authority donated a bus for them to use, Architecture for Humanity helped transform the bus into a grocery store, and EPIC helped build their website.
On May 23, the bus began running routes in Lawndale and Austin, making three stops a day, two days a week. And the demand has been overwhelming: in its first five days, project manager Dara Cooper told HuffPost the bus served over 600 customers.
"The first day, it was pouring raining, and we sold out of organic collard greens the first hour," Cooper said. "We sold out of mangoes, cherry tomatoes, it was amazing."
Fresh Moves gives the produce it doesn't sell to homeless shelters. But so far, that hasn't been much. While much of their food is locally sourced and organic, they are also very focused on affordability. "When you talk about access [to fresh food], part of it is geographic," Cooper said, "but a big part of it is monetary, too."
Goodness Greeness, an organic food supplier, offers Fresh Moves a discount, and they're able to keep prices low across the board. "I'm always so excited when people get to the cash register and they realize they can grab something else and put it in the bag," Sheelah Muhammad said.
The most important lesson for both Muhammad and Cooper, though, was debunking the myth that low-income people didn't want fruits and vegetables, that they preferred fast food and junk food.
"We're proving that unfounded theory wrong," Muhammad said. "There's a huge demand for this. They're tired of the fast food, they're tired of the lack of options."
As Fresh Moves looks to expand its bus service to new routes and new neighborhoods, more and more people in Chicago's food deserts could have another option rolling down their streets before long.
Take a look inside the Fresh Moves bus: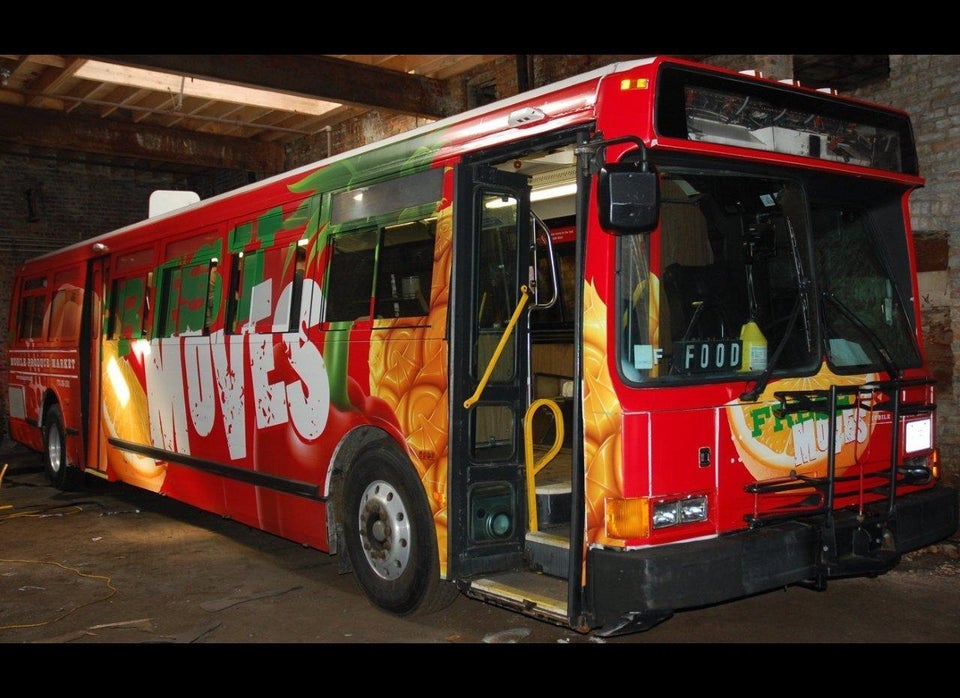 Fresh Moves Mobile Grocery Store An Innovative Solution To Food Deserts