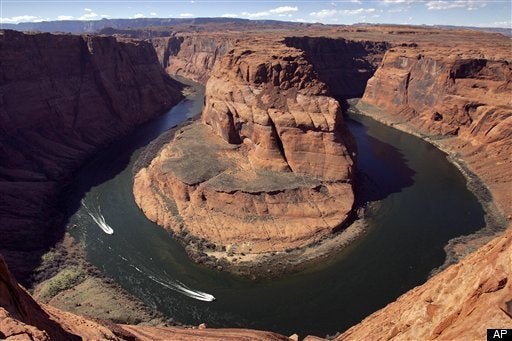 This post is part of Blog Action Day, 10/15/2010, sponsored by Change.org to call attention to Clean Water issues.
When the thick, brown, oily sludge of the Cuyahoga River caught fire in Cleveland on June 22, 1969, it became an iconic symbol for water pollution and helped to launch the modern environmental movement. On October 23, 2010, we will celebrate the 38th anniversary of the Clean Water Act of 1972. A fitting bookend to the pictures of the Cuyahoga fire might be the photographs of oil slicks being intentionally burned on the surface of the Gulf of Mexico last spring and summer. Thirty eight years of law and still the pollution from oil, coal, natural gas and industrial and agricultural activities is laying waste to America's Waters.
The Clean Water Act and the laws that followed, such as the Safe Drinking Water Act, are among the most important laws ever passed. They have saved literally millions of people from early deaths due to illness caused by toxic pollution and disease. In spite of constant attack and violation from polluters, the laws have maintained sufficient integrity over time to ensure availability of clean, safe water for most places. That is not to say that enforcement and interpretation have been consistent and properly funded. The constant effort to break through the powerful, wealthy interests who want to treat America's waters as a commodity or a way of making pollution go "away" has made the challenge of realizing the full value of these laws difficult. The Clean Water Act has always been a work in progress, generally moving forward. That is, until the administration of George W. Bush. The Bush administration and the Supreme Court of that era made serious breaches in that body of law.
For four full sessions of Congress, we have tried to pass legislation to restore the original intent, interpretation and body of rule making of the Clean Water Act. And for four full sessions of Congress, corporate polluters have successfully kept our leaders from moving this legislation forward. In spite of the fact that clean water has champions like Russ Feingold and James Oberstar, we come to the end of the 111th Congress without a bill being passed. What is the big obstacle to passing a bill to protect the water we all rely on? It is a lack of political courage to take a vote that would be popular with people but unpopular with powerful corporations that can influence election campaigns. Big Agriculture, the Farm Bureau, the Chemical Industry, Big Coal and Big Oil are leading the fight against public health and safety when it comes to water. Better water protection translates to reduced net profits. And in those profits, there is a lot at stake.
The context in which we allow our government to decrease the scope and effectiveness of laws protecting our water is important to understand. Population pressures, the dominance of corporations in "farming" and the insatiable thirst of dirty energy generation sources have strained our water availability and safety to extremes. As demand and use grow, protection diminishes. Under the Supreme Court's infamous Rapanos decision, drinking water sources for 117 million Americans are excluded from protection.
That we sacrifice the availability and the integrity of clean water every single day for generating energy is an enormous and largely unknown national tragedy. Every day, companies like Monsanto and Archer Daniels Midland dump tons of chemical fertilizer and toxic pesticides onto watersheds compromising ecosystems and public health. Manufacturers flush the toxic detritus of their processes into waterways every minute of every day.
Perhaps we need to add to the gallery of iconic images to get the point across. The toxic coal ash spill in Tennessee in December of 2009; the satellite images of British Petroleum's Gulf of Mexico oil blowout. The photos of the dead zone off of North Carolina when Hurricane Floyd breached factory farm animal waste containment "lagoons" and created a massive ocean dead zone; mountain top removal rubble burying creaks and seasonal and ephemeral streams under tons of deconstructed mountains.
There's no shortage of imagery, but perhaps the most powerful image we could visualize would be standing in the voting booth making a choice for environmental champions and against the politicians who fail us on this issue and the anti-environment extremists who are popping out of the woodwork all over the place this year. Turnout to elect environmental champions is going to be critical in November. Please look at our endorsements here and educate your self about the best environmental candidates in every race on your ballot. Wouldn't it be great to end the 112th Congress with better water protection than we have now?
TAKE ACTION! Why wait until November? What can you do today on Blog Action Day for Clean Water to make our water cleaner and safer? I'm glad you asked. The Volumetric Ethanol Excise Tax Credit (VEETC) is a wasteful and duplicative tax credit, basically giving fuel blenders money for something they are already required to do. This is particularly bad because the production of corn ethanol has major environmental impacts, including those related to water quality and quantity, bird populations, energy use, land use, food production, and dead zones. Congress must decide whether to extend the VEETC beyond 2010 or let it expire. It's time to end this subsidy that degrades our water, and you can help. Click here to take action.
Calling all HuffPost superfans!
Sign up for membership to become a founding member and help shape HuffPost's next chapter