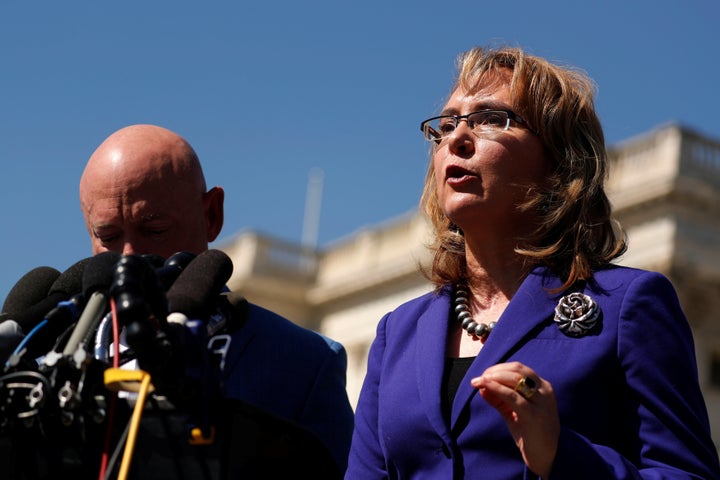 Former congresswoman Gabrielle Giffords has begged for politicians to take action on the "gun violence epidemic" in the wake of the Florida school shooting on Wednesday, calling on voters, in an emotional tweet storm, to act to force change.
Giffords, who represented Arizona's 8th District from 2007 to 2012, was shot in the head in an assassination attempt at an event north of Tucson in 2011. She was left with extensive injuries. Six people were killed and 13 others were wounded in the shooting.
She and her husband, Mark Kelly, have been prominent voices for gun control since that 2011 shooting. In the wake of the Las Vegas Strip shooting last October, Kelly said that, "until we seriously accept this — and the people in that building [the Capitol] accept this — as a serious public health crisis, we will have other mass shootings like this."
On Wednesday, as authorities confirmed at least 17 people had died in the shooting at Marjory Stoneman Douglas High School in Parkland, northwest of Fort Lauderdale, Giffords posted a series of tweets calling for politicians to reform America's gun laws. 
The Florida shooting was the 18th school shooting in the U.S. since the start of 2018. That's an average of one school shooting every 60 hours in 2018, more than double the number of school shootings recorded in any of the previous three years in that same period. Those numbers are according to data compiled by the gun control advocacy organization Everytown for Gun Safety, which defines a school shooting as any time a firearm is discharged on or around a campus.
In her tweets, Giffords took aim at "defenders of the status quo" in politics and the firearm industry who attempt to blame such mass shootings on factors besides the availability of guns. She said that it was possible to prevent future tragedies occurring, criticizing politicians who "vote against our safety."
In a final tweet, Giffords said that "American voters must" take action to vote in politicians who would "find the courage to pass the laws we need to protect our children." 
REAL LIFE. REAL NEWS. REAL VOICES.
Help us tell more of the stories that matter from voices that too often remain unheard.
BEFORE YOU GO
PHOTO GALLERY
Pivotal Moments In The U.S. Gun Control Debate