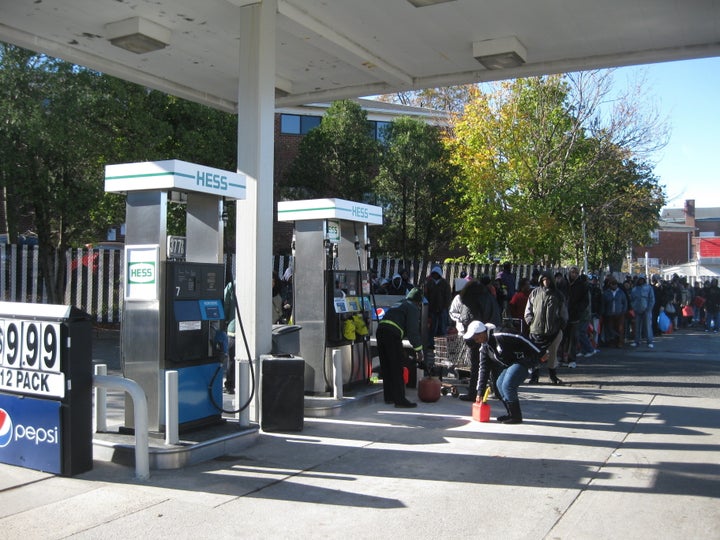 For days, leading officials in the region devastated by Hurricane Sandy have offered assurances that crippling shortages of gasoline would soon be remedied. New York City Mayor Michael Bloomberg and Gov. Andrew Cuomo have both promised that, any day now, the lengthy lines snaking from every open service station would disappear and people would again be able to fuel their cars with ease.
But on Sunday, despite those promises, drivers in the New York City metro area endured yet another day of misery at the pumps, with persistent shortages stymying efforts at recovery in communities still grappling with large-scale power outages and damage by costal surges and flooding.
For Charles F. Johnson, a 67-year-old retired construction manager in Long Island, the seeming impossibility of securing gasoline on Sunday left him both worried about the safety of his brother and furious that local officials had, in his view, offered false promises of a fix.
He was worried about his 65-year-old brother Thomas, who lives in the Rockaways, one of the hardest-hit communities in the area, and has been without power and water since the middle of last week. Johnson was furious, because he lacked the needed gasoline to go and rescue his brother. He drove to several local service stations in recent days in futile pursuit of gasoline, figuring that he'd soon be able to drive out to his brother, given the assurances of Bloomberg and Cuomo that the shortages would be short-lived.
"They said don't worry, tankers are coming," Johnson told The Huffington Post on Sunday. "I want to believe these jerks who say on TV the gas is on the way."
"It's been three days now," he added. "The lines are still enormously long."
On Sunday evening, with Johnson's tank still nearly empty, his brother called, sounding groggy, confused and near the end of his patience, saying: "I think you need to come and get me."
Johnson called the police and asked them to take his brother to an emergency room. As of Sunday night, he was not sure whether that had happened, leaving him deeply concerned for his brother's safety.
"You just need a few things to go wrong when you're older, and you're dead," Johnson said.
Government officials have repeatedly declared that the end of the gasoline shortage is imminent. Bloomberg said Saturday that the gasoline shortage in the New York area should end in "a couple more days." His office could not be reached for comment Sunday.
Sen. Charles Schumer (D-N.Y.) said on Thursday that the partial reopening of the Port of New York could ease the gas shortfall "in a day or two."
Then on Sunday, Schumer backtracked, saying: "It's not going to be solved in a day, but it should get better and better and better." A Schumer spokesperson told The Huffington Post in an email Sunday that "damage to the gas delivery infrastructure" in the port "was worse than originally known," slowing down gasoline deliveries. Some fuel terminals in New York Harbor regained power over the weekend, but some major gasoline facilities still are closed.
Cuomo, whose office could not be reached for further comment Sunday, touted the upcoming delivery of 28 million gallons of gasoline on Saturday. "Fuel is on its way. You don't have to panic," he said on Saturday. Then on Sunday, he said that it will take a "couple of days" for the crisis to end and that "it is getting better."
But things are not getting better in many parts of the nation's most populous metropolitan area. All gas stations were closed in Fort Lee, N.J., on Sunday because they lacked power and gasoline. In spite of a new rationing plan initiated by New Jersey Gov. Chris Christie, some gas stations in Montclair, N.J., ran out of gasoline Sunday after delivering it to some drivers.
Hundreds of people on Sunday morning stood in a line stretching for half a mile to a Hess gas station in Irvington, N.J., waiting for fuel. It was one of only a handful of gas stations open in the area. The line stretched past two other, shuttered gas stations.
Juanita Hugie of Irvington became emotional after getting a full tank of gas at about 10:00 a.m. "I'm frustrated," she said. She had been waiting since 3:30 a.m., and had looked unsuccessfully for gasoline for three days.
Mark Gongloff and Catherine New contributed reporting.
Related
Before You Go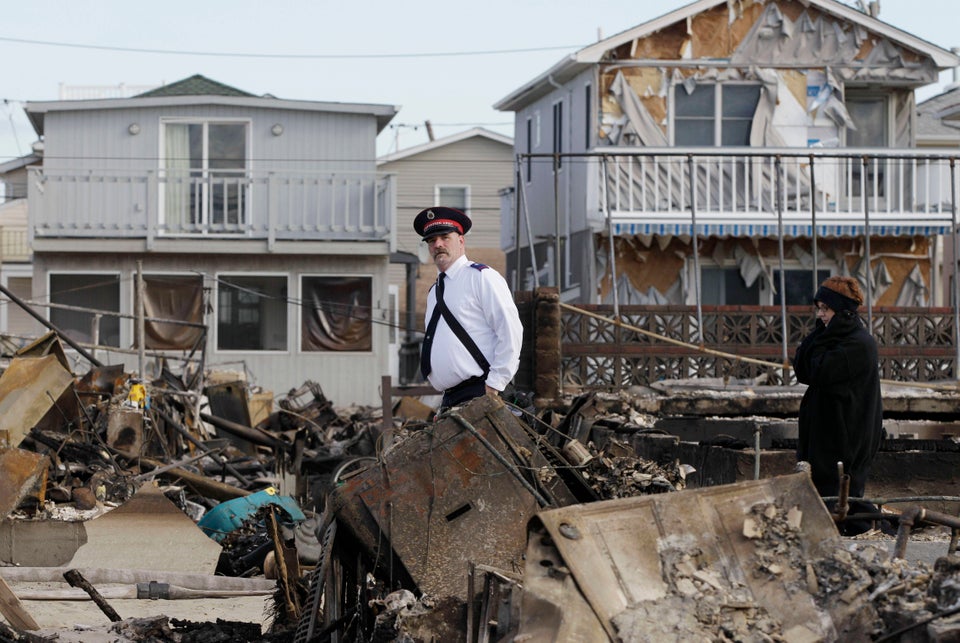 Hurricane Sandy
Popular in the Community