 NEW YORK, July 3 (Reuters) - Gay rights activists plan to ask a New Jersey judge on Wednesday to declare same-sex marriage legal in the state, citing the historic U.S. Supreme Court ruling that struck down the federal law defining marriage as between a man and a woman.
Hayley Gorenberg, a lawyer for Lambda Legal which is representing several same-sex couples in a lawsuit against New Jersey, said the U.S. high court's decision last week made it "crystal clear" the state's law allowing civil unions for gay couples does not provide equal rights. Gorenberg said Lambda would file a motion in Mercer County Superior Court for summary judgment.
The state will have a month to reply to the planned motion on Wednesday, and arguments on the matter would be scheduled for mid-August.
One week after the Supreme Court extended more than 1,000 federal benefits to married same-sex couples in Windsor v. U.S., the decision's impact is already being felt in cases challenging state bans on same-sex marriage.
In New Mexico, plaintiffs in two cases have petitioned the state's supreme court to take up the issue. In Illinois, lawyers for plaintiffs in two lawsuits plan to file motions based on Windsor soon.
In Michigan, a federal judge on Tuesday cited the Windsor case in allowing a challenge to the state's constitutional ban on same-sex marriage to proceed to trial.
The U.S. Supreme Court case involved a lesbian widow from New York, Edith Windsor, who paid higher estate taxes after her wife died in 2009 because their marriage was not recognized by the federal government under the Defense of Marriage Act (DOMA).
In a 5-4 ruling, the court found that DOMA violated the U.S. Constitution's guarantee of equal protection. In a second case, it paved the way for legalizing same-sex marriage in California.
But the justices stopped short of declaring a nationwide right to same-sex marriage, and both proponents and opponents have vowed to continue the fight state by state.
In New Jersey, the state's highest court ruled in 2006 that the state constitution guaranteed equal rights for both same-sex and heterosexual couples. In response, the Legislature passed a law creating civil unions as a way of ensuring that same-sex couples would have the same rights without changing the definition of marriage.
Two years ago, Garden State Equality, an organization that advocates for gay rights, and several gay couples sued, arguing the civil union law failed to provide equal rights for same-sex couples, an assertion the state disputed.
With DOMA struck down, Gorenberg said there was no longer any question that civil unions are inequitable, since same-sex New Jersey couples in civil unions remain ineligible for federal benefits even as married same-sex couples in other states will now receive them.
Jordan Lorence, a lawyer with Alliance Defending Freedom, a group opposed to same-sex marriage, said proponents were reading too much into Windsor.
New Jersey is shaping up as a key battleground state as Democrats in the Legislature search for enough votes to overcome Gov. Chris Christie's veto of same-sex marriage legislation last year.
Christie, a Republican running for re-election this fall, has faced criticism from his Democratic opponent over the veto.
Same-sex marriage is legal in 13 states and the District of Columbia. Court challenges are pending in at least eight states that do not allow the unions, according to James Esseks, the director of the American Civil Liberties Union's LGBT Project.
"With DOMA gone, the disparities between the protections that civil unions provide and the protections that marriage provides are startling in their breadth," he said. (Reporting by Joseph Ax; Editing by Jeffrey Benkoe)

Before You Go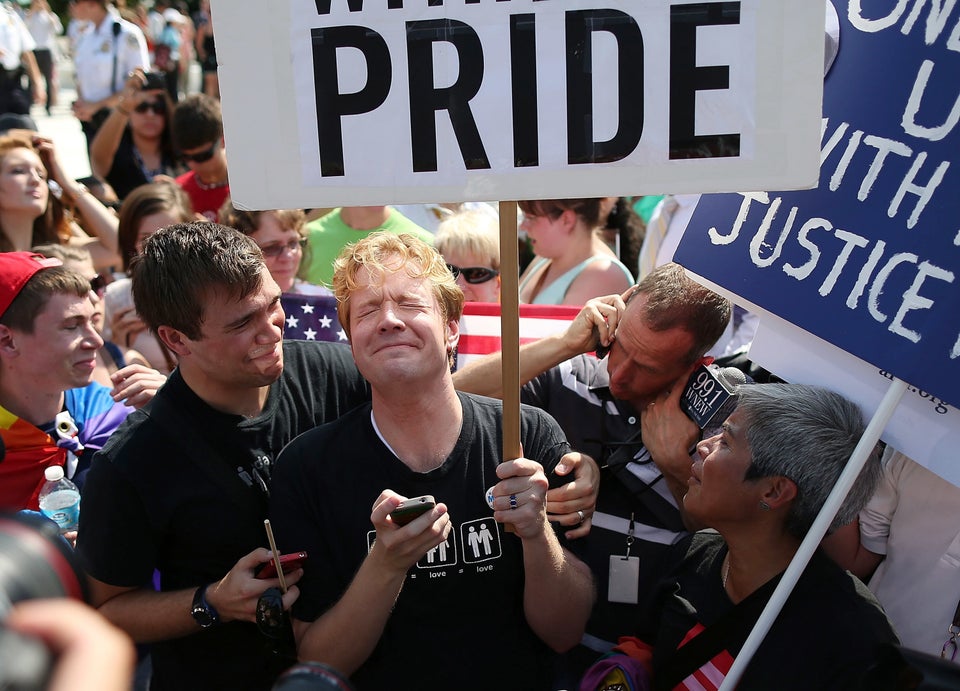 SCOTUS Decisions On Prop 8, Defense Of Marriage Act
Popular in the Community