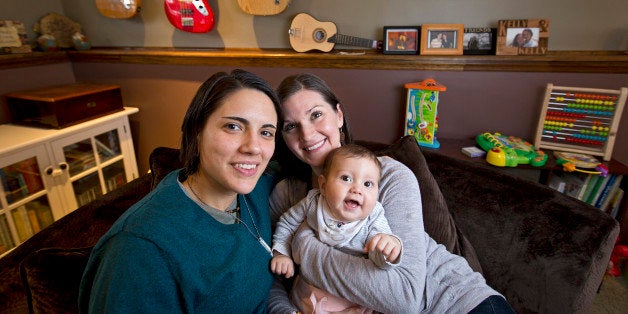 In 2013, Kelly Noe and her wife, Kelly McCracken, were expecting a baby when they joined the lawsuits against Ohio's ban on same-sex marriage. David Michener, meanwhile, had recently lost his husband and the father of his three children. The two families were in very different places -- one buoyed by joy, one steeped in grief. But they shared a common cause.
At some point in the next few months, the Supreme Court is expected to rule on the legality of same-sex unions in Ohio and the handful of other states that still ban them. Noe, McCraken and Michener, who were all present in the court Tuesday for hearings, know as well as anyone why this issue matters so much -- not just to couples like them, but to their children, too. Camilla Taylor, a lawyer with Lambda Legal who has worked on each of their cases, put it this way: "Protections related to marriage are important to people from cradle to grave. Marriage shields a family."
Anna Ives-Michener, the 15-year-old daughter of Michener and his late husband William Ives, knows how it feels to have that shield yanked away. Michener and Ives were together 18 years and adopted three children before they finally wed in 2013 at a church in Delaware, where they have a summer home. Just a month later, Ives died unexpectedly from a bacterial infection of the heart.
Right before the wake, Michener was told there was a problem with the death certificate. The state of Ohio, where the family lived, did not recognize the marriage and would not include Michener's name on the death certificate or write that Ives had ever been married.
"It felt like I didn't exist, that my family never existed," Anna said Monday afternoon.
Noe and McCracken are hoping their 10-month-old daughter, Ruby, will never have to feel this way. Noe told The Huffington Post that the two women are accidental activists -- even after they wed in Provincetown, Massachusetts, in 2011, they never planned to get involved in the broader political fight for same-sex marriage. But then Noe became pregnant, and the women began to talk the matter over with their attorney. How could they make sure their baby would be safe if the state of Kentucky, where they lived, and the state of Ohio, where both women worked and where their child would be born, would not put both of their names on the birth certificate?
"What if an emergency happens and I am not around, and my wife has to take Ruby to the emergency room?" said Noe. "They could deny treatment to my child because I'm not there."
Noe, McCraken and Michener are among the 14 couples and three widowers whose cases were heard this week as part of Obergefell v. Hodges, a lawsuit against the bans on same-sex marriage in Kentucky, Tennessee, Ohio and Michigan. The two questions before the court are whether the U.S. Constitution requires all states to license same-sex marriages, and whether states must recognize these marriages if they were performed elsewhere.
In 2013, when the Supreme Court last took up the question of whether same-sex marriages should be recognized by the federal government, Justice Anthony Kennedy wrote that the U.S. government's refusal to do so "humiliates tens of thousands of children now being raised by same-sex couples." The court ruled then that the federal government must recognize legal same-sex marriages, but it stopped short of ordering all states to perform or recognize these unions.
Many expect the court to side with the same-sex couples this summer, legalizing same-sex marriage throughout the U.S. But every day, Noe thinks about what it will mean if that doesn't happen.
It's not just the logistics of child rearing that worry her. She's also concerned about the message the court will send if it rules against her family.
"I do not want her to grow up and go to school and be in for a rude awakening when she realizes that other people maybe don't think her family is a family," Noe said of her daughter. "I think we will teach her as much as we possibly can, and she will know in her heart of hearts that her family is a family, no matter what happens."
Calling all HuffPost superfans!
Sign up for membership to become a founding member and help shape HuffPost's next chapter