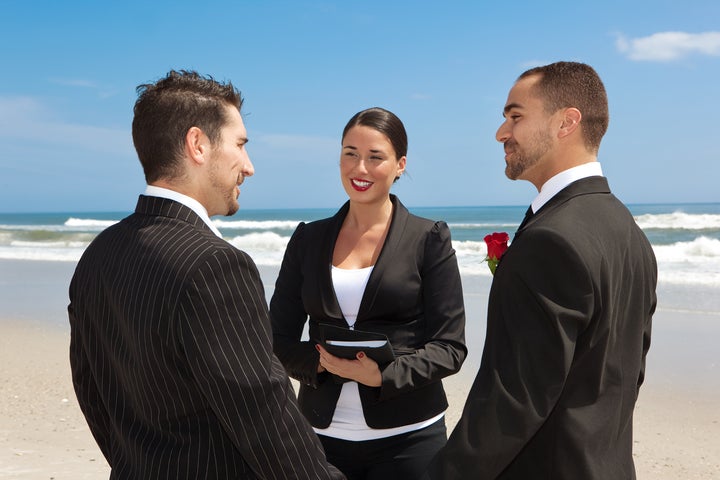 I get it, but just a little bit. Weddings can be expensive and annoying for guests... but you see, when the rights of a minority group are withheld, of course there's going to be pent-up demand and a subsequent surge when rights are granted.
I would hardly call this a bad thing. None of the "fatigued" mentioned in the article indicated they'd been to more than a dozen gay weddings even in the past year. The author has been to six gay weddings with two more coming up -- so eight in two years. Not a big deal in my opinion. We've all been to loads of straight weddings over the years. Suck it up -- or don't. You don't have to go! We all have busy Saturday nights... This is a good problem to have.
The author did give some humorous examples of some of the antics of gay weddings. I happen to love the way the dance floor inevitably gets packed during "Dancing Queen" and I, too, may have rolled my eyes at "Love Will Build a Bridge" but the fact remains, that these weddings are incredibly emotional and joyous.
See, these couples FINALLY get these rights -- and given the history in America of same-sex marriage rights being granted and then stripped away (i.e. Maine, California) -- or possibly stripped away this November (Maryland, Washington), who wouldn't want to rush to the altar?! Granted, New York's law has been more stable than other states, but still, some same-sex couples have that fear.
At this point in my career, I've been to hundreds of gay weddings -- the little ones on a Tuesday afternoon with just a few guests in the park, and the big bashes with drag queens and show girls. I had one of those myself. And honestly, they are still emotional for me. That feeling of "Finally!" is transcendent. That feeling of "Finally!" is what truly separates gay from straight weddings. Us same-sex couples don't take our rights for granted. That emotion makes for amazing marriage ceremonies -- which then lead to truly off-the-hook receptions!
Even if, as in the op-ed's example, there is an occasional nude gay wedding on Fire Island, or a wedding where all the guests are required to submit a photo of their planned outfit in advance for approval, which might be a lot to ask of your guests, I can promise them that it'll be one hell of a party.