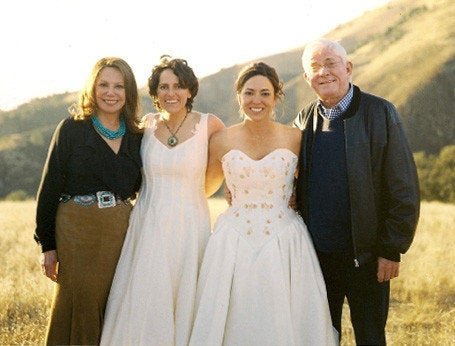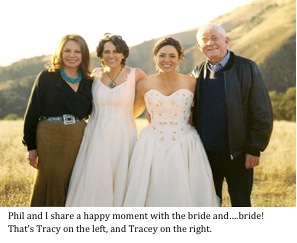 You know that moment we all look forward to at a wedding -- when the bride comes down the aisle and, for the first time, we get to see that beautiful white dress? How magical that moment always is.
Well, it's even more magical when there are two white dresses.
I experienced this for the first time when my niece, Tracy, married the love of her life, a woman also named Tracey (only hers has an "e"). At that moment, as I looked at their radiant faces, I remembered seeing Tracy, age 8, singing along to the record of Free to Be...You and Me. And I couldn't help but think, at last, Tracy is truly free.
For all of us who have long supported same-sex marriage, the depth of the justice of it all has never hit home for me as it did when I saw the these two dear, young women exchange their vows.
And everything was the same: the little kids giggling and running underfoot; the proud moms and dads wiping away a tear; the distant uncle sitting by himself, happily having one drink too many; and, as always, someone sneaking an early piece of the cake.
Now in New York, this historic ritual is being celebrated with a new and liberating joy. And while the ceremony at the heart of these weddings is no different from any other we've ever witnessed, many people have asked if there's any special etiquette that guests attending a gay wedding need to know -- such as "Will I insult the couple if I ask what they're going to call themselves -- like husband and husband or wife and wife?"
"But there are some differences you may notice as a guest at a gay wedding," Steven told me. "For example, the seating may not be divided into the traditional bride and groom side, but instead will be mixed, to reflect one community supporting the couple. And you may find that members of the wedding party are different from what you usually see -- the best man may be a woman, and the matron of honor may be a man. Also, you'll likely find that the couple is paying for the wedding themselves.
After getting these great tips from Steven, I called my friend, wedding planner extraordinaire David Tutera, and asked if there was anything he could add for gay couples planning their nuptials.

DAVID: A same-sex marriage is no different from a marriage between a man and woman, because they're both based on the same thing: the love and the commitment between two people who want to spend their lives together.
And so, the formula is the same for any and every wedding.
•Write your vows ahead of time -- but remember, this is not the time to make a political statement. Instead, create your vows to express the reason you are there: to celebrate your union and commitment to one another.
•Do your legal research. Make sure you plan ahead, and know all the necessary legalities and specifics about your rental of the location at which you plan to wed.
•Don't forget to register at your favorite stores. Include both of your full names, as well as the name of your favorite charity, in case you decide to offer a donation to that charity a gift option.
•When printing your invitations, list your names in alphabetical order -- by last name. This will also be the order you in which you stand at the altar.
•And, remember, it's all about love. Be sure to embrace the love not only for yourselves as a couple, but the love you have for all those there who support and cherish and celebrate your marriage.
I love these tips, and I love David, because he reminds us of what this is really all about: that there may be two dresses or two tuxedos -- and the top of the cake may look different from what we're used to seeing -- but it really is all about love.

Related
Popular in the Community