This is the third and last blogpost on the 2017 Global Editors Network (GEN) summit.
Crystal ball gazers may conjure fuzzy prospects, but futurists pinpoint expected scenarios, as well as technological waves drawn from track records and trends to help media perform better.
"News executives are afflicted with the paradox of the present," explained Amy Webb, founder of the Future Today Institute, about their inability to see beyond what they know to be true and their rejection of new ideas. "News used to be a distribution model, now we have a discovery model, now there's an erosion of trust."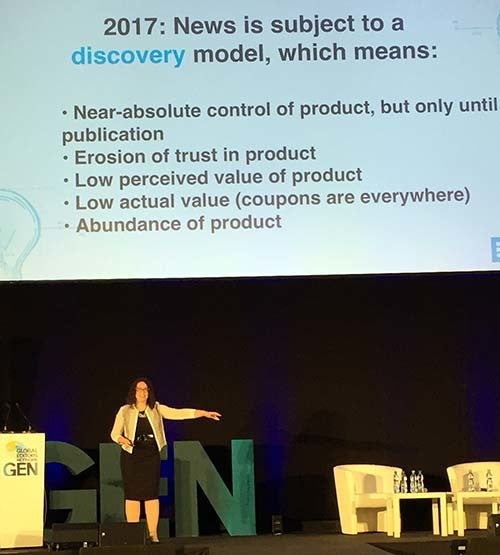 "From storytelling to storytooling," Webb's presentation at this year's Global Editors Network (GEN) summit in Vienna was chock-full of tips on how to overcome unseen "monsters" by radically rethinking the relationship between journalism, people and technology.
She predicted the future of news would involve visual object recognition and augmented reality (AR), but said there wasn't a single news organization working on a visual object recognition strategy for revenue, advertising or content.
"Collectively, journalism has been following a red herring," she lamented.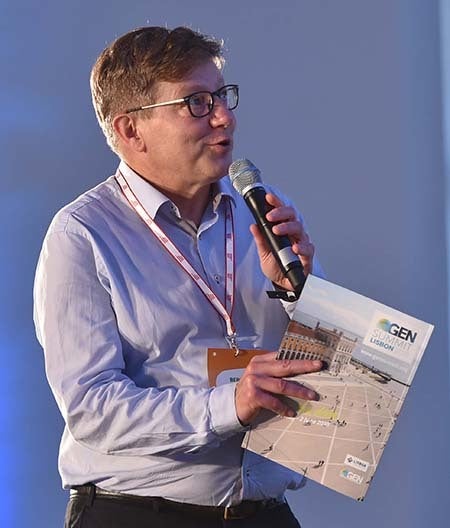 GEN's two-and-a-half day summit, dubbed "From Post-Truth to Virtual Reality: Navigating Media's Future" grouped luminaries from CNN, The Washington Post, Google, Facebook, Twitter, the Financial Times, ESPN, News Republic, Buzzfeed, the Guardian, and Storyful, as well as academics, related industry firms, and futurists, also featured in an earlier blogpost.
It offered a wealth of knowledge through panels, workshops and masterclasses on the future of editorial analytics, visual storytelling on Facebook, podcasting, anti-corruption investigative reporting, the changing face of news on Twitter, and monetizing social media.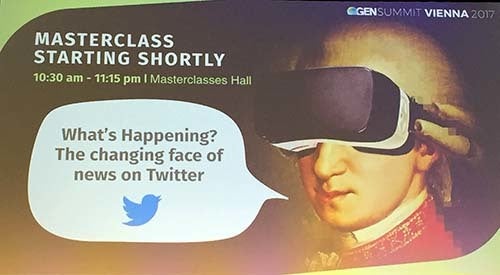 Another cage rattler was Vesselin Popov who called for personalization of the news.
"Forget media metrics, think (online) psychometrics," said Popov, business development director at Cambridge University's Psychometrics Center, adding that one can predict a lot through digital records of human behavior.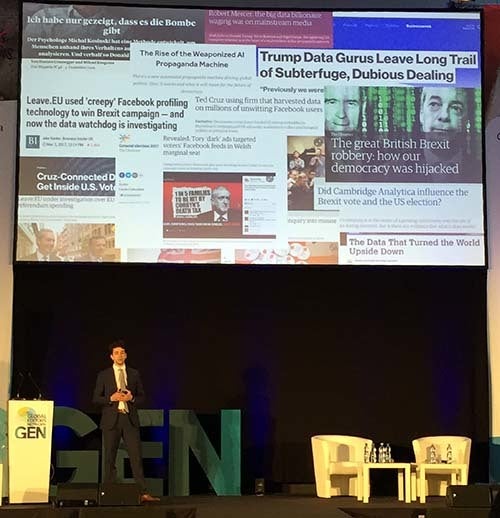 He preached the benefits of predictions from social media and putting artificial intelligence (AI) in newsrooms.
Popov, who raised the issue of profiling millions of people in milliseconds and called for wedding technology with academia, said personality-matched content was twice as profitable as other types of content when targeted and tailored to find out what makes every reader unique.
A hot session entitled "The Platform Dilemma: How to Balance Truth, Popularity and Engagement" featured social news network Rappler CEO Maria Ressa, a former CNN bureau chief and regular target of fake news producers and trolls in her native Philippines.
Ressa said detractors were weaponizing the Internet and pointed to virtual threats that morphed into hate speech and propaganda.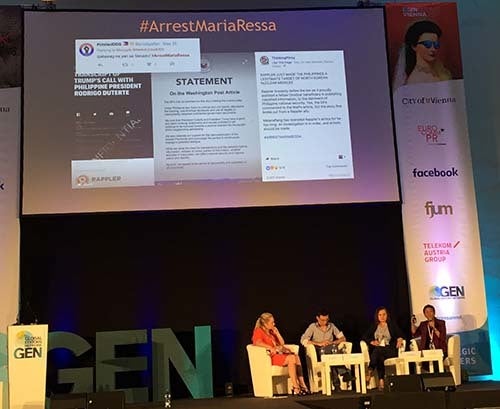 "There is active disinformation for power," she said. "Real journalists are being threatened with an aim to weaken trust."
Filipino journalists are being silenced and/or exercise self-censorship, she added. She asked where one draws the line when platforms become gatekeepers.
Co-panelist Anna Belkina, director of strategic development at Russia Today (RT), was criticized for saying her organization was no more a propaganda arm of the state than the BBC, Germany's Deutsche Welle and the Voice of America.
"We don't report alternative facts, we report facts," she insisted.
A member of the audience asked when RT ever held authorities to account, as the BBC always does.
"We feature critics on the air, opposition on the air," said Belkina. "We're not afraid to be challenged on facts."
Author/columnist Michael Wolff, who penned a biography of media mogul Rupert Murdoch and is working on a book about Donald Trump, said the current administration may not need the media to get its message across, but that it clearly wants the media to pay it heed.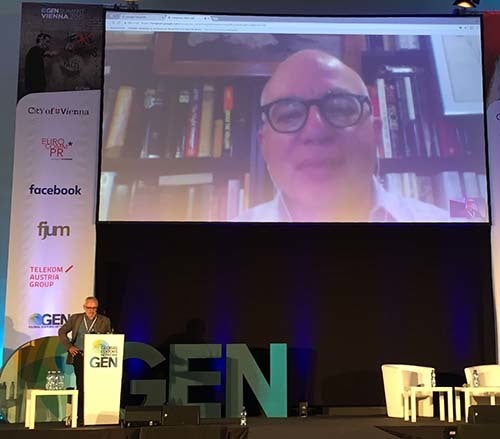 He slammed the media for excessive whining about Trump - who Wolff said wasn't successful in establishing himself as a measure of truth - and urged journalists to start reporting.
"Editorial boards and pages always take an opinionated way, nobody reads them anyway," Wolff said, predicting the president would serve out his term.
Campbell Brown, another CNN alumna who now heads news partnerships at Facebook, said there was no secret sauce and that her organization doesn't pick which issues the world should read about, but rather follows community standards of hate speech and nudity and aims to remove any threats leading to violence.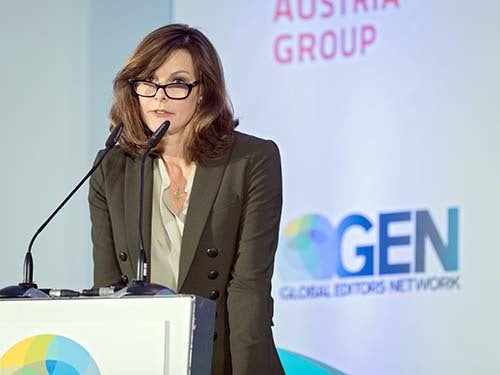 "Even though Facebook isn't a news organization, it's part of the news ecosystem," she said, noting that brands were important to journalism and that the social network had hired a team to work on local news, with monetization being another key priority.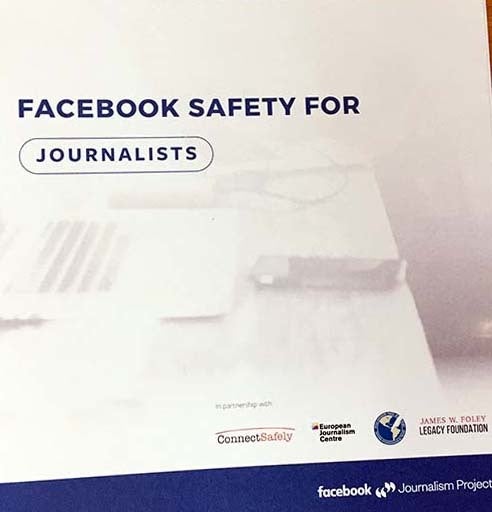 In a closing session, Arizona State University media professor Dan Gillmor said people have an issue with misinformation and manipulation.
"We have to improve demand, or we won't have supply," he concluded with a nod to the importance of media and news literacy.
REAL LIFE. REAL NEWS. REAL VOICES.
Help us tell more of the stories that matter from voices that too often remain unheard.
This post was published on the now-closed HuffPost Contributor platform. Contributors control their own work and posted freely to our site. If you need to flag this entry as abusive,
send us an email
.