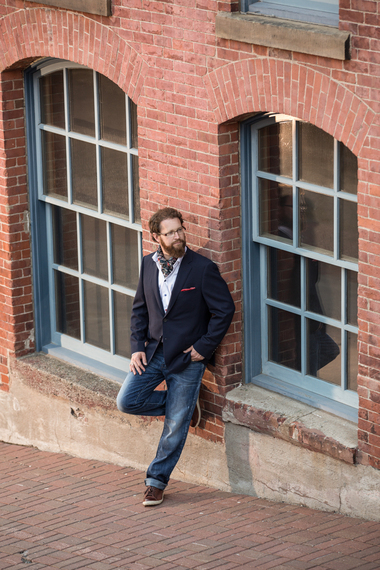 What images come to mind when you think of mid-life crisis? As a Gen-Xer I think of the crisis stereotype of my Baby Boomer parent's generation, one that would likely lead to a marital separation, a departure from a life-long career, a purchase of a Porsche (and possibly a yacht) and the 'acquisition' of a much younger, more attractive and probably temporary, domestic partner. The stereotype of the Boomer midlife crisis that sits in my subconscious revolves around materialism and surface veneer.
I am very close to turning 40. I suspect most of the cartoon references to Baby Boomer mid-life crisis depicts a challenged character in their 4th decade of life. So what does the stereotype of the Generation X midlife crisis look like as we enter our forties?
Before digging too deeply into that question, let me tell you a bit about me. I am a filmmaker and entrepreneur. My company started producing television shows, documentaries and commercials over a decade and a half ago. Over the years we produced everything from docu-soaps about pro wrestling and MMA, to North American home design shows, to documentaries about Jack Kerouac, to social change films focusing on classical music in Venezuela and kids coding in Estonia. We produced hundreds of hours of live music content and countless television commercials and corporate videos.
Our motivation? We wanted to produce the highest quality content and work with the biggest industry players to make the most money, end of story. It didn't matter too much where the money was coming from, as long as it ended up on our profit / loss statement. This motivation started to change however when we did a number of projects for the lottery industry.
After sending my crew to Vegas for a project that followed a number of other gambling-related commercial projects, some of my team members specifically asked to not do this type of work anymore. They didn't want to contribute to an industry that feeds and exploits addiction so strongly. I listened. I had the very uncomfortable discussion with the marketing agency that hired us and said we can no longer take this work on. It was a hard decision that cost us a lot of work, but there was something liberating about the decision at the same time.
Then we did a piece of work that I am even today very proud of as far as production quality is concerned. The work was an animation that tried to show all sides and perspectives of the fracking debate. It was an idea I came up with out of the frustration of never hearing a balanced perspective on the topic. I went to the oil and gas industry and pitched to them to pay for it, and they did. I felt that it was a well-balanced piece with voices from all sides of the issue well represented. It even won a marketing award!
Then something happened that I didn't anticipate; a major protest broke out in my community that led to violence, arrests, and burned cop cars. This lit the debate about fracking up to the point that it became a household discussion and a day did not go by when the media didn't have updates on this contentious topic.
And whose video started to make its rounds again on social media to promote the pro-fracking side? Our video. I then received an unexpected social backlash from people in my community that I care about. The very fact that the oil and gas industry paid for the work compromised my integrity for being a balanced documentary filmmaker in the eyes of the people calling me out. I was gutted. Not only did it challenge the direction I was leading my company to, it challenged my whole business as a whole.
Quality film content costs a lot of money (as does quality journalism!). But in this day and age when video is a commodity and our broadcasters are paying less and less for content, how am I as a CEO of a film company (with 12 full-time employees) going to continue growing in a market that is on a race to the bottom if I can't leverage the financial resources that big industry has available to invest? And if big industry invests in my content will I still have the ability to tell an authentic story? This very question initiated my own personal journey into a midlife crisis.
Twenty years ago I wouldn't believe it if someone told me that in 2013 (when we produced the fracking film) I would be producing content that is seen around the world and that we would have such a solid team and top line growth. But once I arrived to this point of corporate success, I felt lost, a bit confused and not satisfied. I just didn't want to create content anymore that didn't have a direct positive impact on the world.
After a bit of exploration, I found the B Corp community. I immediately certified our company and as it turns out we scored really well. Our company has always measured the triple bottom line; we just didn't know that it had a name and that there was a global community committed to the measuring it. This explains the heart ache we would have when doing work that didn't totally align with our values, but did align with earning the cash we needed to grow.
My 'Gen-X crisis' started three years ago at 37 years of age. I am determined to get out of it in February when I turn 40, and owning a B Corp certified company is helping me achieve this goal.
What I am realizing is that my crisis, and the crisis that so many other entrepreneurs, artists and professionals in my friend group are going through is a crisis of purpose. Are we committing the majority of our waking hours to the vision of making money and being materialistically wealthy? Or are we using those precious 'living hours' to contribute to the greater good? Are we able to use our careers and businesses to literally contribute to a happier and kinder world?
Since becoming B Corp certified we produced a social impact film called the Millennial Dream. We studied the motivations of the Generation-Y. The interesting thing is that the purpose driven lifestyle that the Millennials expect and even demand is a lifestyle that Gen-X has been striving for since Seattle broke the music scene that defined our generation. Now that we see that the Millennials are living purpose-centric lives, I believe that it's giving the Gen-Xers the confidence and motivation to finally grab onto it too...finally.
Our mid-life crisis is not fuelled by the list for faster cars, yachts and younger domestic partners, it's fuelled by the internal desire to create positive impact, be purpose-centric and use our gifts as tools for activism. If this is the stereotype of my generation's midlife crisis, then I am proud to say that I was born in this generational cohort.
The Millennials have not reached the age of mid-life yet, but I will be keeping an eye on them as they approach their 40s. I suspect there will be a Hemmings House documentary film produced about it.
Pioneers for Change is a seed-bed for innovative thought. An activator of personal potential. A catalyst for collective energy. A community to drive social change.
Our annual, international Fellowship is open to anyone aged 28 - 108 years old. We gather change-makers -- a business person, a community person, an investor, a thinker or doer -- who are willing to harness their talents, energy and resources as a force for good. Pioneers for Change is an initiative of Adessy Associates.
Adessy Associates believes social and business objectives are mutually reinforcing. We equip and enable organisations for a sustainable future, by focusing on benefit for people, planet and profit. Our bespoke services harness sustainability, innovation, consciousness and purpose. We are proudly B Corp certified.
Related
Popular in the Community