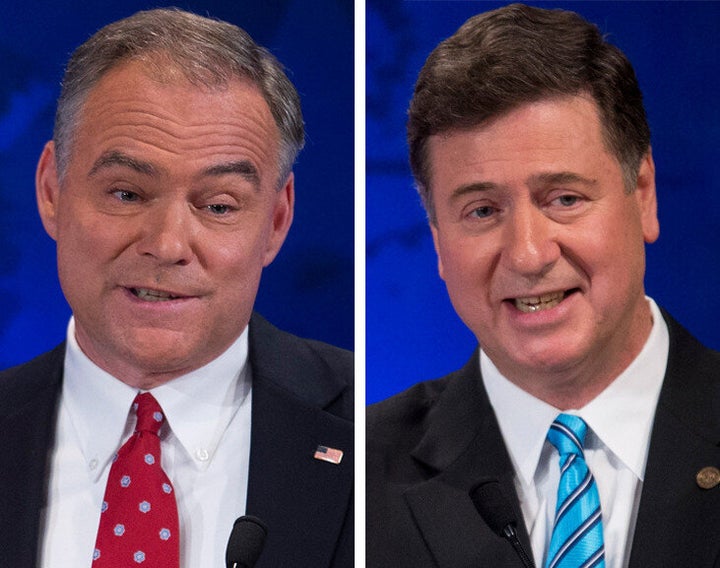 The 2012 Virginia Senate race features two former Virginia governors vying to claim the seat of retiring Democratic Sen. Jim Webb, who opted not to seek reelection.
Former Virginia Gov. Tim Kaine served as the chair of the Democratic National Committee in the early years of the Obama administration. During that time, Kaine worked to expand the president's Organizing For America operation, but nevertheless presided over the disastrous 2010 midterms, which found the GOP returning to power in the House of Representatives, riding a sustained wave of Tea Party support.
Meanwhile, the GOP candidate, George Allen, is trying to return to the Senate and resurrect his career. Once thought to be a serious contender in the presidential election, Allen saw his reelection hopes founder in 2006 when, at a campaign rally in Breaks, Va., Allen used the racial slur "macaca" to refer to S. R. Siddarth, an Indian-American tracker working for the Democratic Party. The incident, captured on video, become an iconic example of viral video, and the resulting controversy was likely sufficient to lead to Allen's loss in a narrow election.
Allen, who dispatched Tea Party insurgent candidate Jamie Radtke during the GOP primary, has clearly learned from the incident that brought him to the lowest point in his career. Now, facing both an opposition eager to capitalize on a similar moment of backlash and a changing Virginia electorate that has grown more diverse in the intervening six years, he has run an extremely low-key campaign.
This time around, it was Kaine who was the victim of his own loose lips. While making his case at a September debate, Kaine wandered far off the Democratic home turf when he expressed a willingness to consider a bill that would require low-income earners -- traditionally exempted from paying federal income taxes due to their extreme poverty -- to pay such taxes:
DAVID GREGORY: Do you believe that everyone in Virginia should pay something in federal income tax?

TIM KAINE: Well, everyone pays taxes! I mean, the statistics that have come out...

GREGORY: I'm asking about federal income taxes.

KAINE: I would be open to a proposal that would have some minimum tax level for everyone, but I do insist, many of the 47 percent that Gov. Romney was going after pay a higher percentage of their income in taxes than he does.
Meanwhile, labor unions have attacked Allen for his positions on education and have made an effort to tie Allen to the controversial and unpopular budget proposals of GOP vice-presidential nominee and Wisconsin Rep. Paul Ryan.
While Kaine has lately posted the better polling results, the Virginia Senate race has, for the larger part of the year, been one of the tighter races in the nation, and as of this writing, the HuffPost Pollster model has Kaine ahead by a razor-thin 48.3 percent to 46.4 percent margin.