Chancellor Angela Merkel's Christian Democratic Union has come out on top in Germany's national election on Sunday, according to early exit polls, putting her on the path for a fourth term in power.
Provisional results released by Germany's Federal Returning Officer show Merkel's center-right CDU won an estimated 33 percent of the vote, followed by the center-left Social Democratic Party, or SPD, that trailed behind with about 20 percent of the vote. Several other parties managed to cross the 5 percent threshold to enter parliament, including the far-right Alternative for Germany party, pro-business Free Democratic Party and environmentalist Greens.
Merkel will now likely seek to partner with the Free Democrats and Greens to form a government ― an untested alliance known as the "Jamaica coalition" because of the parties' colors. Another possibility was a continuation of the so-called "grand coalition" between the CDU and the SPD, but the latter decided to rule out any partnership and attempt to rebuild itself as the main opposition party. 
Although Merkel's victory in the vote was fairly certain, the election saw fractures emerge in Germany's established political landscape as the two largest parties lost seats to smaller political movements. Merkel's party had the biggest fall, dropping about 8 percent from last election, while the SPD is down 5 percent.
"We expected a better result, that is clear," Merkel said Sunday night, according to The New York Times. "The good thing is that we will definitely lead the next government."
The shift was similar to other European elections this year, such as France and the Netherlands, where once prominent mainstream parties suffered major losses. As in those elections, Germany's vote also resulted in significant gains for the far-right.
The anti-immigration, anti-Islam Alternative for Germany, or AfD, looked to take just under 13 percent of the vote on Sunday, becoming the first far-right party to enter German parliament since World War II. The AfD's rapid rise since its founding in 2013 has brought once-fringe views back into Germany's politics, including ethnonationalist ideology that has long been taboo in the country. Post-war Germany had previously shunned far-right parties, as they evoked the trauma and crimes of Nazism.
Establishment politicians like Foreign Minister Sigmar Gabriel, SPD leader Martin Schulz and even Merkel herself all spoke out against the AfD during the campaign. Gabriel went as far as to compare the party to Nazis, a rare and serious accusation in modern German politics.
The AfD campaign relied heavily on criticism of Merkel's decision to allow over a million asylum seekers into Germany at the height of Europe's refugee crisis in 2015. Despite facing some backlash to her policy and giving fodder for the far-right, Merkel's approval ratings rebounded in the ensuing years.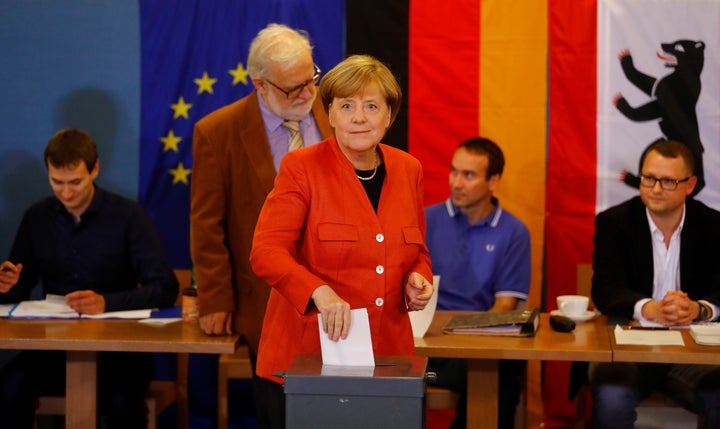 Polling in the weeks leading up to the election put Merkel on pace for an easy victory, holding a double-digit lead over Martin Schulz' Social Democratic Party. Several other parties, including The Left, Greens and the AfD, hovered above the 5 percent threshold to enter parliament but failed to ever pose a legitimate challenge to Merkel.  
The wide margin of the CDU's win looked unlikely not long ago, when Schulz was contesting Merkel in the polls and pundits wondered whether the SPD could unseat the chancellor. But Merkel instead weathered all challenges, as the SPD drastically dropped off in support and Germans opted for the chancellor's platform of economic growth and political stability.
Part of the SPD's struggles stemmed from an inability to articulate any substantive differences from Merkel's CDU, its partner in the coalition government. The sole televised debate between Schulz and Merkel was widely seen as a bore, lacking any major conflict and allowing Merkel to portray herself as the confident leader of a prospering country.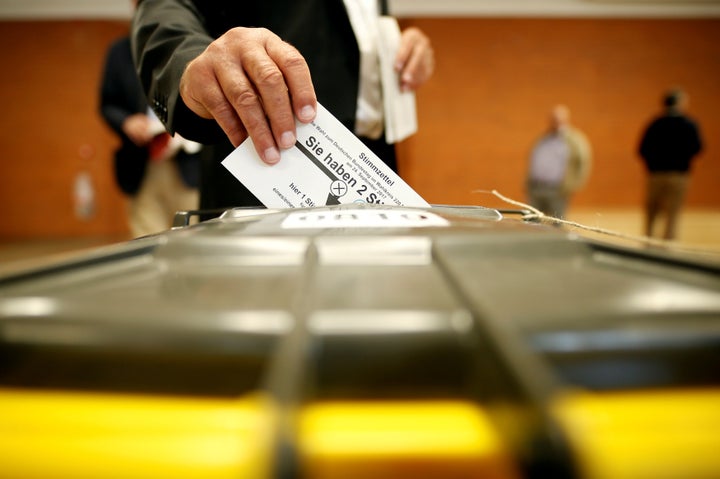 Germany's economy experienced strong growth in the past year, and income inequality is less pronounced than in other European nations. At the same time, Merkel has also come to be seen as a steady hand at a time of global instability. Following the election of President Donald Trump, for instance, Merkel has repeatedly said that Europe could no longer completely rely on the United States and must take matters into its own hands.
Although digs at Trump are a common way for European politicians to stir up domestic support, Merkel's statements are also indicative of her push for a stronger European Union. Along with her ally French President Emmanuel Macron, Merkel will likely seek reforms in the EU to deepen economic integration among states.
Merkel's fourth term may also see her become an even more influential figure for international affairs outside of Europe. During the campaign, Merkel urged for a diplomatic solution to tensions over North Korea's nuclear program, defended the Iran nuclear deal and called for the Paris climate accord to be upheld. She also has a long history of dealing with Russian President Vladimir Putin, acting as a prominent intermediary between the West and Moscow.
Born in communist East Germany and trained as a physicist, Merkel has had an unlikely rise to become only the third chancellor since World War II to hold a fourth term. The past year has seen her take on an equally improbable role as the most influential defender of Western liberal order ― a position that Trump has left vacant and that Merkel has reluctantly and increasingly filled.
Calling all HuffPost superfans!
Sign up for membership to become a founding member and help shape HuffPost's next chapter
BEFORE YOU GO
PHOTO GALLERY
Barack Obama and Angela Merkel BFFs