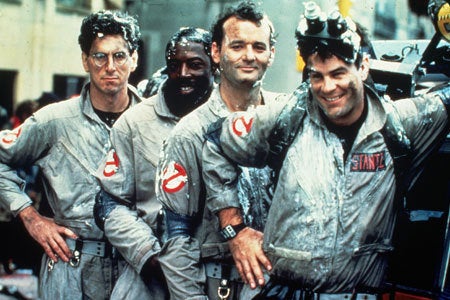 The Ghostbusters are being called on once again, Dan Aykroyd insists. But its most iconic star may not be answering the phone.
Aykroyd, the mind behind the hit comedy franchise, told Dennis Miller today on his radio show that the long-awaited "Ghostbusters" film would be lensing in Spring, 2012 -- with or without Bill Murray.
Yes, we will be doing the movie and hopefully with Mr. Murray," Aykroyd said (via ComingSoon.net). "That is our hope. We have an excellent script. What we have to remember is that 'Ghostbusters' is bigger than any one component, although Billy was absolutely the lead and contributive to it in a massive way, as was the director and Harold [Ramis], myself and Sigourney [Weaver]. The concept is much larger than any individual role and the promise of 'Ghostbusters 3' is that we get to hand the equipment and the franchise down to new blood."
Director Ivan Reitman, who helmed Kutcher's "No Strings Attached" and the "Ghostbusters" films, said that the script was ready last February, though he didn't reveal the details. Aykroyd, though, divulged some information from the story that he says will be filmed.
"My character, Ray, is now blind in one eye and can't drive the cadillac," he said. "He's got a bad knee and can't carry the packs... Egon is too large to get into the harness. We need young blood and that's the promise."
"Yeah, Ivan wants to make it and I... I owe him, ya know," Murray said. "He's puzzled that I haven't gotten to this one... Well, it may not be on the desk - it's over there somewhere... Well, I'll get to it... I gotta get to it - I feel bad... I got a message and I think people - I don't want to hurt anyone's feelings - it's not the foremost thing in my mind, so I don't think about it."
Popular in the Community