Nearly a year after Sen. Kirsten Gillibrand's (D-N.Y.) military sexual assault reform legislation fell five votes short of passing the Senate, she asked for unanimous consent on Thursday to bring her bill to the floor for another vote. But a group of senators blocked Gillibrand's effort, accusing her of taking her cause too far.
Sens. Jim Inhofe (R-Okla.), Carl Levin (D-Mich.) and Lindsey Graham (R-S.C.) objected to Gillibrand's request.
"All I can say is the people behind this, I respect your passion to a point, but you're going too far," said Graham, who opposes Gillibrand's proposal to take sexual assault cases out of the jurisdiction of military commanders. "Members on the other side of the aisle have been threatened with money being cut off if we vote against this idea. This is no longer about reforming a system. This is a political cause going out of control."
A spokesman for Graham said his accusation about "money being cut off" was a reference to a top Democratic donor publicly criticizing Sen. Claire McCaskill (D-Mo.) at a fundraiser over her opposition to Gillibrand's proposal.
For the past two years, Gillibrand has passionately advocated for removing military sexual assault cases from the chain of command and instead handing them over to independent prosecutors. She cites victims who have told her they are less likely to report assaults because they do not trust their commanders to handle the cases fairly and to punish the perpetrators. In many cases, instead of investigating or prosecuting the accused rapist, the chain of command actually retaliated against the person who reported the crime, according to a 2013 survey of active-duty women.
Last year, the Senate passed a number of reforms to the way the military handles sexual assault, but Gillibrand's bill fell a handful of votes short of the 60 needed to overcome a filibuster.
Gillibrand told her colleagues on Thursday that the latest report from the Defense Department shows that military sexual assaults have not significantly declined over the past year. Reporting of sexual assaults has gone up in the military since 2012, from one in 10 cases being reported to one in four, according to the report. But the rate of retaliation against women who report sexual assaults has remained the same.
"We should all be able to agree our brave men and women in uniform deserve blind justice," Gillibrand said on the Senate floor. "The scales should not be tipped in either direction in favor of a victim or an accused. Why should our service members enjoy a lesser standard of justice and fairness than you and I, whose freedoms they risk everything to protect?"
Interestingly, the fight does not break down along party lines. Gillibrand's bill has attracted the support of some high-profile Republicans, including incoming Senate Majority Leader Mitch McConnell (R-Ky.) and Sens. Ted Cruz (R-Texas) and Rand Paul (R-Ky.). And on the other side, Levin, who chairs the Senate Armed Services Committee, was one of the three senators who objected to Gillibrand's request for unanimous consent. McCaskill has also very publicly opposed the bill.
Opponents claim it's irresponsible to strip responsibility from commanders, whom the country otherwise trusts to make life-and-death decisions.
"The last thing I will ever agree to is the following," Graham said. "'Sir, ma'am' -- this is the first sergeant going to the commander -- 'Last night we think there may have been a rape in the barracks.' And the commander says, 'Well, that's no longer my problem. Send that over to the lawyers.'"
"What a terrible thing to do to a military unit," Graham added. "The commander needs more accountability, not less."
Graham has previously opposed eliminating "don't ask, don't tell" -- the policy that prevented openly gay and lesbian people from serving in the military -- as well as a measure that eliminated a commander's right to overturn a jury verdict. "Don't ask, don't tell" was repealed in 2011, and the latter reform passed in the Senate last year with the support of Defense Secretary Chuck Hagel.
Glen Caplin, a spokesman for Gillibrand, said Graham's speech on Thursday wasn't a departure from the South Carolina senator's previous positions. "We are not surprised to see a presentation that was misleading and riddled with inaccuracies," Caplin said.
Gillibrand says she has plenty of anecdotes from the past year that prove real change will never happen for sexual assault victims in the military until Congress overhauls the military justice system.
"Here's how you really know the system is broken," she said on Thursday. "When a cadet is instrumental in obtaining the first sexual assault convictions in over a decade at the Air Force Academy, he's expelled. When a chief prosecutor is too good at his job and briefs members of Congress, he's retaliated against and forced out. Or when a survivor comes forward, she's put on a shelf."
"Time is short," Gillibrand added, "but there's more than enough time for Congress to actually do its job."
Before You Go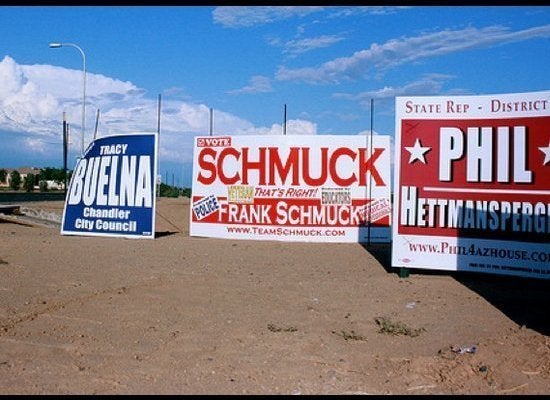 Unfortunate Politician Names
Popular in the Community