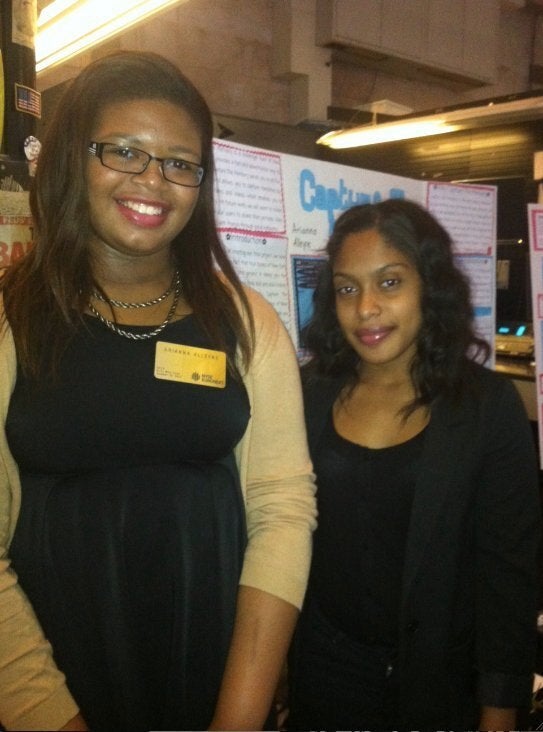 On Monday night, the monitors, keyboards and buzzing screens on the floor of the New York Stock Exchange in downtown Manhattan were pushed aside for foamcore boards adorned with construction paper and smartphones perched on tall tables. Where traders usually stood, teen girls took their place.
The 20 young women manning the boards were the first group of graduates from a Girls Who Code eight-week summer course, a program designed to attract more women to technical fields by teaching them how to build mobile apps and websites, launch a company and pitch investors. With support from companies like Twitter, General Electric, eBay and Google, the graduates also took part in mini-internships with New York tech companies and were assigned mentors from the field.
Like so many tech-industry events, the Girls Who Code gala was more of a "demo" than a ceremony: a display of what the organization argues can be done to change the gender ratio in tech by helping young women develop engineering and computer science skills.
Reshma Saujani, the founder of Girls Who Code and New York City's former deputy public advocate, announced that the organization will be launching in seven additional cities in 2013, with the goal of teaching 1 million young women to code by 2020. She said she hopes to raise $1 million next year for the initiative, as it requires $50,000 to run a full Girls Who Code program, $2,500 to teach one participant in the program and $1,000 to start a Girls Who Code Club, a course run in partnership with schools.
At the event Monday evening, the girls who learned to code showed off the apps they'd built in the final weeks of the program and eagerly discussed the challenges of learning Javascript, building for the Android operating system, and using Twitter's API (application programming interface).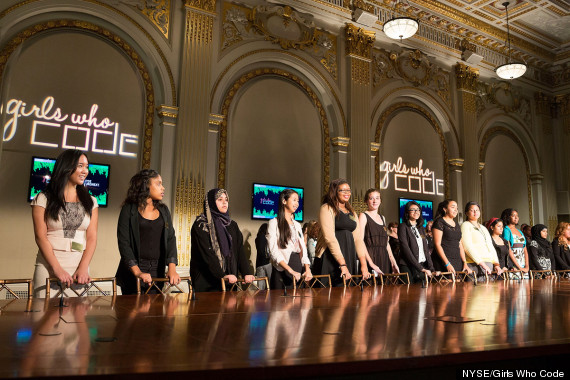 Image courtesy of New York Stock ExchangeThere were gaming apps, like Scoop Stacker (a kind of brickbreaker for ice cream); travel apps, like Mood Foods ("find a restaurant that corresponds to [your] craving") andCapture Memory (a travel guide for out-of-towners in New York); and several designed to help users help others. HandiHelp, for example, is made to help disabled individuals navigate public transportation. Say Something is meant to help smartphone owners assist the homeless in finding soup kitchens and shelters.
Mood Foods' co-creator Vera Tineo had a few pointers for competing restaurant recommendation apps like Yelp and Foursquare: keep things simple, and if you want to attract the teens, make it "picture-based," like hers.
"Because teenagers don't like to read a lot," she said. "Yelp requires a lot of reading and on Foursquare, the gaming element makes it too complicated."
Many of the young women in the program say they plan to continue their computer science studies. One woman, Maria Gonzalez, said she is already angling to work with her principal to introduce a computer science curriculum to her school in Queens.
"Now I believe I can do anything," Gonzalez said, cradling a copy of a signed letter from President Barack Obama to all the participants of the Girls Who Code course. "I want to be president."
One of the program's participants, 15 year-old Julia Geist, has already built a business out of what she learned from Girls Who Code. She said she's started a web design business (and already has two clients) and is teaching her father to code in the hopes he'll be able to quit his custodian job.
"My sisters are next on the list," she said.
Editor's Note: Arianna Huffington, president and editor-in-chief of the Huffington Post Media Group, is on the Host Committee for Girls Who Code.
CORRECTION: This article originally incorrectly stated that Maria Gonzalez goes to school in Brooklyn. She attends a school in Queens.