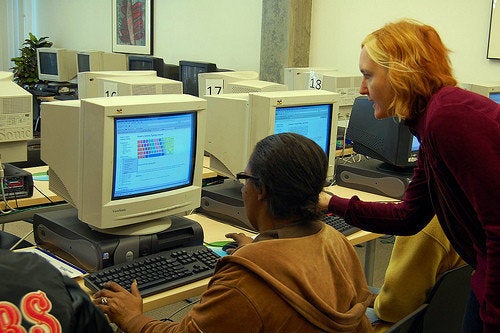 Today, as HuffPost and AOL unite to launch the Huffington Post Media Group, we're celebrating by making a statement about the importance of giving back and helping others.
Led by HuffPost Impact –- The Huffington Post's section devoted to service, causes, and volunteering -- every HuffPost section is featuring a group or individual who is taking action and inspiring others during these challenging times. Like the rest of the world, our hearts and minds are also focused on Japan, and we've created a resource page for everyone wishing to support the emergency relief efforts.
And we're thrilled to announce that Biz Stone, co-founder of Twitter, is joining the Huffington Post Media Group as Strategic Adviser For Social Impact. Stone will help the company to create innovative social impact and cause-based initiatives.
AOL/Huffington Post Media Group has also issued a 30-day Service Challenge to every one of its employees worldwide, encouraging them to give their time to non-profits in their local communities and organizing volunteer events in 16 cities.
We hope you'll join us in utilizing the power of online journalism to help people get involved, work together, and bring about real change.
Going online has increasingly become vital in order to access the opportunities, information, and people that make offline life better and easier. More and more, we rely on the web to find jobs and apply for them, check facts, communicate, and more.
But what if you don't know how to perform a Google search? Or send an email? Or type a letter in Microsoft Word?
As many offline activities move online, people without the technical skills to click and type their way around the Web are left unable to perform basic, essential tasks like setting up an email account or searching for information that could prevent them from finding and applying for a job, as well as inconvenience them in numerous other ways.
Community Technology Network, a non-profit organization based in San Francisco, is working to equip those who require online assistance—a group that predominantly includes senior citizens, as well as homeless and low-income residents--with the education they need to navigate the Internet and operate a computer by providing free classes and support at local computer centers.
"It's only fair to have access to these tools that are so important in our society today," said Kami Griffiths, executive director at CTN. "If you don't have access to the Internet or the skills, you're spending more time in line, you're spending more money. There are some jobs that don't require you to use the computer but you need to use the computer to apply for them."
The digital divide CTN is working to address is wide and growing wider: 54 percent of adults with high school degrees and 60 percent of households with income below $20,000 lack broadband access in their home. The divide is also evident along race and age: 41 percent of African-Americans, 51 percent of Hispanics and 65 percent of senior citizens do not have high-speed Internet at home.
For Americans already in disadvantaged positions, taking the first steps into digital literacy can be extremely difficult. Computers and high-speed Internet access be prohibitively expensive--and the unfamiliarity people have with such gadgets can make beginning an education daunting.
"People should know that there's still an issue in terms of not having access," said Griffiths. "The cost for getting a computer, keeping it running, paying for the Internet on an ongoing basis is high. The digital divide is alive and well and it gets bigger the more things go online."
CTN takes the stand that both of these factors can be overcome by engaging the local community to step in and help, providing opportunities to volunteer to teach and mentor others, and giving the resources (course syllabi and texts) to begin operating new centers.
With free classes taught by knowledgeable volunteers on topics like setting up an email account, using Craigslist, using Facebook, and developing basic computer skills, CTN is trying to teach as many people as they can the technological knowhow they need to get ahead. With hubs across a network of computer centers in San Francisco, CTN has served the local community since 2008, with plans to expand their outreach to 41 senior centers over the next three years.
CTN is committed to training people in the Bay Area to have the skills they need to navigate the web, and also dedicated to providing tools for others throughout the country to export CTN's efforts to their own communities: The site offers resources like lesson plans and course material for prospective CTN hubs to get started.
The organization estimates they've helped over 1,000 people in the last three years.
Volunteer Ashley Morrow has witnessed just how much a lesson in something as simple as opening an email account can lead someone to understand just how crucial computer skills can be.
"There are people that come in that are very scared of the computers, that have no idea why they'd need an email account, why they'd want a Facebook account," she said. "We get that fear out of them and show then computers can be helpful, can be beneficial. It's just amazing to see people progress. People come in who don't know how to left and right click a mouse and after a couple of months they're creating resumes in Microsoft Word and sending them to employers."
Griffiths recalled one man who had started coming in once a week to get CTN's help. A few weeks later, he came in upset: a program he wanted to apply to had an opportunity that allowed applicants to apply online or by mail. But the mailed application came two days before deadline, making it impossible for him to finish.
"Because of that he said, 'I want to tell them, I want to email them and tell them my story,'" Griffiths recalled. "We were able to help him go there and find someone to email
and we felt really excited for him." Eventually, the program wrote to tell him they had reconsidered and would let him apply late.
Anyone can get involved with CTN, either by donating time as a volunteer or blogging for the main site or donating money to help support the cause. Over 100 volunteers have helped teach classes and run CTN since it began.
"People who have access to the skills and know what the possibilities are, they can get more," said Griffiths. "It can change your life when you have access to these tools."
Related
Popular in the Community