Just over a year ago, Senator Tom Harkin released a report detailing the predatory nature of many for-profit colleges. According to the report, these schools are often incredibly expensive, leave students with huge debts, have poor graduation rates, employ aggressive and unethical recruiting tactics, and receive billions of dollars in taxpayer money. Typically, for-profit colleges rely on federal grants and student loan money to cover the cost of high tuition prices of what often amount to worthless degrees.
In 1972, Terry L. Myhre purchased Globe University, the first of many for-profit colleges Myhre would purchase and later form into the "Globe Education Network." Myhre now owns numerous colleges in the midwest. He also owns 87 percent of the shares of the publicly traded Broadview University, formerly Utah Career College. In addition to the Globe Education Network, Myhre also finances a truck driving school in Shepherdsville, Kentucky. Recently though, many of Myhre's schools have come under fire for allegedly engaging much of the same behavior listed in Tom Harkin's report on for-profit colleges.
Just two months ago, Globe University was forced to pay $395,000 in damages to former Dean, Heidi Weber, after she was fired for blowing the whistle on Globe University's unethical recruiting policies. Now, the school faces a class action lawsuit from five current students who claim Globe misleads prospective students, fabricates job placement numbers, accreditation, and transfer opportunities to other institutions -- all while saddling unsuspecting students with student debt at the expense of American taxpayers.
From 2011 through 2012, Globe was the recipient of more than $170 million in federal student aid. According to a former Globe University admissions representative, "We were really focusing on recruiting bottom-of-the-barrel-type students, the ones that rarely had the means. Essentially, if you have a heartbeat and you can sign your name, you qualify for Stafford Loans." Another former Globe admissions representative, Hannah Von Bank, testified that Globe recruiters are actually trained to target those with low-income because this group is eligible for Pell Grants, and this was "free money" for the school.
Many of these students are also ill-prepared for the rigors of college which could be the cause of such low graduation rates. The overall graduation rate at Globe University's main campus in Woodbury, Minnesota, for example, is only 30 percent. Those that do graduate, however, tend to graduate with much higher student debt than their peers at traditional nonprofit colleges. According a report from the Minnesota Office of Higher Education, in 2010, 67 percent of graduates at University of Minnesota took out student loans and graduated with an average of $26,727 in student loan debt. At private nonprofit colleges in Minnesota, this number was slightly higher, with 73 percent borrowing and graduating with an average of $29,125 in student loan debt. However, the numbers for Globe University are startling: 96 percent of Globe University graduates took out student loans and graduated with an average of $44,824 in student loan debt. The default rate for year 2010 is also jaw-dropping. While only 3.8 percent defaulted on their student loans at University of Minnesota, 17.5 percent defaulted at Globe University.
Another source of revenue for for-profit schools in general and those in the Globe Education Network, comes from military veterans and funding from the GI Bill. Many for-profit colleges have been accused of targeting student veterans because revenue from the GI Bill does not count toward the mandatory 10 percent, which must come from a non-government source. Depending on a veteran's time spent on active duty, he or she would be eligible to have 40-100 percent of tuition paid for through the GI Bill. Globe Education Network colleges seem to heavily target student veterans, and Broadview University reports that military veterans and family members make up 18 percent of their student population.
Myhre has also expanded to Kentucky, where he finances the career college, Truck America Training and also seems to be connected to the local Board of Education. This career college offers a four-week heavy equipment training course and certificate for $9,000 (not including room and board). Much like Globe Education Network schools, Truck America Training students are encouraged to utilize state and federal tax dollars to pay for their schooling. Instead of Pell Grants and student loans, students receive funding through Vocational Rehabilitation, the Workforce Investment Act, and the Trade Assistance Adjustment program.

Private Student Loans
One revenue source for Globe University and others in the Globe Education Network which has been overlooked is high interest private student loans. Private student loans should be the last possible option for borrowers; however, many students at Globe University seem to be going this route when paying for college.
Today, private student loans make up about 15 percent of the more than $1 trillion of student loan debt in the United States. Unlike with federal student loans, those with private student loans do not qualify for certain repayment programs such as Income Based Repayment (IBR) or Income Contingent Repayment (ICR), nor do many private student loans offer deferment or forbearance if the borrower is unable to make monthly payments. These loans often come with variable interest rates and lower income borrowers often receive the worst rates. One thing private student loans do have in common with federal student loans is that they cannot be discharged through bankruptcy.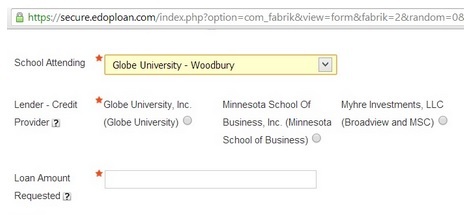 In 2011, an abnormally high 42 percent of Globe University students and 38 percent of Utah Career College (AKA Broadview University) students took out private student loans to pay for school. And according to Broadview University's most recent Form 10-K, as of March 31 of this year, Terry Myhre had more than $1.2 million in loans outstanding to Broadview University students. The Educational Opportunities Loan (EdOp Loan) is one such private student loan that has been marketed to students at Globe University, Broadview University and at other Globe Education Network schools as one of the "primary sources of financial aid." According to EdOpLoan.com, these private student loans are originated by Globe University, Minnesota School of Business, and Terry Myhre, owner of Globe University.
The EdOp Loans come with a very high 18 percent interest rate with monthly payments which also require repayment while students are still in school. Much like other private student loans, with the EdOp student loan, borrowers are subject to an array of late charges, collection costs, and the interest is capitalized. Moreover, it certainly does not seem very hard to default on one of these loans either. For instance, upon graduating or withdrawing from school, borrowers immediately go into default after 30 days without payment. Other reasons for default include: failing to notify the lender of a name change within 10 days, or upon death of the borrower or co-signer. If a borrower defaults, the student's transcripts will also be held until the bill is paid.
Perhaps even more disturbing is that the mailing address listed on the EdOp Loan website also happens to be the same mailing address of American Accounts & Advisors, a debt collection agency. This happenstance could imply that these loans, which are made to high risk borrowers, are not expected to be paid on time. And if a borrower falls behind on this loan, the school holds students' transcripts until the loan is paid. Such a predatory move would allow more money to be made over the life of these loans with fees, capitalized interest, and collection costs added to the cost of the loans.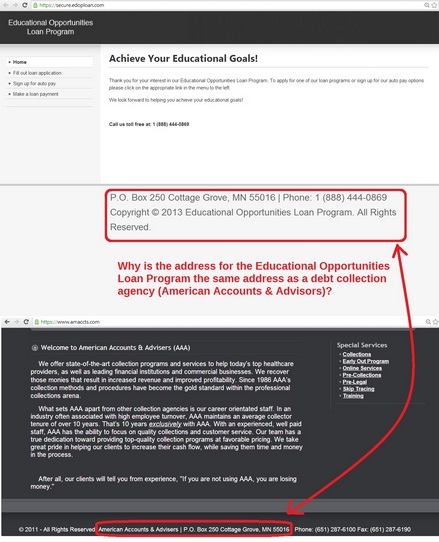 The fact that Globe University, Minnesota School of Business, Broadview University, and owner Terry Myhre have even entertained the idea to charge an incredibly high, 18 percent interest on student loans is alarming. Such a move only solidifies the argument of those making claims of unethical behavior and placing a greater importance on profit, rather than the students they are supposed to be serving.
Related
Popular in the Community