 "The smallest act of kindness is worth more than the greatest intention."
― Kahlil Gibran
Sunday, March 10, 2013, will be a day of celebrating good deeds. Good deeds done for us and the good deeds we do for others. Large or small, kindnesses of all kinds are welcome.
Good Deeds Day began in 2007 out of the vision of American-Israeli businesswoman and philanthropist Shari Arison. Arison is a leader who pours her wisdom and experience into everything she touches. Her many successful ventures demonstrate the viability of growing and maintaining a thriving business without sacrificing values.
In 2012, Arison was named by Forbes as one of the World's Most Powerful Women. She's using her power to "think good, speak good, and do good."
Good Deeds Day has expanded exponentially since 2007, beginning with 2,000 participants and jumping to over 250,000 participants in 2012. Over 3,600 projects were organized for Good Deeds Day 2012, with 50 countries participating. Participants came up with meaningful, touching ways to take part depending on their time, skills, and circumstances.
Good Deeds Day 2013 takes place on March 10, 2013, and it's an invitation to give of ourselves and to support our own humankind, which we are all a part of. When we act in love, kindness, and for the good of others and our earth, we are directly impacting our own inner happiness and peace.
In the words of the 14th Dalai Lama, "when we feel love and kindness toward others, it not only makes others feel loved and cared for, but it helps us also to develop inner happiness and peace."
What goodness do you have to share? What unique talent or gift do you have? Can you offer a smile to everyone you meet? Can you speak kind words to five people? Can you donate your time? Perhaps you're thinking, what difference will I make?
I've often had the same thoughts. The world is so huge, and I am just one person. How could what I do or say possibly matter?
I started to reevaluate and shift this perspective some time ago because of the difference I began to notice in my internal and external worlds. When I gave good energy, a smile, or extended my hand or heart daily, I felt better. I was making a difference in my own life and in the lives of those I connected with.
I felt strongly that there was something to this concept, but it was only when I read Arison's book, Activate Your Goodness, that I realized the true power we individually have to make a collective difference. Her vision is so broad and clear that it's like I was traveling the path of doing good, not knowing where it would go, and someone came along and gave me a map.
Activate Your Goodness is that map. It's an inspiring, practical, and enjoyable read. You will be amazed at the sheer number of ways you can do good in your life that you never realized before.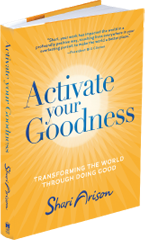 Through the book I learned about Goodnet, a site that connects people with initiatives. It puts doing good within your reach (literally as far as your keyboard). It lets you choose to connect with an initiative or cause you love. Something that matters to you and that's suited for your circumstances. It's full of inspiration and examples of how people worldwide are making a big difference in small ways.
Learning about Shari Arison's work, intention, and unique philosophy made me want to learn a little more about her and her vision. She graciously answers my questions here:

What do you envision for Good Deeds Day 2013?
Deeds Day 2013 is the beginning of an even bigger force of good in the years to come. We already see how the circles have grown. From year one, seven years ago, when I started the initiative, 7,000 people in Israel came out to do a good deed.
Growing every year, more than 370,000 people, in Israel came out to do a good deed and thousands more in 50 countries worldwide. In Britain, Bulgaria, Ukraine, Canada, Switzerland, New Zealand, Russia, Chile, Moldavia and more. Good Deeds Day is based on partnerships, and each year more and more people go out on this day to give of themselves and do good deeds for the benefit of others, more partnerships are created with businesses, organizations, and communities who engage in doing good projects, and more people join my social platform Goodnet.org to share opportunities to do good. Each year the circles of good grow more in the world, as Good Deeds Day becomes a national and international tradition of giving.
This year, 2013, we see more and more individuals, organizations from countries around the world wanting to join in because of its simple idea which crosses all borders young and old, all cultures and neighbors, all wanting to do good. So as you can see 2013 is just the beginning.
I love how you say, in regards to protests, that you encourage people to talk about what they are "for" instead of what they are "against." Can you expand on this concept a little and why it's so important?
What we focus on expands; we need to start focusing on Good. Thinking Good, Speaking Good and Doing Good. Our future is collective; therefore, it is important to understand what we want as individuals and as a collective like health, happiness, peace, prosperity and find the solutions that will bring us to the collective future that we all hope and pray for.
What are the kindest words or actions you've ever received?
People who have written or approached me and told me that I made a difference in their lives and that difference has encouraged them to pass it forward.
I believe that each individual has a role to play and together we can make a huge difference, so when I see or hear that I touched someone in such a profound way that they join in creating a better world, that touches my heart more than almost anything.
Here's how to participate in Good Deeds Day:
The book release of Activate Your Goodness will coincide with Good Deeds Day 2013, on Sunday, March 10. It's a book that will restore your faith in humanity, reveal your potential, and remind you that the time for kindness is now.
We are all in this world together. Choose to "think good, speak good, and do good" in your life however you can and whenever you can. Choose every day to light up your life and the lives of others. Be the wave of kindness that sends ripples in every direction.
Give without expecting to receive. It will likely be the most fulfilling thing you'll ever do.
photo credit: Shari Arison
Monique Minahan is a writer, yogi, and lover of life. She's inspired by nature's simplicity and the healing power of love. She finds true liberation in living life fully from the inside out. Her intention is to offer her heart to the world through words that motivate, inspire, and encourage. Connect with her at mindfulmo.com.
Read more by Intent here.
Popular in the Community