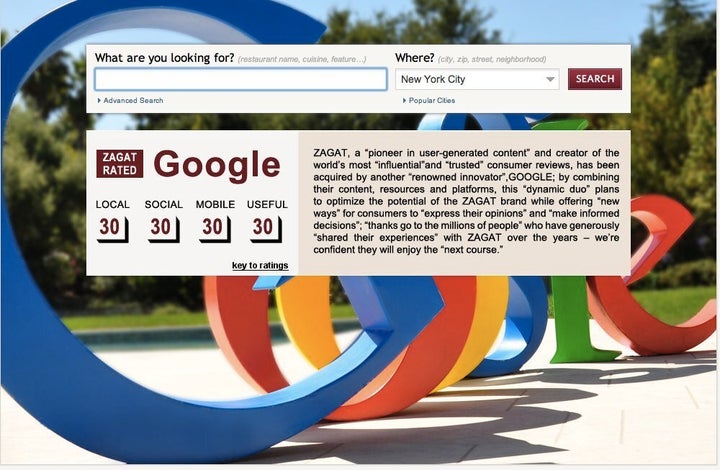 Google has acquired Zagat, the review company that rates restaurants, stores, hotels and more by surveying consumers, in an effort to beef up its host of services with more and better content.
Google's Marissa Mayer, VP of local, maps and location services, announced in blog post that the Google will "collaborate with Zagat to bring the power of Google search and Google Maps to their products and users, and to bring their innovation, trust and wealth of experience to our users."
The terms of the purchase were not disclosed.
The acquisition not only underscores Google's efforts to build out its local products, but also the web company's shift to become a content provider.
What would a Silicon Valley search behemoth want with a 30 year-old company perhaps best known for publishing maroon restaurant guides printed on dead trees? Zagat provides Google with much-needed, trustworthy content that can be used to fill out and differentiate Google's products, such as Google Places, which currently lists practical information about an establishment (address, hours, location) along with reviews from Google users, as well as third-party sites like Trip Advisor, Citysearch, Yelp and Zagat. Rather than directing searchers to these third-party sites, Google instead could foreseeably feature Zagat's ratings and reviews, which are highly regarded, in search results, in Google maps, and in mobile apps.
Google has had its eye on buying such a content company for some time: In 2009, Google was reportedly in talks to acquire Yelp, a site that crowdsources reviews for everything from nail salons to pizzerias. Though Google has repeatedly insisted it is not a media company, it is increasingly investing in developing, promoting and indexing its own, original content. Earlier this year, it launched an online magazine, Think Quarterly, broadcasted live video interviews with leading figures, such as President Obama, and now has snapped up Zagat, a publisher of original reviews.
Zagat announced the acquisition on its own website with an image inspired by its own ratings system. "Zagat, a 'pioneer in user-generated content' and creator of the world's most 'influential' and 'trusted' consumer reviews, has been acquired by another 'renowned innovator,' GOOGLE," the "review" read. The review of "Google" gave the company a top score of 30 on "local," "social," "mobile" and "useful," categories that usually read "food," "decor," "service" and "cost" in Zagat's restaurant reviews (See image below).
Zagat co-founders Nina and Tim Zagat wrote in a blog that they will "continue to be active in the business as co-Chairs," adding, "however, the merger of our resources, expertise and platforms with those of Google will give us the opportunity to greatly expand. We have spent enough time with Google senior management to know that they fully share our belief in user-generated content, and our commitment to accuracy and fairness in providing consumers with the information necessary to make smart decisions about where to eat, travel and shop."
Mayer also tweeted what she called an "acquisition announcement haiku" that read, "Delightful deal done; Zagat and Google now one; foodies have more fun! goo.gl/Gwnxg #gogooglelocal."
Google just got ZAGATRated! 9/08/2011 08:27:00 AM "Did you know there's a place in Menlo Park near the Safeway that has a 27 food rating?" one of my friends asked me that about two years ago, and I was struck because I immediately knew what it meant. Food rating... 30 point scale... Zagat. And the place... had to be good. With no other context, I instantly recognized and trusted Zagat's review and recommendation.

So, today, I'm thrilled that Google has acquired Zagat. Moving forward, Zagat will be a cornerstone of our local offering—delighting people with their impressive array of reviews, ratings and insights, while enabling people everywhere to find extraordinary (and ordinary) experiences around the corner and around the world.

With Zagat, we gain a world-class team that has more experience in consumer based-surveys, recommendations and reviews than anyone else in the industry. Founded by Tim and Nina Zagat more than 32 years ago, Zagat has established a trusted and well-loved brand the world over, operating in 13 categories and more than 100 cities. The Zagats have demonstrated their ability to innovate and to do so with tremendous insight. Their surveys may be one of the earliest forms of UGC (user-generated content)—gathering restaurant recommendations from friends, computing and distributing ratings before the Internet as we know it today even existed. Their iconic pocket-sized guides with paragraphs summarizing and "snippeting" sentiment were "mobile" before "mobile" involved electronics. Today, Zagat provides people with a democratized, authentic and comprehensive view of where to eat, drink, stay, shop and play worldwide based on millions of reviews and ratings.

For all of these reasons, I'm incredibly excited to collaborate with Zagat to bring the power of Google search and Google Maps to their products and users, and to bring their innovation, trust and wealth of experience to our users.

(BTW, Kaygetsu, the place in Menlo Park, definitely lives up to its 27 food rating!)
LOOK: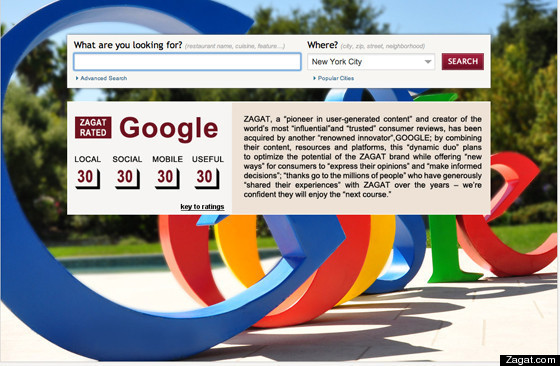 Popular in the Community