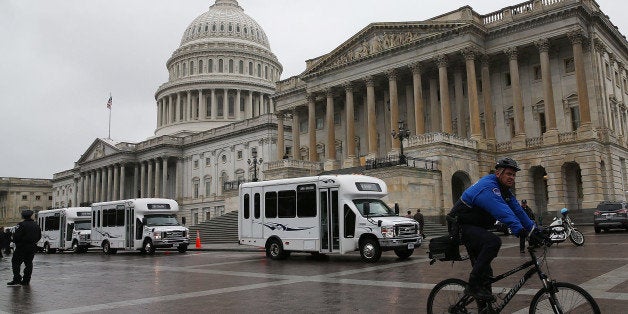 As I write this column, much of the federal government continues to be shuttered, members of Congress are still in gridlock, thousands of federal workers are out on furlough and the cutbacks in federal programs that directly affect the nation's well-being and public health have already started to accumulate. The Secretary of the U.S. Department of Health and Human Services (HHS) Kathleen Sebelius has done what she can to ensure that emergency functions of HHS continue but the routine -- yet no less critical -- work of public health has slowed or stopped.
As the Director of the U.S. Centers for Disease Control and Prevention (CDC) Tom Frieden noted on Twitter the day of the government shutdown: "CDC had to furlough 8,754 people. They protected you yesterday, can't tomorrow. Microbes/other threats didn't shut down. We are less safe."
Many Americans have been affected by this turn of events. Two of my own family members have been furloughed and I am sure that many among the public health community have relatives and friends in the same situation. At this time, the Office of Personnel Management has told federal employees that it will be up to Congress to decide if furloughed employees receive back pay.
The economic consequence for many individual federal workers and families could be quite serious. While serving as an assistant administrator for the U.S. Environmental Protection Agency's Office of Chemical Safety and Pollution Prevention in 1995 I directly experienced a government shutdown. It was painful to send home loyal employees willing to stay on the job in order to keep the agency open. While federal employees were awarded back pay then, federal contractors who provided security and maintenance received no retroactive paychecks. Moreover, there were many other hardworking citizens who also felt the sting of the shutdown then.
I am reminded of the owner of a small lunch stand near the EPA building who went out of business during that time. The political brinkmanship currently going on today will undoubtedly result in more undue harm to thousands of federal workers, small business owners, federal contractors and lots of hardworking Americans.
Most serious are the long-term public health and safety consequences of this government shutdown. The CDC, for example, announced a suspension of its annual seasonal flu activities just as influenza season kicked off. And the agency was slow to respond to a big, multi-state salmonella outbreak that hit soon after the government closed down. CDC pulled in workers from home to try to contain the problem but not before 278 people in 18 states had been sickened by the outbreak.
Officials at the U.S. Food and Drug Administration say the government shutdown did not affect the salmonella investigation, but 60 percent of the agency's workforce has been idled. That means the agency is not conducting routine inspections of facilities such as factory farms that produce or ship produce and other food products. In addition, FDA decisions that would help bring badly needed new pharmaceuticals and medical devices to market have been put on hold for now.
EPA is in essence completely shut down with more than 90 percent of employees out on furlough. This not only slows down actions aimed at protecting the public health and safety, but over time will cause economic impacts as projects across the country stop work while they wait for an EPA permit.

The National Institutes of Health has been slow to admit new patients to clinical trials and has suspended action on new research grants. The slowed research agenda means the U.S. will fall behind on contributions to scientific studies aimed at finding new treatments or ways to prevent growing public health problems.
Another concern is funding for the Special Supplemental Nutrition Program for Women, Infants and Children (WIC), a federal program that ensures that low-income mothers, babies and young children get the food they need to stay healthy. As a pediatrician, I know that such cutbacks mean that many young children could suffer from inadequate food -- and delays in growth over the long run.
Communities across the country have already started to pull together to support those who need help the most during this difficult time, whether through friendship, community service, or by generous contributions to local charities.
At the same time, I am saddened by what seems to be a growing inability of Congress to reach an agreement for the public good. After all, ensuring that our government does its job means we can all rest a little easier knowing we have systems in place to protect us from the next threat to the public health -- be it an outbreak of contaminated food or a killer strain of the flu.
Calling all HuffPost superfans!
Sign up for membership to become a founding member and help shape HuffPost's next chapter