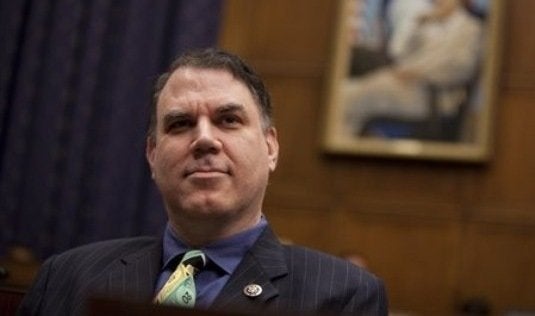 Rep. Alan Grayson (D-FL), who launched himself into the heat of the health care debate by arguing that Republican-styled health care reform encouraged the sick to die quickly, once again is using the specter of death to push for legislative action.
The Florida Democrat announced, while on the floor of the House of Representatives on Wednesday, that he was launching a new website to list the names of the nearly 45,000 Americans who die every year because they lack health insurance.
The site, called namesofthedead.com, would honor the memories of the deceased, compel Congress to act on health care reform and, ultimately, serve as a "historical artifact" of the days when there was no universal coverage, Grayson said.
"I think it dishonors all those Americans who have lost their lives because they had no health coverage, by ignoring them, by not paying attention to them, and by doing nothing to change the situation that led them to lose their lives," the congressman explained. "So I make this simple proposal. I propose that we identify them. I propose that we honor their memory by naming them. They themselves can no longer speak. But their families, the ones who love them, they can speak. And so I have established a website called namesofthedead.com."
By Wednesday afternoon the url was already live.
Grayson's new online venture may have the same explosive partisanship as his earlier speech from the House floor. But that might make the message a bit more effective. The Democratic Party has repeatedly used stories of people suffering from poor (or denied) insurance coverage as a means of selling the need for reform. The death toll of non-insured has really never been considered a viable political point (likely because of the sensitivities that come when referencing the dead). The fact, however, remains that 45,000 people in America do die from lack of health care insurance every year, according to a Harvard study -- and that does provide, at the very least, the most compelling argument for getting expansive reform done quickly.
UPDATE: It was easy to see this coming. TPM's Eric Kleefeld reports that the site quickly became the target of practical jokes with the names of the dead including: "Lassie Martin, 10, Kanab, UT" (aka the dog from the popular TV show), "Wile E. Coyote, 55, Sedona, Arizona," and (of course) "Hugh G. Reckshinn," age 44, from Dumas, Texas.
Grayson's office has since removed the automated list of names from the site.
Calling all HuffPost superfans!
Sign up for membership to become a founding member and help shape HuffPost's next chapter