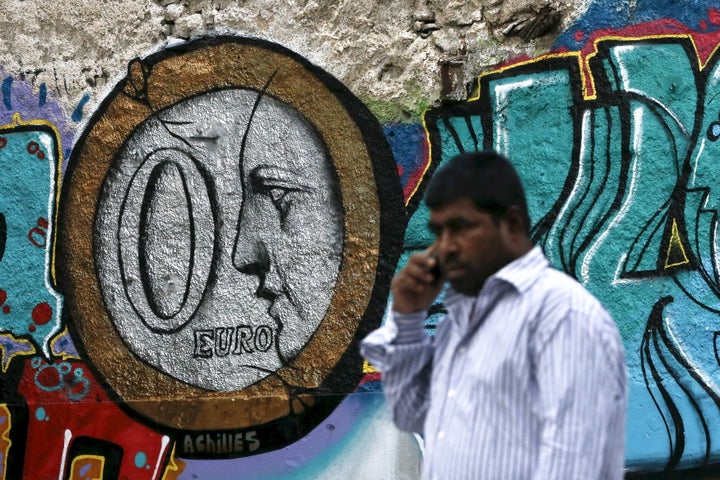 Greece has opened hundreds of tax-evasion cases against citizens suspected of hiding assets outside the country, Greece's top anti-corruption official George Vassiliadis told HuffPost Greece this week.
Greeks have owed their government billions of euros in taxes over the past few years. Greece's creditors, including the International Monetary Fund, have long posited that a crackdown on tax evasion could help alleviate the country's debt crisis.
The Syriza government is now delivering on the commitment it made at the beginning of 2015 to get tough on tax evasion and pursue wealthy citizens who keep their funds in Switzerland.
Ramping up the number of investigators in recent months, the government has already assessed 810 million euros worth of fines, and hundreds more files have been forwarded to auditing authorities, the anti-corruption Secretary General said.
Vassiliadis explained that while auditing agencies have faced "shortage of personnel," the audits are now "proceeding at a very rapid pace."
"Particularly during periods of deep economic crisis, we cannot give up and back down from trying to collect undeclared money," Vassiliadis said.
"It is time for all those large debtors to pay their dues. So far, they believed that they had immunity and that their debts would be paid out of the Greek people's blood. The Greek state has the will, knowledge and mechanisms to call all those to financial account who had a party while the society was disintegrating."
The finance ministry is finalizing a voluntary disclosure bill that would allow Greek citizens who have opened bank accounts overseas to declare untaxed assets and pay fines, thereby avoiding prosecution on criminal charges and money laundering.
"The bill is its final stages," Vassiliadis said. "And we believe it will open the way to collecting significant sums from those on the tax evasion lists."
Greece is also pursuing financial institutions that may have helped wealthy clients in the country evade taxes.
The Borjan list, which Vassiliadis acquired in November 2015 via leaks from Swiss banking whistleblowers, shows that bankers affiliated with the Swiss banking giant UBS Group AG may have helped Greeks evade taxes.
In the past few years, UBS has faced legal trouble in Europe and the U.S. Earlier this year, the Brussels prosecutor's office launched a formal investigation into whether the bank was involved in tax evasion practices. UBS was also involved in a legal probe in France in 2014 related to its bankers aiding French citizens to evade taxes.
"If it turns out that this happened in Greece as well, we will naturally seek compensation from the bank," Vassiliadis said.
In 2009, the Swiss bank admitted to encouraging U.S. citizens to evade taxes, and reached an agreement with U.S. prosecutors in which UBS paid $780 million.
"Within the framework of developing international cooperation with the goal of eradicating tax evasion and corruption, Greek authorities are in direct contact with the relevant department of the FBI which conducted the investigation in the U.S., and the U.S. Department of Justice," Vassiliadis said.

A version of this piece appeared on HuffPost Greece. It has been translated into English and edited for a U.S. audience.
Popular in the Community