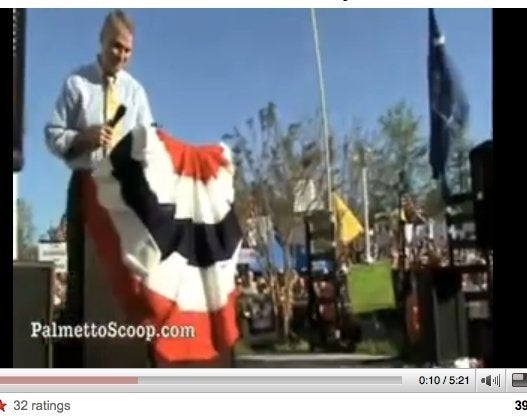 Barrett faced the ire of the tea party protesters because of his vote last year for the $700 billion, Bush administration-backed financial bailout. Now, the Republican congressman is prepping for a South Carolina gubernatorial run in what is expected to be a competitive GOP primary. If the tea party protesters were any reflection of Republicans in the state, he's got an uphill climb.
Protesters screamed "go home" and blew air horns during the duration of Barrett's five minute speech. Some even turned their backs to him.

Messages on dozens of signs and hundreds of fliers also expressed a similar contempt for "Bailout Barrett."

The gubernatorial candidate did his best to deliver his speech, but the crowd never let up.

"I know you're mad, I know you're frustrated, and I hear you," a shaken Barrett said over the crowd. "You may boo, you may turn your back on me, but I'll never turn my back on you."
CNN added, "The booing and shouting continued for the entire five minutes Barrett was on stage. When he pointed out that he recently introduced a bill called the TEA Act to stop wasteful government spending, one protested yelled repeatedly: 'Too late!'"
Popular in the Community