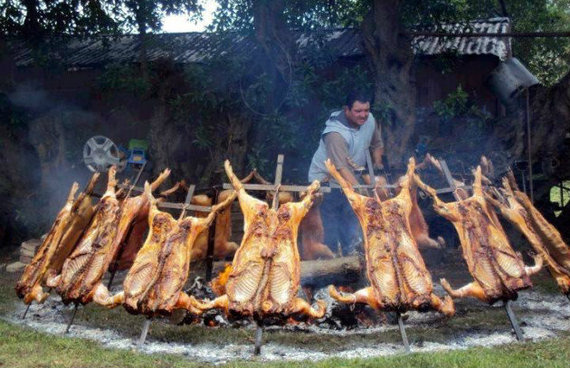 The stats are in and the winner is... Argentina. No other country consumes more beef. Last year, Argentineans consumed an average of 154 pounds per person -- compared to 89.8 pounds in the U.S.
Argentina's love affair (I use the term deliberately) with beef began with the gauchos, rugged cowboys who settled the Pampas to tend vast herds of cattle, the descendants of steers brought here by conquistadors in 1536. Gaucho life was primitive, and so was gaucho barbecue: whole lambs, pigs, and racks of beef ribs stuck on T-shaped metal stakes in front of a roaring bonfire. Seasonings were limited to salt or perhaps such dried herbs as you could find at a country general store. And the herbs were moistened with a little vinegar--the origin of Argentina's table sauce, chimichurri. The gaucho's asado (literally, "roast") remains one of the world's most authentic and heroic live-fire cooking experiences, popular throughout rural Argentina and even in major cities.
By the early 20th century, beef had made Buenos Aires one of the wealthiest cities in the western hemisphere. Refrigerated freighters, their holds brimming with meat, steamed down the Plata River destined for New York, Europe, and beyond. Beef fortunes transformed Buenos Aires from a cultural backwater into the "Paris of South America."
Over time, the rustic asado of the gauchos evolved into sophisticated steak houses distinguished by their broad menus, with dishes grilled to order on industrial-strength parrillas (grills). The preparation remains simple--salt, fire, and perhaps a chimichurri for serving. The focus stays on the beef.
Adapted from Planet Barbecue!
SIGN UP for Steven Raichlen's UP IN SMOKE newsletter to learn more about barbecue!
Steven Raichlen is the author of the Barbecue! Bible cookbook series and the host of Project Smoke on public television. His web site is BarbecueBible.com.
Related